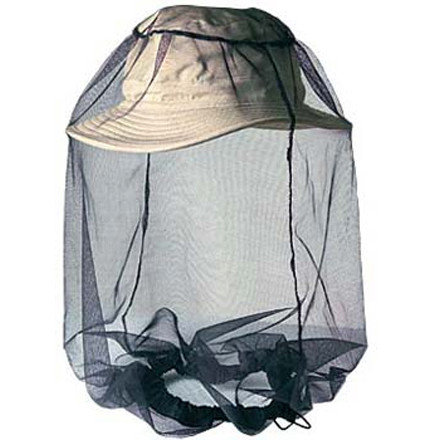 Community Images
From summer canoe trips in northern Minnesota to sweaty jungle treks in Costa Rica, the Sea To Summit Mosquito Head Net gives you full protection from those nasty little biters. Sea To Summit designed this head net with black mesh to give you better visibility and 500 holes per square inch to keep intrepid mosquitoes from poking through. The head net packs down into its integrated stuff sack, and features an elastic draw cord to seal insects out.
worked well
Familiarity:

I've put it through the wringer
used during BWCA and mosquitoes were prehistoric and vicious. Worked well. do not spray 100% deet on it; it will fck up synthetic material.
Danielle and Bugs: The Hate Story
Familiarity:

I've put it through the wringer
It's almost comical writing a review for this item, due to the pros being so obvious. BUGS SUCK! and what's worse than bugs? Bug bites all over your face. I purchased two of these after my last camping trip--one for me, and one for whoever brought the best food ; ) I came home with 10 bites on my face, including one of those being on one of my tear ducts. I will never put myself through that experience ever again. When I wear this I feel like I'm flipping the mosquitoes off, without having to lift a finger.
no more bugs
Familiarity:

I've put it through the wringer
it works!
if you dont like bug bites on your face, or bugs buzzing around your face, you need one of these.
Life saver
Familiarity:

I've put it through the wringer
Used it this summer in BWAC in Northern Minn. Kept swarms of Mosquitos and flies away. Wasn't at all hot and allowed plenty of air in. Others had net/hat combos but they were a hassle to take on and off. This was easy to put in my pocket between portages.
Would this work for gnats and black flies?...
Would this work for gnats and black flies?
Abby,



The STS Mosquito Head Net will definitely work for those insects as well. The "mosquito" in the name is just a traditional name I think, but also indicates that this netting is small enough to protect even from insects as small as mosquitos.
Trip saver
Familiarity:

I've used it several times
My wife and I spent four nights at Wonder Lake in Denali National Park. I may be mistaken, but I am pretty sure this is where the mosquito first originated. Clearly it is the center of the mosquito gravity. There are all kinds of mosquitos there. Big ones, little ones, ones that will unzip your jacket, crawl inside, zip it back up and bit you under your layers, and my personal favorite, those that will hoard together to blow the clouds of McKinley and coax you into the open for a picture.

We brought plenty of bug dope. 10%, 15%, 90% DEET. The kind that makes your skin melt to your clothes didn't even phase the buggers.

But the head net held up. They couldn't get through.

I'm giving this product only four stars though because I am now firmly convinced that InsectShield (permetrhrin treatment) is no more useful than DEET. While the bugs couldn't get through the mesh, they weren't the least bit deterred by the treatment. They crawled up on the net, built homesteads and had a little community right in front of my face. Their little shaman would gather them up to pay homage to my nose which was sure to be part of a great feast as soon as I exposed it.

A few times, a mosquito got caught inside the next. Away from her friends, the bug would panic and try to get out. But there was no aversion to the netting, just to the loss of freedom it seemed to represent.

Get this for protection, but don't count on InsectShield to do anything extra.
My GS troop will be using hammocks in the...
My GS troop will be using hammocks in the woods this summer, will this netting cover a hammock?
No, it only covers your head. If that's the only part that the bugs can get to when you're sleeping (i.e. you cover the rest with a sleeping bag) you'll be good with these.
Keeps the Mosquitoes off my face!
I don't have to use this very often but when I do I love it! Be sure to wear a hat under it though so the mesh doesn't touch your skin. If the mesh touches your skin, then the mosquitoes can get you! The Insect Shield is nice but isn't 100% effective. This is worth having with you at all times because it is so small and lightwieght you won't even remember you have it in your pack until you start cursing at the bugs!
What are the measurements? I'm trying to...
What are the measurements? I'm trying to compare length with another brand to decide which to buy.
It's ringed seam at the top is 8" in diameter. The opening stretches to 18". It's about 18" in length. Plenty large enough to cover the head with a wide brimmed hat and still gather at the shoulders.
Is this the net I want if I'm going to be...
Is this the net I want if I'm going to be sleeping with it on?
Not for sleeping for trekking. for sleeping just buy a net
Best Answer
I disagree, I have used mine countless times for sleeping. Yes there is a difference with some other models out there but honestly who is going to buy more than one. I use this one for all my needs. Especially you ultra-lighters. I hate mosquito nets in general, they all make me feel like i have something on. After getting assaulted in the Tuolumne area and in Oregon for many days and having used this repeatedly, its a function of necessity. It does the job very well, I stopped eating flying snacks.
I recently picked one of these up and I sure am glad I did. There are others at half the weight, but also twice the price, and lets face it, this one works. I usually leave the stuff sack at home, which makes the head net alone weigh in at 0.7 oz. It is fairly durable and it fits well over my Sunday Afternoon Visor.

The breathability on it is so-so, but obviously better when moving, or if there is a slight breeze. I have not cinched up the draw cord much so far as I like to let a little draft in, but it is good to know that if it is awfully buggy outside, I can do so if I want. (But I have contemplated cutting it out to save a little more weight...)

Visibility is pretty good, but occasionally I have caught a glare from the sun, hard to explain, but it happens...

Other than being great for mosquitoes and other larger bugs (this will not keep out noseeums) I have been really happy with it on morning hikes... it does a great job at catching the spider webs spun across the trail rather than my face...

All in all, I am happy with this head net, and for the price I can't see why anyone else wouldn't be. But, in the end, I will let you decide that...

5 stars!
I used this on a boundary waters trip. The bugs weren't as bad as I thought they would be but there were definitely times I was glad I had this bug net. I used it with a Columbia hat that has a full brim and everything worked perfectly.
Like BWCA? Get one of these!
If you do any kind of backcountry camping or adventuring, bugs are bound to keep you company. For those days around camp on warm, windless days these bug nets are a god send. Nothing can penetrate the fine mesh, and they barely obstruct vision. They pack wonderfully small into their included stuff sack, and work well over wide brimmed hats like a filson. Critical piece of equipment if anyone is going to the BWCA or Canada during the early summer.
Would this fit over a hat with a large rim...
Would this fit over a hat with a large rim like the Outdoor Research Oasis Sombrero Hat, or the Outdoor Research Helios Sun Hat?
Yes, it just might not hang quite as long.
I have a seattle sombrero and the net is a little small for that brim but still works.
the most clear viewed mosquito head net
i am an old bear hunter.
over 30 years and 9 bears.
i 'v been victimized by all kind of nasty mosquitos in US and Canada.
i went through many head nets before included in jungle types, and military types too.
it all worked for the purpose but this Sea To Summit has most clear view and good coverage.
i also bought a Insect Shield net too.(i have not tried yet)
Last year in August i backpack to JMT in high Sierra with out a tent. I had a head net on when i went to sleep. when i woke in the morning my face was swollen with pain.
you know why.
Anyone know the difference between then...
Anyone know the difference between then insect shield and the classic version besides the $2?
Best Answer
The insect shield version is treated with an insect repellent and the classic is NOT...