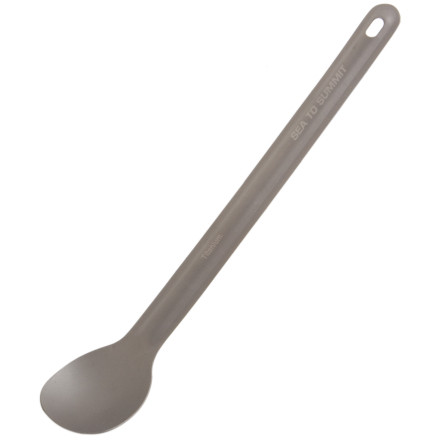 Detail Images

Community Images
Grab the Sea To Summit Long Titanium Spoon for reaching the final bites in the freeze-dried food bag or stirring up cocktails at your post-hike happy hour. This 8.5-inch spoon weighs less than an ounce thanks to durable, rust-proof titanium.
Great for reaching into deep bags!
Familiarity:

I've put it through the wringer
It's the perfect length for reaching into those mountain house bags without getting your fingers covered in food. My only complaint is that the coating feels strange on my teeth and has a metallic taste. I sanded off the coating on the spoon end and that really helped, oddly enough. I noticed other companies offer a long spoon with a polished end, so I would recommend those unless you don't mind sanding it off yourself. It doesn't fit into my pot obviously, so I clean it off and throw it in my pack lid. After doing this for many trips, it has not bent in the slightest. I have even clipped it to the outside of my pack when I couldn't get food off of it and it was still just fine. Very durable and very useful!
So-So
Familiarity:

I've put it through the wringer
I dig the length for eating out of backpacker meal bags, like everyone else has mentioned, but I find the actual shape of the bowl of the spoon really unpleasant to eat from-- more of an aesthetic preference, but I hate clacking my teeth on metal. Feels more like a shovel than a spoon. It gets the job done, though, and you're probably hungry enough after that twenty mile day that it won't really matter.
this was the solution all along
Familiarity:

I've put it through the wringer
So when I first started back packing I began with the same Coleman aluminum mess kit that I made mud pies in as a little kid. My evolution took me along the trail of stainless steel nesting cook sets, collapsible bowls, little metal sporks with inset hex wrenches and of course hyper-light titanium plates. I of course have all of this to this day and it's perfect when inviting new hikers out on the trail for an overnight. That being said a .6 ounce long handled spoon could easily be the only thing you need beyond a kettle and a stove. When using freeze dried meals like Mountain House the Sea To Summit Long Titanium Spoon is ideal. It's long enough for stirring up the contents at the bottom of the pouch where all that flavor filled dust settles. Upon cooling simply use the spoon to eat directly from the pouch. Saves you from doing excess dishes and of course saves you room in your pack. I'm the furthest thing from an ultralight backpacker, I'll admit sometimes I look a little more like I'm loading up for a dawn patrol than an overnight in the mountains, but it's sensible to economize weight where one can. It's worth its weight in gold! All .6 ounces
Spoon of my Dreams . . .
Familiarity:

I've put it through the wringer
There are few things I covet more while on the trail and usually, it boils down to one thing--the other guy's girlfriend--oh that I could have and be with someone out there, spooning under the stars, but alas, she's always been faster, or headed the other direction, or of course, with him--and so on those long, often cold nights, I dream . . .

And then there's spoons--the practical kind and after years of short plastic spoons, of which I now have an army, various colors, always purchased in a hurry, with that thought of where is it, that spoon and then I find them all, not to mention the always annoying aspect of having to immerse my hand fully in the package to scrap out the last few calories . . . I've found the Sea to Summit Long Titanium Spoon and the pleasure has been all mine.

My meal prep while on the trail is dictated by one rule--no more washing dishes---but there's always been a spoon as well as fingers to clean after one of my meals in a bag and just the annoyance of sticky fingers . . . never thought I'd be saying, great spoon, but, yeah . . .


A spoon? A spoon!
Familiarity:

I've used it several times
Not a whole lot to say here. This is a long titanium spoon. It is very lightweight and is great for reaching down into the crevasses of your camp meal pouch.

Get one for everyone in your group and you could play a nice game of spoons at the campsite.

Perfect size
Gender:

Female

Familiarity:

I've put it through the wringer
This spoon is perfect for those who like to enjoy pre-made freeze dried dinners or do their own freezer bag cooking. Long enough it easily reaches to the very bottom of the pouches and scrapes the stubborn pieces from the corners.



It's light and even though long, it's a relatively small item for which finding space in your pack is never a problem.


Tough
Familiarity:

I've used it once or twice and have initial impressions
Long spoon useful for soups and such. Long reach let's you eat out of the summit house bags if you so desire. Titanium finish is nice but I like the etched detail on the snow peak. This spoon is nifty though.
Right after I bought it, I saw that backcountry.com sells their own identical spoon for quite a bit less. I think that one would have been just as wonderful, and cheaper. But life is short, and time was ticking, so I kept my original order.

I love this spoon. It is just the right length to reach into a quart size baggy, which I typically eat out of when backpacking. Also, the clip on it is great to keep it handy, swinging on the outside of my pack.
Sea To Summit Long Titanium Spoon
Just exactly as advertised. REALLY light, strong and reaches the bottom of those MRE and freeze-dried food bags easily. Found these to be comfortable to eat with, so not sure why another reviewer didn't like the experience of eating with them. I liked them and think you will too. (Can always return them!) Mine say Made in China (unfortunately) and DID have the carabiner, which is small, light and appears well made. Awesome item, glad I got them and got them here and this is my 1st experience with BC. Great price and FAST shipping!
This spoon is perfect in length and weight but the shape and depth of the actual spoon are awkward and uncomfortable in your mouth. The edge of the metal is also not well finished and is uncomfortable against ones lips. This is a great idea poorly executed. I remain on the hunt for the perfect ultralight, packable utensil. I would try other things before trying this one.
Perfect length for JetBoil Stoves
This worked great with my Jetboil stove on a recent trip. It's nice not having to get food bits on your hands to get the last couple of bites. It comes with it's own little carabineer to attach to your pack or where ever...
The Sea to Summit titanium utensils are just great, I mean REALLY really great. They are super light, extremely durable, easy to pack. I can't think of anything I would ever have to complain about. I am hooked for life on these. One small way to turn a camp meal into luxury.

This long spoon is an excellent stirring utensil, also great for rotating aluminum filled with veggies on the fire.
yes have question #sts 0056 and bcco132...
yes have question #sts 0056 and bcco132 what is the diffrence beside the price
Best Answer
The Sea to Summit 0056 spoon, according to their packaging, is a 7075-T6 Aluminum/Titanium Aircraft Alloy made in Perth, Western Australia, & includes a mini carabiner. I'm not sure if the BCCO132 includes the biner & since it's made in China compared to Australia, could certainly account for the $ difference.
With everything being said, I think bc.com could do a more in depth price/shopping comparison on not only this but other items as well. Who knows, maybe their buyer had to pay more from the manufacturer or paying duty made it more expensive.

http://www.rei.com/product/782241
i think that one is not titanium.
Best Answer
8.5 inches
"This 8.5-inch spoon weighs less than an ounce thanks to durable, rust-proof titanium."
Finally a utensil long enough to get every morsel @ the bottom of the pouch while keeping your hands clean. Does even better stirring everything, especially in those hard to reach corners. Extremely durable, lightweight & nice shape. I never thought I'd get so excited about a spoon!