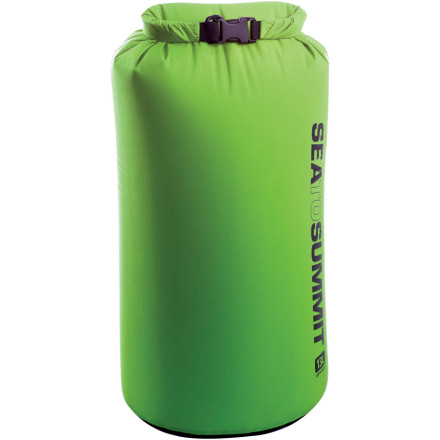 Colors

Community Images
Description
Keep dry and keep moving.
The Sea to Summit Lightweight Dry Bag is the light, packable alternative to bulky plastic bags.
Locks Smells In
Familiarity:

I've put it through the wringer
I bought this bag in the 2L size to store dog poop bags in when I'm hiking. I usually carry a 1 gallon size zip lock, but wanted to get something more reusable. The bag is opaque so you cant see though it and keeps the smell from coming out. I just roll the top and clip it to the outside of my bag. I also put trash in it. The 2L is the perfect size to carry trash in for a full day.
Taste the Rainbow!
Familiarity:

I've put it through the wringer
I literally have these things in all sizes/colors. They work for everything from canyoneering & backpacking to keeping camera equipment dry. Light enough to not really worry about bringing them along in case of rain. Overall if you want simple and reliable look no further.
Another great bag from s2s
Familiarity:

I've put it through the wringer
This is a great bag especially for a paddler, the triple stitched D ring can easily be clipped into a biner and secured to deck rigging. Now I suggest the sea to summit ultra-sil for clothing items, but for pieces of gear you'd prefer stay unsaturated, the sea to summit lightweight dry sack is perfect. I use a pair of the smaller dry bags for my med supplies, one for medications the other for trauma supplies. A little 3M reflective tape as a medical identifier and you're good to go.
Sea To Summit Lightweight Dry Sack
I bought this for a food bear bag. Perfect size and kept everything dry in the rain. The d-ring was perfect for hanging.
Cant Even Smell the Herring
The 4L Sea to Summit stuff sack is great for packing in the essentials that you don't want to get wet, or the smells you don't want to get out...like that ruptured can of Herring in the bottom of your pack.



Fold it over three times, clip, and you're good to go!
Looking for a bag to slide onto an outdoor punching bag to protect from So. California Sun also rain proof would be nice.

I need something to cover 42.5 inch long punching bag .
Doesn't look like any of these would fit full length unfortunately, nor would other versions. What is the diameter of the bag?
Great food bag
Familiarity:

I've used it once or twice and have initial impressions
My wife and I each have the 13L version as our food bags. There's an attached D ring for hanging. At 2 pounds of food per day, one should expect to be able to fit 4-5 days of food in the 13L size. I did find the different varieties of this bag a bit confusing - lightweight, ultra-sil, nano - etc...
I am looking for a bag to store my laptop...
I am looking for a bag to store my laptop in while in the extremely humid rain forest this summer. I won't be bringing it out into the forest much, I just need a bag that I can keep my laptop in that will keep it dry from the moisture while I am not using it. Is this my best option?
Have you measured the dimensions of your laptop? I would be concerned about it even fitting into one of these dry sacks, unless it's a netbook. The maximum width on the largest of these is 12", so I believe your best bet would be finding something along the lines of a weatherproof bike carrier bag or something like that. The moisture will be a problem, certainly, and more so if you have it close to your body for extended periods of time, so be careful about that as well. However, unless you have a VERY small laptop (such as the aforementioned netbook option), I would dissuade you from even bothering to purchase this.

Hope this helps, though perhaps someone may follow behind me and posit alternative reasons for purchase that I may not have thought of.
Great for Organization
Familiarity:

I've used it several times
I have several of these in various sizes I use for organizing items in a duffel bag or backpack. The white interior makes finding things inside easy, and they are weatherproof (I haven't used them in a deluge). I would not want to use them as a stand-alone drysack in rough duty (such a rafting) as they are fairly lightweight. They're great in the right application.
getting a couple more
Familiarity:

I've put it through the wringer
I have the 20l and it has been great. Getting a couple of the 13L. These things are really tough and work well. These bags keep things in your pack organized and dry. I hope they are not discontinuing them.
Works in a pack.
Familiarity:

I've put it through the wringer
If you need a dry bag for paddling, look at something else. However, if you want something to go inside your pack will not really be immersed this is what you want. My pack has a large pack liner and a heap of these dry sacs. Using them this way I have never had a problem. Like I said before, I wouldn't use them anytime gear was going to be immersed,
They are very light, but still tough enough to survive being rubbed against rocks. Unless you absolutely need a compression sack, these will do the job in most situations.
Excellent for weight conscious backpacke
This is one of 3 dry bags I took on the first leg (about 240 mi) of the AT earlier this year. The others were heavier, and were used for my sleeping bag and for my down booties, pants and pullover. This one was used for my food. It did not have a valve like the others, but since food didn't need the air squeezed out and compacted like the down gear, it functioned well without one - I just hugged the bag, then folded the entry several times, then snapped the closure. It comes with a D ring as well, and when hanging the bag from bear cables or stringing it up to a limb, either the ring or the closed clasp worked well. Although extremely lightweight compared to the other bags, it held up fine and did not leak after over a month of use and abuse. Highly recommended if you don't need a bag with an escape valve to reduce the volume of fluffy gear.
These are a good balance between weight and durability. There are lighter dry bags but not strong enough. I use them for canyoneering (inside a pack) and sea kayaking. Also on backpacks where I need to swim with the pack. Two of these (35L each) is sufficient to fit all gear on a backpack. Too bad these seem to be discontinued.