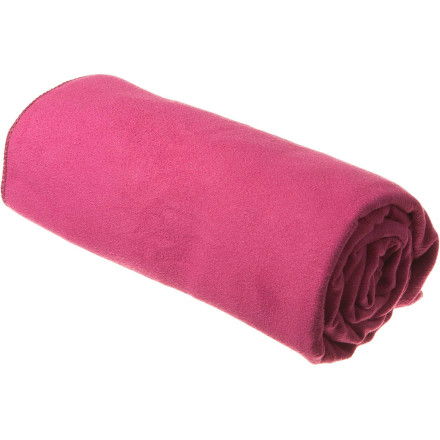 Colors
Description
It doesn't understand the word "wet."
The Sea to Summit DryLite Antibacterial Towel dries you off and then dries itself quickly, making it excellent for backpacking, traveling, camping, and boating. This microfiber towel has a suede finish to make it super soft and comfy next to your skin. An antimicrobial treatment resists foul odors to keep it fresh for a long time, and you can still wash it without interfering with its antimicrobial quality. It can hang from tree branches and the like thanks to the press-stud hang loop, and there are multiple sizes so you can get one for your body and one for your camping dishes.

Microfiber towels with suede finish
Antimicrobial treatment
Press-stud hang loop
Machine washable
Amazing towel!!!
Familiarity:

I've used it several times
I'm 5'10 185 lbs., so I ordered this towel in a large for a backpacking trip along the Na Pali Coast in Kauai. I received this towel just days before my trip and I was somewhat skeptical this towel would work adequately as a beach/shower towel in the middle of a tropical forest. The towel comes in a case slightly larger than a wallet and was feather light compared to the standard bathroom towel I had planned on taking. I doubted something so small and light would completely dry me. I couldn't have been more wrong. This towel is simply amazing!!! The material is extremely soft and I never needed to ring it out to dry completely. I love this towel and highly recommend it. I followed Kirsten's advice regarding washing the towel prior to first use and never experienced any problems with the dye running. Without a doubt one of my favorite recent purchases.
Use it for changing after a bike ride or taking with me for a swim. Dries very quickly and is super soft. Got the large size and it's large enough to wrap around myself 1.5 times.
great little towel to have on your pack at all times. dry dishes at camp, use it as a sweat rag on hot days, line your cold water bladder on hot days to wick condensation to keep pack dry.
My go to trail towel.
Familiarity:

I've put it through the wringer
I knew the cotton towel "borrowed" from the gym years ago wasn't going to cut it forever but it took me a long time to believe I should buy a replacement that was, well, not towel prices.



I've been hiking with one of these for about a year now and as someone who sweats more than they'd like too no matter the temp, it is a must have. True to its marketing, it really doesn't get wet or at least it doesn't stay wet, even on snowy mountains. Folds down well enough to actually get back into the carrying case though I tend to throw it into a cargo pocket at the start of a trip and keep it there until I'm back to the car and into the wash from there along with everything else.



Have a medium myself which is plenty big for pretty much any practical trail use.
Small, Light and Dry
Familiarity:

I've used it several times
I purchased this product after having the DryLite Towel for several years (which is also great! but my sister took mine so I needed to replace it). I have taken this towel backpacking and it is soft and lets me dry off very quickly.



***Just make sure you wash it (not in a load with other things) before using it for the first time.*** I didn't do this, and it turned my skin slightly blue-ish the first time I used it. But once it has been properly washed it is fantastic!



For reference, the other one I had (size large, though it wasn't anti-bacterial) has been used on many international trips as well (including an entire summer in Israel, 3 months traveling in South Africa, etc). It is the only towel I ever needed to bring because it works as well as a big fluffy towel (and is still soft) but takes up virtually no space.