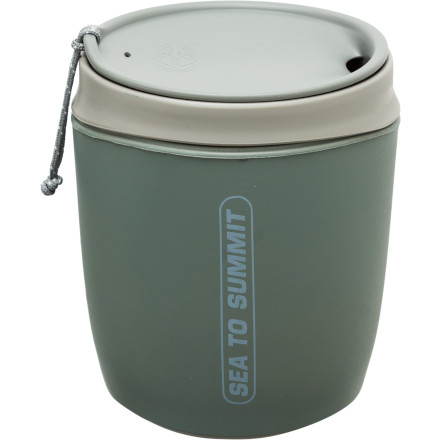 Colors
Description
Because hot chocolate without the hot is just gross.
Sea to Summit added a ThermoSkin insulation sleeve to the Delta Insulated Mug in order to help keep your beverage nice and toasty for a longer time. The nylon interior disperses heat, is resistant to odors and stains, and makes sure you don't drink toxins. The cool-to-the-touch rim has a self-draining lid that allows drip-free sipping.

BPA-free nylon 66 plastic
Odor and stain resistant
ThermoSkin insulation sleeve
Cool-to-the-touch rim with self-draining lid
Protex hex pattern
Great addition to your camp kitchen or backpacking kit. I wouldn't recommend hanging the mug from your pack, but the lid if very secure. Keeps your coffee hot and your oatmeal warm.
Hey w2g105700389,



Dimensions - 3.5 x 4.25 inches
What is the purpose of the string? It looks...
What is the purpose of the string? It looks like it's supposed to connect the cap to the cup so the cap doesn't get lost?
Best Answer
The string is only there so you may attach it to a pack, or secure in a pack while backpacking. It is not to attach the lid to the mug. I would not recommend attaching it to a pack while it is full!
The Sea to Summit Delta InsulMug is a good option for your insulated mug needs. The Sea to Summit Delta InsulMug really keeps beverages hot, which the first time I used it I burnt my tongue after waiting for it to cool, and keeps them cold as well. The ThermoSkin really helps keep your beverage in the Sea to Summit Delta InsulMug nice and cozy. Being very lightweight is what this mug offers and would be the only use I would see. I prefer metal containers for the most part, but for some uses this comes in handy. The ThermoSkin really allows you to have very hot things inside the mug without even remotely burning your hands. This is not made in the USA, and I ask Sea to Summit to start doing so as people would pay a little more for American jobs being created. Berz Rating: 84/100
Decent mug..
Familiarity:

I've put it through the wringer
The Sea to Summit Delta InsulMug is a good option for your insulated mug needs. The Sea to Summit Delta InsulMug really keeps beverages hot, which the first time I used it I burnt my tongue after waiting for it to cool, and keeps them cold as well. The ThermoSkin really helps keep your beverage in the Sea to Summit Delta InsulMug nice and cozy. Being very lightweight is what this mug offers and would be the only use I would see. I prefer metal containers for the most part, but for some uses this comes in handy. The ThermoSkin really allows you to have very hot things inside the mug without even remotely burning your hands. This is not made in the USA, and I ask Sea to Summit to start doing so as people would pay a little more for American jobs being created. Berz Rating: 84/100