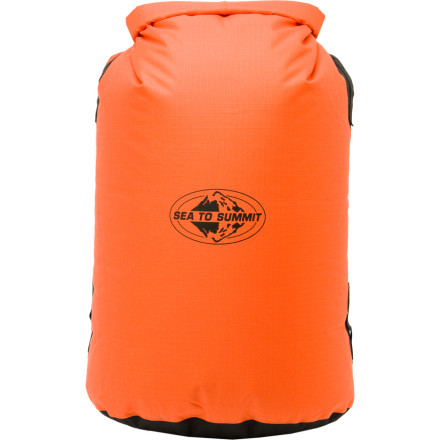 Whether you're navigating open seas or blasting rapids on the world's biggest rivers, trust the Sea To Summit Big River Dry Bag to keep the goods dry. Rugged, abrasion resistant nylon stands up to just about any surface you throw it on and Hypalon lash loops let you secure the bag to the boat or other bags for stacking. Stuff extra clothes, food, or any other supplies into this double-stitch reinforced and seam-sealed sack, roll down the top, secure the opening, and spend the rest of the time enjoying the adventure.
Not bad for what it is.
Familiarity:

I've put it through the wringer
I own a few of these in differing sizes. Like any dry bag of this design they are not 100% water tight. This is evident when you get all the air out of one and a few minutes later, it has somewhat re-inflated. Having said that it is a good bag of this design. I still use them when sea kayaking, in my pack when walking or for things that can afford to get a little damp when white water paddling.. If you want a bag that will keep anything dry, even when immersed, go check out the bags Watershed make. All in all these bags are quite good for what they are.
Dry bag
Familiarity:

I've put it through the wringer
I bought this bag for a canoe trip on the green river (NC) it performed flawless then and still does 3 years later. Anytime I'm on a boat I have with me my sea to summit dry bag.
20L out of stock? It's missing from the...
20L out of stock? It's missing from the drop down menu.
Sure looks to be. You might want to hit up the chat now to get an estimate when they'd be back in stock.
I own multiple dry bags and love this one because of its sturdiness. My siliconized nylon ones, I am always a little hesitant to put outside my backpack or throw around in a canoe because they might tip. This tough material is really abrasion resistant and therefore I strap it outside of my pack if needed. The loops are perfect for holding it in place. I also used it to strap it on my bike rack on top of the panniers. I chose the bright orange color that makes it easy to find in camp.
The only slight downside - it is a bit heavier than the other dry bags, but really, its sturdiness makes up for it.
I love these bags. The loops and rings help to provide anchor points. Definitely keeps everything you put in them dry. I got the 13L for kitchen stuff and the 65L for a portage pack. Heavy-duty materials mean these bags will last.
Excellent Design & Quality, but Pricey
The heading pretty much says it all. Very good quality well-suited for rugged use and longevity. The oval shape is very useful for fitting a 13L bag into round kayak hatches which was the case in my situation. I like that the material is nylon and not rubber as with other heavy duty bags. This allows for easy sliding in and out of tight spaces such as in a kayak. The rubber bags are a real pain to wedge in and out of a kayak.

I purchased this bag at a 25% discount and still thought it was very expensive for what it is.
Do the 13 and 20 liter bags have two sets...
Do the 13 and 20 liter bags have two sets of loops on the side or just one? Also, anyway of choosing the preferred color?
Best Answer
I believe that everything below 20L has only the single loop on each side. No, "assorted" colors means they grab whatever color comes up first. Never hurts to call and see what they can do, but don't count on it.
Hmm, so only the very largest have two loops? Was that a guess Phil or are you certain?
The definitive word straight from a phone call to STS is that 13L and lower have one handle per side, and everything larger has two.

Now we all actually know for sure.
What is the best way to clean the 65 Litre...
What is the best way to clean the 65 Litre Big River Dry Bag without compromising the watertight integrity?
Turn it inside out and wash it as you would with laundry. Hang dry.