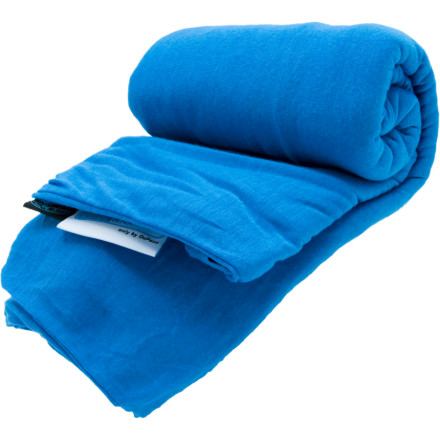 Detail Images

Community Images
Description
Halt hampering humidity while you slumber.
Add some climate control to your warm-weather sleeping bag with the Sea to Summit Adaptor Coolmax Travel Liner. Whether you're surfing couches during the summer or sliding between summery hotel destinations, this liner uses Coolmax fabric to wick away sweat and regulate temperature as you sleep. Lightweight, easily packable, and designed to stretch, this smooth, comfortable liner can be used alone or mated with a lightweight sleeping bag.
I am going backpacking around Africa, Asia and Europe and I have Marmot Cloudbreak 30 sleeping bag but for the colder nights I wanted to get a liner that would be good to help me stay warmer; and also for the hot nights and I could just sleep in a liner.



Does this liner add warmth? Also is it warm enough for use by its self?
Hey Caitlin!



Great choice on the Marmot Cloudbreak 30 Sleeping Bag! This Sea To Summit Adaptor Coolmax Travel Liner mainly uses Coolmax fabric to wick away sweat. I would recommend looking into a sleeping pad which will act as a barrier to help preserve body heat and prevent the cold temperatures of the ground from being absorbed -- it will also provide a lot more comfort instead of sleeping on uneven terrain.
Hey Caitlin,

So like Adam said this liner is best used to wick away sweat and also will keep your bag clean.

Look into a liner that will add some heat.

I use the Seat to Summit Thermolite liner for colder nights and the adaptor liner for warmer nights.

I'd suggest getting 2 liner for your trip, they're easy to wash and can be used solo on warmer nights or sleeping indoors on questionably clean couches and beds. Best of luck, have an awesome trip!
Is there a zipper or Velcro strip that...
Is there a zipper or Velcro strip that enables one to open or close the side for entry or exit?
Hey there!



Unfortunately the Sea To Summit Adaptor Coolmax Travel Liner does not have a zipper/velcro strip for side entry/exit.
Keep Your Bag Clean and Fresh
I bought this because I am working on doing a thru-hike of the PCT currently and figured it would be good to have something to prevent my indubitably nasty body from sullying my sleeping bag every night and leading to a buildup of grime and grotesque odor within the bag itself.

It is not exactly the most weight friendly bag liner I've found during my research (depending on who is reading, 9oz can be a lot or a little), but I bought it because it was on a sale and as of yet, have not been disappointed. Regulates my temperature well and gives my OCD-self a slight peace of mind knowing that I'm not going to have to contend with nasty trail offal in my actual sleeping bag, and thus be forced to wash the bag every few weeks or so.

I haven't yet had the opportunity to try it out in a 800+ down fill bag, nor in extremely cold climates (the coldest temps I've had to contend with while using this liner thus far are no lower than 35-40F) so I will pop back in with continued info once I achieve those goals.

*Bottom Line : If you are looking for a bag liner that seems to be durable, relatively light, and not the most rapid in picking up the smells of nasty body odor, it's not a bad choice. Given my experience, I will give it a five, though with more experience, that rating may very well drop. *
I bought this bag for a summer trip to Europe in which we, for the most part, were sleeping without sheets/beds. It worked out great, the fabric is super soft and still is, it's extremely light, and it packs down quite small for how spacious it is when unraveled. It's the perfect buy for hostels, couches, floors, anywhere where you just need a sheet to sleep with. I've since used it as a liner in my mummy bag on some colder nights camping and it definitely adds some warmth.
I'm going on a trip to Africa. I want to...
I'm going on a trip to Africa. I want to find a cool, lightweight sleeping bag I can use when I'm camping out in the back country. Can anyone who has used this bag tell me how durable it is? Is the Coolmax fabric tough enough to not rip easily? Does it collect dirt? Thanks!
This fabric is pretty durable, like all sheets it will need to be washed every once and a while. It is an extremely soft fabric.
Awesome liner. I don't like the silk personally but I love this material. It works really well for tropical conditions and I would recommend to anyone backpacking/camping with 70+ nights or if your staying at a hostel. I also carry the marmot trestles trail bag in case the temp goes below 65(f). I also like the fact that I have a nice wicking liner for colder months. I tend to sweat.

This bag when packed is 3x5 inches. I am 6'3" 250lbs and I fit comfortably.