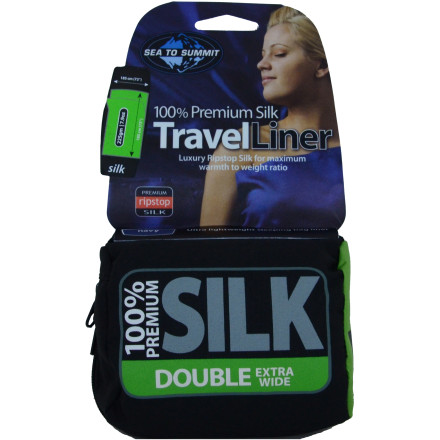 Colors

Community Images
Description
Four-star comfort wherever you roam.
The Sea to Summit 100% Premium Silk Sleeping Bag Liner brings the silky, soft comfort whether you're camping, backpacking, or traveling from hotel to hotel. Premium AA-grade ripstop silk keeps you unbelievably comfortable for how durable it is, and gussets allow this liner to move with every toss and turn. Sea to Summit reinforced the seams for excellent longevity so this liner can protect you from the disgusting germs in hotel beds for a long time, and you can toss it in the washing machine for an easy clean when you get home.

Premium AA grade ripstop silk
Gussets
Reinforced seams
Machine washable
great product
Familiarity:

I've used it several times
good for adding a little extra warmth in colder temperatures, or provides a good light layer when in warmer climates. good stuff.
What do they mean when they are talking about "stretch panels?"
Read down and "assume" the "stretch panels" are referring to the spandex sides. I will purchase soon due to the great reviews.
Nice light and comfy Nice!
Familiarity:

I gave it as a gift but have feedback to share
Nice and light very comfy and the wife loves it!
What warmth does this liner add to a sleeping bag? The Reactor Extreme specifically says 25 degrees F..
This will add about 5 degrees F to the bag. So it would make a 25 degree bag more like a 20 degree.
Oh Ok. I assumed it was warmer based on the previous questions. So what is the warmest Sea to Summit Liner? The Thermolite Reactor Extreme?



Thanks!
Heaven to climb into
Familiarity:

I've put it through the wringer
I purchased my Sea to Summit liner in preparation for an extended trip abroad. Given that I largely use it in hostels and on trains, I chose the "traveler" model, which includes a pillow case. For maximum temperature flexibility and comfort, the silk fabric was the way to go.
First things first, let me just say that this thing is heavenly to climb into. It is incredibly lightweight and soft, with good temperature control and a luxurious feel. The bag is roomy and easy to get in and out of. At the end of a long day, it's just amazing.
Practically speaking, the sack is surprisingly packable and lightweight. It takes up about the size of two pairs of wool hiking socks, and therefore is a reasonable addition to even limited luggage. In my eyes, this is not a full-on necessity, but makes travel more comfortable. It has also doubled as a window cover, a lap blanket, and a privacy screen during this trip.
I intend to use the liner later on inside an actual sleeping bag while on a backpacking trip. I haven't used it yet, but I am confident that the material will hold up. Although this is not a mummy bag style liner, the pillow case easily flips inside out, and will likely fit easily into the hood of my regular sleeping bag.
One negative of this bag is that it does tend to get twisted if you roll around in your sleep. I'd say this is to be expected, but is still worth nothing. I've never minded giving an easy kick to free my legs, but do be aware that it may tie you up a bit.
I've been looking at the Sea to Summit Thermolite Reactor Extreme Mummy Bag Liner, and plenty of reviews from users who've field tested it say it doesn't get anywhere near the added "up to 25 degrees F" warmth claimed in the specs. Compared with that product, how much added warmth can we expect from the silk liner? Are we sacrificing comfort for warmth, or is silk a win-win, with the caveat that it's more expensive?
Hey Ryan,



Silk is going to be the the comfiest, warmest, lightest liner our there, but it is going to be more expensive. I'd say go for it!



Give me a call or an e-mail if you'd like to set up an order or have any other questions.



Ben

brabinowitz@backcountry.com

801-746-7564
Very light and comfortable
highly recommended
Haven't used it and wont until July. The material feels super comfy and soft. For that reason I will give it 5 stars.
Very light and comfortable
Familiarity:

I've used it several times
I was initially concerned about the stretch panels but they are strong, not at all flimsy as I was worried they might be. They do definitely add to the comfort of the sleepsack. I believe I now prefer the stretch panels over the Velcro tabs of my now thread bare poly sleep sack.



Silk is the way to go if you are able. Light, excellent in all temps, great odor control (naturally), and durable. I will definitely buy this again if I should happen to wear this one out.
Couldnt find my dated silk liner for a trip so broke down and bought this. As silk liners go, don?t think you could get much better. Its thin and light. The spandex sides seem to give some extra flex and movement (I slept IN this liner, on an exped mat, with a UL sleeping bag draped over as a blanket on a recent desert trip?setup was comfy and warm. My other silk liner has a slit down the side with Velcro to attach up the side?minor annoyance for me but I spent a decade being itched/irritated by the Velcro patches as I stirred/moved at night. This one has no such slit/Velcro/zipper but does afford ample movement. You will, however, have to enter/exit the liner on the end rather than exit the side as you would your bag. Again?the spendex side panes afford plenty of movement to be able to get in & out easy enough.