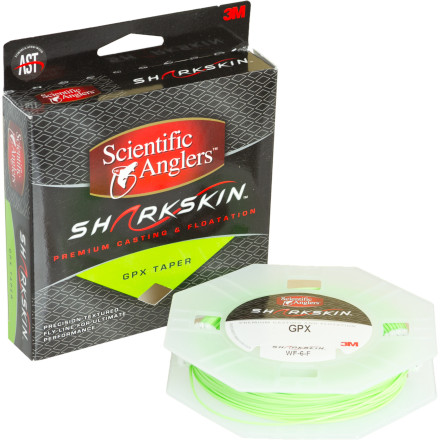 Community Images
For top-shelf durability, excellent flotation, and all-around performance, turn to the Scientific Anglers Sharkskin GPX Fly Line.
SharkSkin microtextured surface reduces friction through rod guides, improves flotation, and enhances durability over the long haul
Advanced Shooting Tech(AST)reduces friction and repels dirt so that your line shoots farther and remains grime-free
Dry Tip tech along the tip increases flotation
Braided multifilament core features low stiffness for a long delivery
Taper designed to accommodate a variety of fly sizes
Streamlined front-end loop connects easy to leader and helps produce smoother casts and easier turnover; back-end loop connects to backing with ease
Scientific Anglers' SA ID line-identification system lets you ID your line at a glance if you're juggling multiple spools
If you're buying a reel or spool and fly line, we'll be happy to rig it up for you, please give us a call at (855)-712-0513 for details
I've only been fly fishing a few times, and just recently purchased my own rod and reel. I have purchased this line but I'm wondering now about a line backing, what lines are used for backing and what would work with a 7 - GPX?
smooth
Familiarity:

I've put it through the wringer
As always, before making this purchase I did my fair share of research. Talked to friends, read reviews, and once I had my mind set, pulled the trigger. I love this line, have it on two different reels, a 5wt and 6wt. Sharkskin essential creates less friction through rod guides, enabling the user to cast further. One misconception, just because you can cast further doesn't mean you should be casting further. Catching fish doesn't require hero casting. I know throwing lots of line is quite fun, but with more line comes a decrease in accuracy and hook sets...just something to keep in mind. The line also makes more noise through rod guides than traditional line, but this wasn't a bother to me.
Fish rising on the far banks, not a problem with SA sharkskin. This line absolutely rockets from your rod, the feel and control is great!! Less false casts with this WF floating line, and with the sharkskin texture it really sits high on the waters surface allowing you to easily pull 30+ feet off the water with no issues and resend it.Good casting line in close spots and really gets after it when you need some distance, make sure like any other line you clean these they can pick up dirt with the texture.