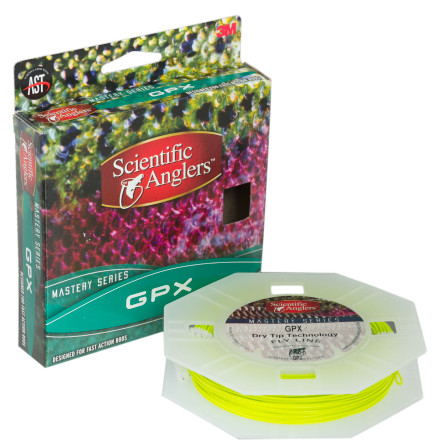 Description
Sets the standard for fly lines around the world.
Designed for cold to temperate water, the Scientific Mastery GPX Fly Line is the ideal all-purpose fly line. Thanks to its taper design, the Mastery GPX handles a large range of flies and conditions with ease. This killer line also provides excellent versatility for presenting nymphs, dries, and streamers.
Advanced Shooting Technology (AST) sheds dirt, algae, and other particles for farther casting, better flotation, and friction-free movement
Dry Tip Technology (unique 3M Microballoon formulation) enhances flotation along the tip
Scientific Anglers Line Identification (SA-ID) allows you to identify your lines at a glance
Welded streamlined loops allow for quick rigging
Braided multifilament core provides low stiffness and moderate delivery
Built a half-size heavy for use with fast-action rods
Low memory core handles dries and terrestrials with ease
If you're buying a reel or spool and fly line, we'll be happy to rig it up for you, please give us a call at (855)-712-0513 for details
Share your thoughts
What do you think of the
Scientific Anglers
Mastery GPX Fly Line
? Share a...
Got this for a homie but have feedback to share. He likes it! Worked great while we floated Big Hole MT. Brought in some fish on surrounding rivers the next day as well. No complaints, great bang for your buck.
I used this on my 5wt Z-axis rod last year and it was just okay. It did what I needed it to, but after having tried Rio Gold, I won't be going back to SA. This line seems to be a lot stiffer and really noisy compared to others that I've used. It does what it needs to, but that's about it.
For your faster action rods when you wanna have one floating line for dries, nymphs and the occasional streamer this is a great choice. I'm a fan. I like the SA GPX Sharkskin even better though! As always consult your local fly shop and they will let you know if this is a fly line with the taper that best fits your rod and fishing preference. Support your local shop!