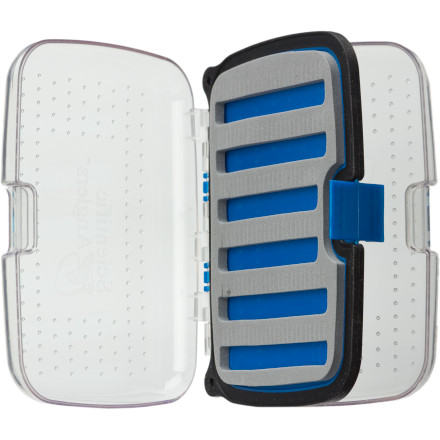 Colors

Community Images
Description
Mmmm ... Skwala stoneflies.
Since the river was frozen longer than usual, you've had more than enough time to tie flies and stock your Scientific Anglers Classic 280 Medium Waterproof Fly Box with a hefty arsenal. This super-handy waterproof case will keep those home-tied flies safe, secure, and accessible when the snow melts and the hatches begin to go off.
Medium size for easy fit in your backpack, chest or lumbar pack
Waterproof case has a single-hand-closing, see-through lid for your convenience
Precision slit foam holds up to 280 flies securely
Design allows it to accommodate a wide variety of fly sizes (sizes 10-20) for trout and general fishing
There are many options out there. Before 'see thru' and 'waterproof' enter your thoughts, consider the type of holding mechanism that will work best. If that fails who cares what box you're reaching for OR if it floats. Individual compartments have their benefits--they hold a lot but can be difficult to get a single fly out, you'll resort to using tweezers. Spring loaded doors can fail (cheap ones) and can even fling your flies out of the box. Foam (and now silicon is being used but it's heavy) is ubiquitous. But not all foam is created equal or the substance used to adhere the foam to the box. I've found Scientific Anglers and MFC use the similar materials and adhesive. In the heat the adhesive can soften and cause slots to deform rendering them less useful and sometimes your flies will get stuck and you end up picking off foam. The foam in CF design boxes and Wheatley boxes is similar and don't exhibit the same issues with heat as the other two. Also the latter two offer replacement foam inserts, not so for SA and MFC. For me the Wheatleys (for trout) CF Design (for bass) are the best. The CF design with foam insert system are large enough for big smallie and largemouth flies without crushing sz2 - sz 4 poppers. Just make up several different foam inserts (CF Designs offer lot so of different inserts), and drop and go. I have 2 CF Design boxes and yes, they are bulky and heavy (similar to the SA boxes) but I'm usually on a boat when fishing for bass so weight and space isn't a concern. White box for top water, black box for subsurface--no need for see thru in this case, it's color coded. The Wheatley boxes (I have six) with their individual compartments, flip foam and rippled foam give you endless options, light weight and high capacity. The MFC waterproof box, although the foam isn't the best, I've found is the cadillac of boxes for a mixed day of smallmouth/largemouth and musky during the spring.
Worked for a time.
Gender:

Male

Familiarity:

I've put it through the wringer
These (I bought 5 different ones) were the first in a long line of fly boxes. In retrospect I won't buy them again. I got them because they were waterproof and were see thru. You can't take that away from them. The biggest disappointment was the foam. Over time with enough heat (think hot summers in the south) the adhesive under the foam would get soft and stick to hooks. And if you're heavy handed you can easily damage and deform the slots and their ability to hold flies goes south fast. There are cheaper, lighter options with better foam out there. Orvis' slime line of boxes are an option but the foam is the same. Angler's Image fly boxes are a bit more expensive but has the better foam (similar to foam in Richard Wheatley boxes and CF Design boxes--all 3 of which I use instead of the SA boxes). To me, for their size and weight, they didn't hold enough.
Get 2
Familiarity:

I've put it through the wringer
U don't need a hundred fly boxes sitting around ur basement, confused about what went where and "oh hey that awesome fly that guy gave me last year, where did I put it?" Get yourself 1 or 2 big boxes, like the giant daddy, grab a 6er and spend a Saturday afternoon organizing ur flies by season and region. Then buy 2 of these boxes. In 1 goes the 'staples' that go w u everywhere- copper johns, Adams, caddis, princes, etc. In box 2 goes the flies u need for that specific trip. 2 boxes, that's all u need to take with you. No longer to walk around looking like u have a 50lb beer gut because u have 8 boxes in ur vest. And always get clear boxes so u can see what ur doing before u even open the box
Great high-tech box! Love the fact that it's got see-thru sides. You don't open it until you see what you want.
This guy does the job! Like that its water proof and double sided!