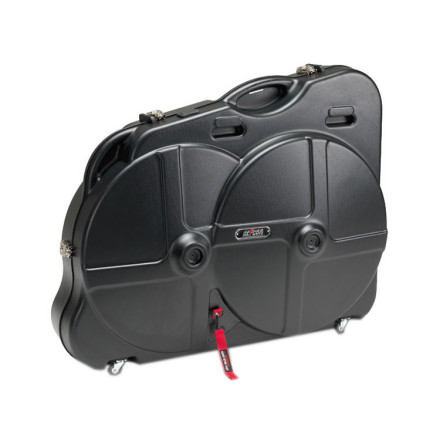 Description
Get flying.
When it comes to your pride and joy, sometimes only a hard case will really put your mind at ease. For trips where the race matters, choose the SciCon Aero Tech Evolution TSA Bike Case. It's been field tested by the likes of Cannondale, Astana, and Saxo as they campaign at top-level races the world over.
The shell is 5mm of thick, ABS plastic designed to stop anything trying to hurt your bike in its tracks. Inside is padded upholstery, wheel covers, and a variety of foam sleeves that cover the frame. There's also a stash bag for shoes and pedals, and the bike case rolls easily and steers smoothly on caster wheels. It also includes four TSA-approved locks to keep your cargo just a bit more secure.
Hard case for maximum protection
Upholstered interior with wheel bags and foam covers
Caster wheels and handles for easily maneuvering
TSA-approved locks
Disappointed in warranty for the Price.
Familiarity:

I've put it through the wringer
While there is no question this is the best way to protect your bike, the warranty and service do not live up to the price tag. Two areas of the bike case broke that support the wheels. Once in transit and once while wheeling along the side walk. Scicon would not live up to their warranty claiming they are not responsible for third party damage. One wheel broke on the plane, one broke while I had it. 1) The case should live up to travel 2) As second broke in my possession it should be warrantied. But no. Very disappointed. You'll note this is the second review about the dismal warranty response from Scicon,.
If it's got to be the best then this is!
Familiarity:

I've put it through the wringer
I'm a big fan of Scicon products, I use their Aerocomfort on short-haul travel but this case is what you need if you're doing something intercontinental or just want the top level of protection. It's expensive but it's worth it if you travel a lot and have an expensive bike and lack of mechanical skills- very easy to pack.




The Rolls Royce of Bike Boxes
Familiarity:

I've put it through the wringer
When it comes to travel safety I've found the Aerotech Evolution to be the absolute KING of the bike box jungle. Having done well over 20 flights with it this year it's proven to be super robust against heavy baggage handlers and resilient to their lack of consideration towards my two-wheeled prized possession. It's compact and the 360 degree wheels make it easy to navigate through a busy airport at speed as opposed to drag (not that I'm ever pushed for time to make check-in....honest). Internal protection is second to none. I normally pack my helmet, shoes and a small tool kit in the box as well and can have everything in the box and locked in less than half an hour. If you're worried about travelling with your bike then I'd definitely recommend having a closer look at the Aerotech.
very disappointing product and service
Familiarity:

I've put it through the wringer
This case is not durable. It only survived a couple flights before cracking around one of the latches. Scicon refused to replace the case. Fortunately, my bike was not damaged. In addition, the case is slippery and the wheels do not rotate or spin well -- they quickly clog from dirt and small gravel.
I bought this case to protect my bike while traveling overseas. There is no doubt that this case will survive extreme abuse. The other great thing is that the biggest preparation for traveling is to remove and secure your wheel set inside the built in protective wheel wells. So if you are not interesting in loosening or removing seats, handlebars, derailleur and pedals this offers a big advantage over many of the other cases on the market. The other thing I really like are the TSA approved locks. They without a doubt will keep this case secure and locked protecting your bike and valuables. Speaking of valuables there is definitely room in this case to stuff in all your extras like helmets, bags etc.



So with all the positives there is always a few negatives. The downside is the size of the case. Once you arrive at your destination you will need to move this case around and additionally you will need to get it inside a vehicle that is large enough to accept it with room left over for your other luggage. Cars in most foreign countries outside the USA are usually on the small side so keep this in mind when traveling with this case abroad.