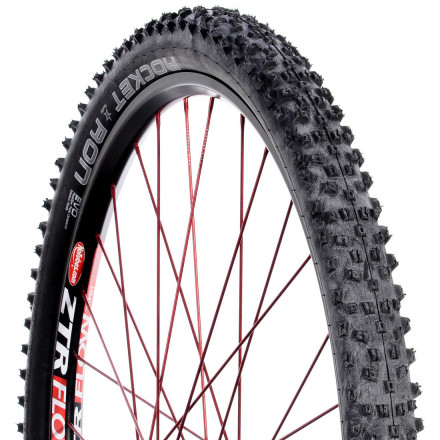 Lighter and grippier than the Racing Ralph, the Schwalbe Rocket Ron TL Ready 29 is a perfect 29er tire for mixed conditions -- wet or dry. The fact that it has a serious amount of open void space between knobs helps keep the weight down to better-than-respectable levels. This underscores its intent as a race tire, designed to get you there first. With the Rocket Ron, you don't have to settle for light or grippy -- you can have both.
It's a great middle ground between the loose conditions-master, the Nobby Nic, and the race-proven Racing Ralph. It rolls fast, and on a well groomed trail it's just as grippy as the Nic. The tread blocks are prominently tapered, and they've been spaced far apart. This is the reason that it self-cleans so well in mucky stuff so that you can continue to have traction to drive down the trail and keep the bike upright.
The secret to optimizing the Rocket Ron's performance wherever possible with regards to grip, durability, and rolling resistance is Schwalbe's Pacestar Triple Compound rubber. Its cornering is outstanding thanks in part to the soft rubber compound and to the U-shaped tread blocks on the shoulders. They're angled 20 degrees or so towards the outside of the tire, with siping that doesn't quite divide the block, creating the "U". These siped U-Blocks can deform easily and mold over the trail surface, working to counteract the lateral forces when you're cornering hard.
This tire is designed to be tubeless ready (TL), which means you can say goodbye to pinch flats. A tubeless system allows you to run less air pressure, again enhancing the grip of the tire's tread. Better traction, less vibration, and no flats lead to a great ride. It's necessary to use a liquid sealant within the tire to seal the bead seat and to quickly seal thorn or debris punctures on the trail.
The Schwalbe Rocket Ron TL Ready 29 is available in 29 x 2.25" width only. Please note: because Schwalbe has optimized this tire to be lightweight, patching in the event of puncture is not recommended.