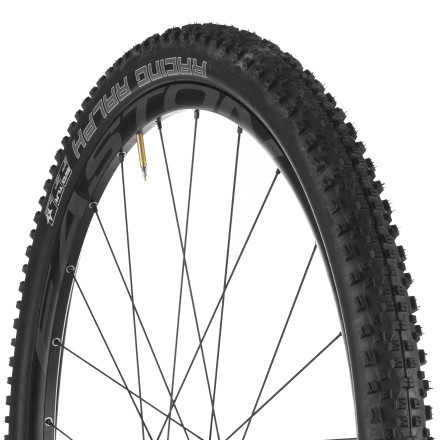 Detail Images

Community Images
Although Schwalbe's Racing Ralph TL Ready 29in Tire places a focus on durability, it's fast enough to fool you into thinking that you're on Furious Freds. Yet, in comparison to the Rocket Ron, the Racing Ralph's tread pattern is better suited for flat-out speed. So, you gain a longer shelf life and greater speed at the price of a little less grip -- a small price to pay in our book.
The real secret to creating the Racing Ralph is Schwalbe's Pacestar Triple rubber compound. Essentially, PaceStar places harder rubber down the center line, making for faster rolling and improved wear life. Meanwhile, the side knobs receive a softer rubber compound, improving cornering traction by increasing flexibility. In essence, you get the speed of a harder compound tire, mated to the cornering grip of a softer tire. This means that you get the benefits of both rubber compounds, without suffering from the drawbacks of either. This is due in part to the soft rubber compound, but also in part to the 'U-shaped' tread blocks on the shoulders.
These tread blocks are angled around 20 degrees towards the outside of the tire, with siping that doesn't quite divide the block. These siped U-Blocks fairly malleable, meaning that they're able to mold over a trail surface. So, in other words, they work to counteract the lateral forces that you experience when you're cornering hard.
The tire is designed to be tubeless ready (TL), and as you may have guessed, the tubeless designation means that these are optimized for a tubeless setup. But, you are able to run them with tubes if that's your preference. By 'Tubeless Ready,' Schwalbe means that the bead hook on this tire is enlarged. Why does this matter? Well, it makes seating the tire to a tubeless rim a whole lot easier. Which, if you've ever ended up covered in tire-sealant after trying to seat a stubborn tire, will be a welcome improvement.
The Schwalbe Racing Ralph TL Ready 29in Tire is available in the color Black and in either a 2.10- and 2.25-inch width
too fragile for me
Familiarity:

I've used it once or twice and have initial impressions
I like the grip and the weight of the tire but on my first ride I had a puncture in the middle of the tread from a rock. on the second ride I had 1cm slice in the side wall. I may give them another chance with the snake skin but never again without.
Great Tire
Familiarity:

I've put it through the wringer
This is a competition race tire. It is meant for racing, but it is more durable than the Rocket Ron or other super light race tires. So although it is light, it isn't ultralight. I love the tread pattern and it grips well on a variety of surfaces, and very fast. It isn't a great mud tire, but that isn't what this tire is for. (It is rare to be racing in mud). They do make a snakeskin version of this tire if you want more durability, but of course it adds some weight. I did have one puncture that wouldn't seal using this tire during a race in Park City last year, but it wasn't on a sidewall so I'm not sure the snakeskin version would have prevented this (I just impaled the front tire on a ridiculously knife-sharp like rock). I usually go through a set of these tires about every 3-4 months, and that is riding 2-4 times a week for about 1.5 hours.
Nice tire.
Familiarity:

I've used it once or twice and have initial impressions
I know the tire rides well based on reviews from several of my friends that use it. I also know that it will wear somewhat quickly but that is the price you pay for traction. I was pleased that it mounted and sealed tubeless very easily (which isn't always the case with some tires). One shot with the compressor and it popped right onto the rim and sealed immediately. It's a little pricy but I guess it is worth it.
Not for entertainment!!
Familiarity:

I've put it through the wringer
I think this are great for competition, but are very soft so if you're a fan of Schwalbe, you'll need to buy a new tire soon!!
Great as a front tire
Familiarity:

I've put it through the wringer
Schwalbes are my favorite tires, however, they're fragile and as a rear tire wear quickly. The 2.25 is my go to size for the front, ran it as a rear for a little more cushion at less PSI. Be sure to keep it topped off with the sealant of your choice, as it seems to dry out much faster in these tires than other brands I have tried.
Not a fan
Familiarity:

I've put it through the wringer
They are great race tires but very soft. I went through 6 sets this season and only one set of Fast Traks last season. My fault for buying them so many times. Run the Maxxis Ikon or Fast Trak for XC racing and even training.
Schwalbe racing Ralph TL 29
Familiarity:

I've put it through the wringer
These were my go to tires for the last 2 years. Light weight, tubeless ready, great rollers and very compliant with the terrain. About a year ago I started cutting the center tread of the tire so bad the sealant wouldn't work. This happened at least 4 times. Currently trying out the Continental x king. Supposedly has more flat protection. That's just my experience ....