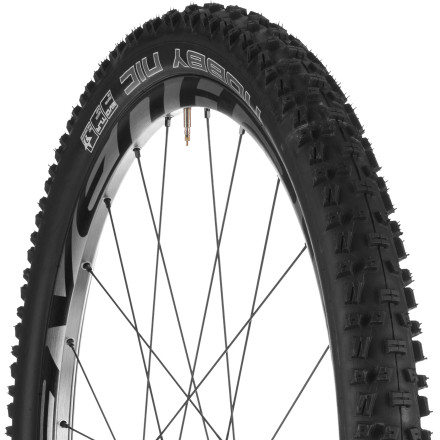 Mud? Sand? Hard-pack? Loamy? Nic's got plenty of knobs to make it perform on a variety of terrain. The Nobby Nic TL Ready Tire is what Schwalbe calls an 'all-grounder,' and it's also both tubeless-ready and around 20% lighter than the older UST versions.
And while the Nobby Nic is indeed knobby, it isn't overly knobby. This is part of what makes it the tire for every occasion. What we mean is that it provides supreme traction by spacing the knobs out. This creates enough void space for precise penetration into soft soils, while increasing the tire's mud shedding capability. However, all the while, it rolls better than most high traction tires.
This is due to Schwalbe's phase shifted blocks. In simple terms, the casing's tread blocks aren't all in an even spacing pattern. Instead, the lateral clusters of blocks alternate from more closely spaced to more widely spaced. Schwalbe found that an oscillation can develop with consistent tread patterns at certain speeds. So, the Nobby Nic uses phase shifted blocks to eliminate dissonant vibration and to decreases the rolling resistance by 15% over its prior iterations. The Nobby Nic TL Ready tires are designed to run the same direction front and rear. This means that the U-shaped shoulder knobs offer tight and predictable cornering traction for both ends of the bike. The shoulder and center tread knobs are also both siped to increase their ability to deform and grip the trail surfaces.
The Schwalbe Nobby Nic TL Ready Tire will require a liquid sealant for tubeless applications with a UST or tubeless rim. It's also available in either a 2.1 or 2.25 inch width.
Happy with this tire
Familiarity:

I've put it through the wringer
I ran this up front for six months and has been perfect. Just switched it to back and loaded up a Big Betty 2.4 in the front. Both times the tubeless install was perfect - went right on and sealed up good first time. Much better than a Racing Ralph that fought with me for a week or two when installing the exact same way. Wear has been very good. Now lets see what it does on the back. Already better than the Rocket Ron it replaced in terms of wear & grip.
They wear out fast
Familiarity:

I've put it through the wringer
I have run the 29in version for the past 2 seasons in Colorado and they are excellent tires but they wear out REALLY fast, after 15-20 rides actually. I had to replace them mid season both years after the center tread disintegrated and they started leaking Stans everywhere. Actually, they will leak Stans in 8-12 places after just a couple of rides (all 8 of my tires did this) so be prepared to refresh. I would give the ride quality 5 stars, but because of the durability and cost I am knocking them all of the way down to 2 stars.
i rode this on the rear thinking i was smart by saving a couple hundred grams on my rig and cutting down rotational weight when pedaling, then i shredded the sidewall. this probably works great in places like the midwest. it had good grip and acceleration, it just could not stand up to the sharp rock out here.



i would suggest getting it with snakeskin sidewall, but it doens't come in 2.35. best bet for aggressive riding is to suck it up, and add a little weight with some hans dampfs.
I was told that a 26" mountain bike tire...
I was told that a 26" mountain bike tire only fits a 25" rim. Is that true?
i haven't measured my rims, but if you order a rim that says it's a 26" rim, then a 26" tire will fit it. the only issue might be if you tried to put a wide tire (say 2.35" or 2.5") on a rim with a skinny interior width (19mm).