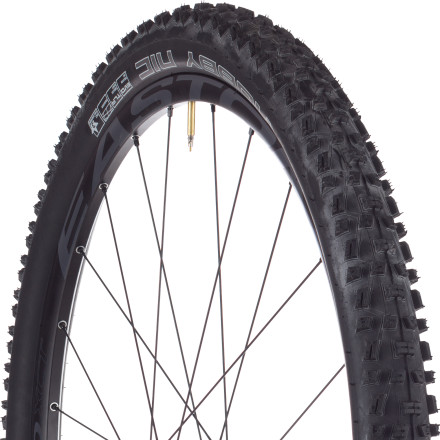 Detail Images
Description
The need for speed.
The Nobby Nic TL Ready Snakeskin tire is Schwalbe's all-mountain tire with a particular penchant for low rolling resistance. The tire's center line alternates between broad, paddle-shaped lugs and square lugs for a perfect balance of braking and traction that hooks up on everything from wet roots to hard pack. Pronounced side lugs grab hard in the corners so you can brake less in the turns and outpace the competition.
Nobby Nics also incorporate Schwalbe's PaceStar rubber compound. PaceStar places hard rubber down the center of the tire for reduced rolling resistance and longer wear, while the side knobs are made with softer rubber for better traction. The Nobby Nic TL, like all of Schwalbe's tubeless-ready mountain tires, employs an enlarged bead hook that makes seating the tire easier. The Snakeskin casing gives the tire a supportive, pinch flat-resistant sidewall.
Firm center rubber
Softer side lugs
PaceStar rubber compound
Tubeless-ready bead
Snakeskin sidewalls
Share your thoughts
What do you think of the
Schwalbe
Nobby Nic TL Ready Snakeskin Tire - 29in
? Share a...
Good tire but not as strong as others
Familiarity:

I've put it through the wringer
I enjoyed the ride quality and traction of this tire for the few hundred miles I ran it. I'm now taking it off the bike with tread still at 70% because of two tears in the tread of the tire that make it impossible to run tubeless and I've now flatted twice on last nights ride running with a tube due to punctures. The Maxxis EXO casing is far stronger for me. I usually wear a tire out before I need to replace it. Back to Maxxis for me.
4.78654 Star Tire
Familiarity:

I've put it through the wringer
Can't give it five 'cause of the price. They are exorbitantly priced, but that fact is mitigated by the reality that this tire is actually pretty damn durable. I bought my first set in 2011 and only in the last couple months did I have to replace them. I ride probably 750 miles / year, so that's a solid 1500 miles on them. I never lost a knob, but there was noticeable wear, no question. But I never cut a sidewall or cut them anywhere else. I did slam into a berm on a bunny hop and puncture the rear one, but I plugged it and it performed beautifully.

As for hooking up, I can't imagine it getting much better. My primary trail is in a park filled with oaks which means roots, roots and more roots. It is also relatively wet down here, so the roots are oftentimes quite slick. The Nic handles them with ease, as well as allowing you to really throw yourself into turns. There is all sorts of terrain; groomed 1track, rock gardens, technical rocky slow areas, fire road bomb, a flow trail, pine groves, etc. Bottom line, there are plenty of areas to cut these bad boys...but I never have.

When I first researched them, the big thing was rolling resistance; may be, I can't really tell if there is any more resistance in this tire than any other tire with relatively beefy knobs. I run them tubeless at 23 - 27 PSI, depending on conditions, I weigh 200 lbs and ride a Trek Superfly 100AL Elite(1x10), Stan's Arch rims and Chris King ISO hubs.

Again, can't give it 5 because they are just so pricey, but if you don't mind dropping $80 /tire, this is where you should be looking.
Premium, Predictable Rubber
Familiarity:

I've put it through the wringer
I used this tire exclusively for years. In fact, I even bought extras like they were going out of style. A new bike pushed me towards some other tires, which I had a love-hate relationship with. After some time off the Nobby Nics, I got some miles on an unfamiliar demo bike that had them mounted up. The bike felt foreign, but the handling did not and I remembered exactly why I absolutely love(d) these tires for years.

The Nobby Nic offers nearly everything you could want in a tire; Extremely lightweight, Tubeless ready, Supersonic speed, Superb grip, Predictability, Justifiable durability.

Aside from weight which I will touch on later, the most dramatic differences I noticed with this tire was how predictable and secure the grip was while they just seemed to keep rolling down the trail effortlessly. Rear break away was predictable and kept confidence elevated when pushing the limits on your favorite trail.

Tread wear seems to be a hot topic between internet forums with these tires, but I had great treadwear and easily got over 750 miles with both the front/rear on my sets. Side knobs tended to degrade from below the top of the knob, but still griped well and I did not notice any decrease in performance. Compared to my experience with Conti X-King Protection tires, these tires outlasted several of those tires. Schwalbe's Snakeskin sidewall protection is the only way to go in my opinion for extra insurance without much of a weight penalty. Only issues that came up were a puncture here or two in the tread, but based on the performance and light weight I think it was reasonable.
Like most Schwalbe tires , the Nics have a lot of great features. Good traction, compliant with lots of terrain, fast rolling and work well tubeless. My biggest problem is that they wear quickly and cut easy. Much like the Racing Ralph's. And for $80 a tire this can get real expensive quickly. I guess if $ is not a problem and your willing to sacrifice durability and longevity your ok. They really do ride nicely though....
Excellent ride quality, low weight.
Familiarity:

I've used it several times
I just got this tire to replace a blown out front on my XC race bike. I've been using Contis and Specialized for years and was please. This is my first Schwalbe tire and so far I've got about 180 miles on it.

The two biggest reasons that I like this tire are 1) it's weight & 2) the ride quality. It weighs about 2 oz less than my Specialized Captains and some of the other 2.2+ width tires, but still has awesome side lugs that hook up really well.

The other reason I like these is the ride quality: this is totally subjective, but they feel smooth and consistent, like I'm more connected with the trail.

Setup: tubless on DT Swiss rims.
Does anyone run these in 2.35? On a...
Does anyone run these in 2.35? On a 29er?
I run ~2.35 on my all mountain bike (26er) but haven't used these.
Thinking about tubeless but the 29er but not sure if that much width is prudent or even useful on a 29er.
Thoughts? Thanks.
Best Answer
I run a 2.35 on my 29in bike that is tubeless and it works good for me but its totally up to you.

I ran a 2.35 on my niner and the rear kept rubbing on the frame whenever I stand up to climb. I would check your frame if you have enough space to accommodate the bigger tire before buying it. Although the bigger volume tire felt better on my hard tail than the lower volume 2.25. Grip is excellent but I noticed a slight disadvantage trying to turn quick on the 2.35.
I run the 2.35 on the front most of the year. I usually run a less knobby tire on back (Racing Ralf mostly). But in the fall, when the leaves and pine needles start to cover the trail and things get a bit more slippy, I mount the Nobby Nick 2.25 on the back. Terrific tires.