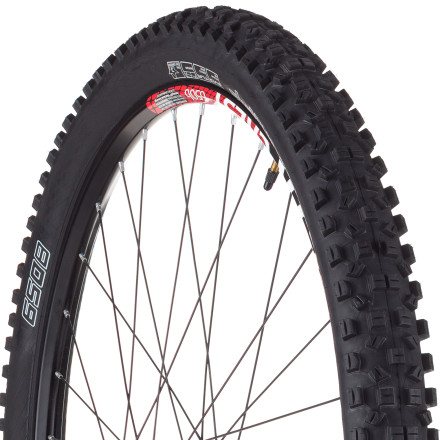 Schwalbe has long been a leader in the 29er movement, providing options for all trail conditions. So, it comes as no surprise to see Schwalbe aggressively entering the 27.5in (650b) arena. The Hans Dampf Snakeskin TL Ready - 27.5in Tire is designed as a jack-of-all-trades tire that positions itself firmly between the fast-rolling Rocket Ron and tenacious Knobby Nic.
Large tread blocks and a Snakeskin sidewall reinforcement places the Hans Dampf squarely in the 27.5 all-mountain market. And with five-inch-plus travel full suspension bikes showing up in progressive manufacturers' stables, we expect to see this tire become very popular.
This tire features Schwalbe's tubeless ready TL technology, meaning that it'll require sealant in order to complete the picture. Which, in our eyes, is no big deal, as sealant has proven to not only provide an air tight seal, but it also helps prevent flats down the road. Adding to that flat-resistant picture is the aforementioned Snakeskin sidewall. This is a nylon-fabric protection layer that's laminated to the sidewall in order to prevent cuts and abrasion from rocks. And while the added material does add heft to the Hans' waistline, it's only marginal when considering the added piece of mind.
The Hans Dampf uses Schwalbe's 67tpi casing with a three-ply layer under the tread. That aggressive tread pattern is composed of Schwalbe's TrailStar compound -- a rubber mixture that contains carbon filler. This gives the Dampf a tough compound without hindering pliability. The result is a fast-rolling, aggressive tire. And for added cornering traction, Schwalbe also used a grippy, softer rubber for the side knobs.
The Schwalbe Hans Dampf Snakeskin TL Ready - 27.5in Tire is available in either a 2.25 or 2.35in tire width.
Gets weird bulges
Familiarity:

I've put it through the wringer
I used to have two Hans Dampf tires on my bike and they both went weird and got bulges in them and had to throw them out. Agreed, terrible durability.
Great grip, horrible durability
Familiarity:

I've put it through the wringer
If I was rating this tire on grip alone, it would be 5 stars. If you want a tire that corners well, grips in nearly every condition, handles predictably and rolls reasonable well; AND can afford to replace tires every few rides, this is the tire for you. The downsides: 1) Extremely short life span. I was losing entire nobs after the second ride on both the front and rear tires. Was forced to replace the rear after about 5 rides and half the tread shearing off, limped the front along for a month until it punctured. 2) Terrible tires for shedding mud. I have Nevegals, Minions and High Roller IIs on my other bikes, and all do a far better job getting rid of the sticky stuff. Full disclosure, I do ride a lot of rocky trails here in MT, so I would imagine the Hans Dampf would perform better somewhere with softer trails. Pacific NW, perhaps. Friend with Magic Marys had similar durability issues. Fix that, Schwalbe, and I'll be back.



I had these front and rear with the Trail Star compound, and as mentioned in former reviews, I realize you always sacrifice some durability for great grip. This, however, is extreme. If you're a sponsored rider and get free tires every race, go for it. For the rest of us, there's better options.



Replaced with High Roller II rear and Minion DHF front. No durability issues yet and perform almost as well.
I run two on my Tallboy LTc and one on the front of my SS29er. These tires are not cheap and they don't last super long, but they are VERY GOOD!
Good for non-aggressive riding
Familiarity:

I've put it through the wringer
These tires are reasonably grippy and predictable, but in my experience they disappoint as soon as you get on the gas. They are a super round profile, filled with knobs, and super soft rubber. This makes them a very smooth and supple ride that less aggressive riders would most likely love. Cornering hard leaves a lot to be desired though, as you get faster and lower in a corner the traction remains fairly consistent until you get on the super SUPER soft cornering knobs, which seem to just smoosh out of the way and give out. For a beefy tire they roll pretty well and are good for long XC rides, but if you are looking for a tire that will give you the confidence to ride faster down hill then look elsewhere. I too am about to try out the High Roller IIs in place of these, and have high hopes. Those have more spaced out center and cornering knobs, which should theoretically hook up much better in fast corners.



Durability is also a reason for a lost star on this tire. Scwhalbe knew they were sacrificing durability when they used super soft rubber to get more traction. Personally though I think there are harder tires out there with even better traction due to better tread patterns.
Grip, but not without some sacrifice
So, I got a Hans Dampf because it was the only tire available with large enough side knobs when I built my bike. I trimmed out the outside intermediate knobs immediately. I have only had this tire since the end of April, But its already on it's way out, side knobs are cracking where they meet the casing. Great grip, but the side knobs aren't as supportable as I would have liked, i do trust this tire diving into corers, but am excited t put my High Roller II on the front soon!