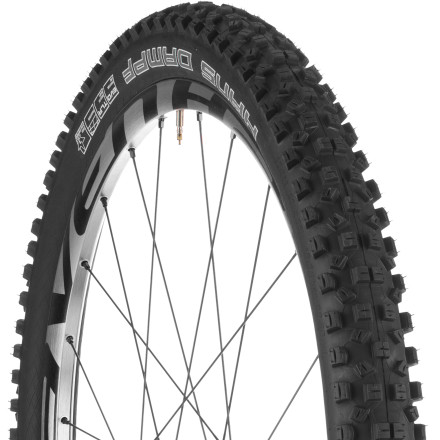 The fast-rolling Rocket Ron and tenacious Knobby Nic established Schwalbe's reputation for producing lightweight, high-volume tires. While these tires bridged cross country speed with all-mountain reliability, they suffered when the terrain got seriously aggressive. Hearing the cries, Schwalbe responded with the more durable Hans Dampf Snakeskin TL Ready 26in Tire.
With large tread blocks, a 2.35 inch width, and Snakeskin sidewall reinforcement the Hans Dampf 29er is placed squarely in the aggressive all mountain/enduro racing market. Featuring Schwalbe's tubeless-ready TL technology, meaning that it will require sealant in order to complete the tubeless picture. In our eyes, this is no big deal, as sealant has proven to not only provide an air tight seal, but it also helps prevent flats down the road. Adding another color to that flat-resistant picture is the aforementioned Snakeskin sidewall.
Snakeskin is a nylon-fabric protection layer that's laminated to the sidewall in order to prevent cuts and abrasion from rocks. And while the added material does add a touch of heft to the Hans' waistline, it's only marginal when considering the added piece of mind. The tire also uses Schwalbe's 67 TPI casing with a three-ply layer under the tread.
That aggressive tread pattern is composed of Schwalbe's TrailStar compound -- a rubber mixture that contains carbon filler. This gives the Dampf toughness without hindering any pliability. The result is a fast rolling, aggressive tire. For added cornering traction, Schwalbe also used a grippier, softer rubber for the side knobs.
The Schwalbe Hans Dampf Snakeskin TL Ready 26in Tire is available in a 26 x 2.35in width.
Lasted a single day.
Familiarity:

I've used it once or twice and have initial impressions
These tires grip wonderfully, for a single day. The problem lies within the side-knobs, which tend to rip off after a few hours of use, equating to absolutely zero support when laid over in a turn, and zero grip. Since I cannot feasibly fork out $180 for new tires every single ride, the Dampfs are not an option for me.
Griptastic!
Familiarity:

I've used it several times
I installed the 2.35 in the back and can already tell that this tire has great tread. I have, however, noticed a little bit of cracking the rubber and am not sure how that will affect the overall lifetime of my tire. More feedback to come.
Grip! Finally.
Familiarity:

I've put it through the wringer
In the loose Tahoe moondust and sand these tires seem to rip. Quick stopping power and solid grip through the loose stuff. And despite the heavy tread, they still roll uphill quite fast. Upon the first ride I even managed to get some PR's on some uphills. So they ain't too slow. A great tire.



(Update) They wear out! After only about a dozen rides my back tire is nearly bald. The worst longevity of a tire I've ever experienced. They ride great, last a month.
Great tire so far
Familiarity:

I've used it several times
Bought this tire as a replacement for my Nobby Nic in the rear. I was looking for a tire I could use in the spring mush until the trails dry out and I can put a better rolling, lighter tire on. So far I've been impressed...the only time it's lost traction is in the deep muck. Other than that, it climbs like a champ in the loose, muddy stuff and grips well in the tight, fast turns. Always seemed that the Nobby Nic would come loose going around corners too fast. Not with the HD. Thus far, I've only lost traction once, over a rock hump that has only 1 good line over it. I think this is a great AM tire, that can be used for XC and even XC races in the muddy stuff. I put about 25 psi tube on it. It's on my 2013 Cannondale Jekyll, riding a Big Betty up front. Once the BB is finally shredded, I fully intend to buy another HD trailstar for the front. Once things dry out, I'll runn a Kenda Slant Six in the rear, and will be putting HD up front. I'll add more to this review for front performance.
Love this tire
Familiarity:

I've put it through the wringer
I can get pretty picky about tires- tires and wheels can completely change the way your bike rides, how confident you are in the corners, and how bad you suffer on the climbs. This tire harkens back to the Panaracer Cinder (which was a fantastic tire). Rounded profile for consistent release when you push it too far (so you have a chance of recovering). Fast rolling. Haven't had any issues with flats, and the tubeless setup went really smooth (with a floor pump and XTR wheels). Beautiful. I love these tires.
I wish they fit my car too.
Familiarity:

I've put it through the wringer
these were made for gettin nasty on the mountain. they have big knobs that grip EVERYTHING, even our loose stuff in flag before the monsoon season. and the rolling resistance is minimal, at least compared to other aggressive tires. i don't know what xc tires feel like. they run tubless extremely well too. i haven't notice any leak whatsoever.



they're not the lightest tires, so probably not your xc raceday choice. also, on account of their stickiness, they're not the best with durability. that being said, you should still get a lot of life out of them.



i have the pacestar tread which is a little more durable and a little less rolling resistance. the trailstar is supposed to be more sticky, but i haven't found a need for it yet. maybe if you're cleaning gnarlier stuff than me...