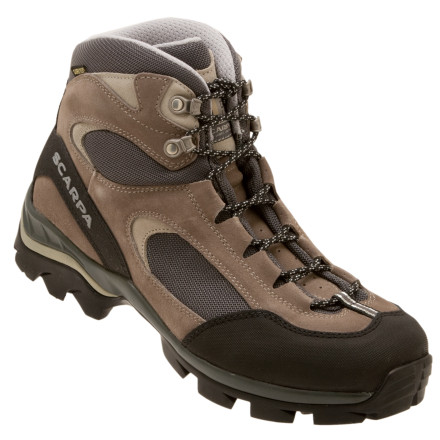 Detail Images
I ordered these and the North Face Vindicator GTX Mid at the same time. On paper, they are nearly the same. IRL, they are pretty different. Scarpa usually treats me well because their last is wide in the toe. The last on this is a mid-width however, and caused the aformentioned toe rubbing. Also the sole was quite hard for a light hiker, and the heel cup is a bit flat and narrow (which is somewhat normal for Scarpa). The narrowness and hardness made TNF boot win out (TNF has a very wide last), however if it fits your foot a bit better than me this thing with some aftermarket insoles seems like it would make a killer scrambling boot, as it felt like it would be very good and grippy at technical foot placements. Felt like it would require zero break in.
Second pair and very pleased with fit and feel
As I read the reviews I wonder if we are discussing the same boot. This is my second pair. I wore the first pair everyday on either a hike or walking for about 2 years. I finally just wore the soles out. I never had any problems as a few other reviewers. It could be a quality control issue but who knows. The person who had a separation should definitly talk to a company rep. They would probably make it good. I do find the Europeon brand boots tend to size out slightly larger than the american. I wear a 9 1/2- 10 and this boot I ended up with is a 44 which is a 10 1/2 boot and fits nicely and has room for a very heavy winter sock which I need as I hike often on long winter hikes in snow and ice with crampons. I seldom read reviews since like this one they tend to differ greatly. I am personally well pleased with the boot.
I have the earlier version of this boot, the ZG65 XRC (virtually the same boot with different colors) that I purchased less than a year ago. At first I was very pleased with this boot, very lightweight and extremely dry even in the wettest of weather. But after about 9 months of use, the toe on the right boot began to separate from the boot. Now the left boot has began to separate as well. And this is not uncommon as I have read from other comments on this boot (ZG65 XRC) on this site Backcountry.com. If you do most of your hiking in a mall, this is probably the boot for you; otherwise I suggest looking for something more durable.
With daily wear I have worn out 4 consecutive pairs of these boots. I have worn them to drive my Porsches, drive my flatbed dually, to hike Mount Lassen, to walk, to hike off trail, to hike the Pinhoti Trail, to shoe horses, to pilot helicopters. For me these are the best ever!

I'm going for pair number 5.
I had absolutely no break in on these boots whatsoever, given that they were an emergency requirement when my long time boots gave it up within days of the start of my season. Not a problem at all. Now, with about 150 hard Yosemite miles on these boots, I'm fairly pleased with both the fit and the comfort, even with an average load of 50-60 lbs. I've also had the chance to run them through about 25,000 feet of combined ascent/descent during that time. However, there are a few caveats you need to consider- first of all, throw away the factory insoles and get a pair of green superfeet. They'll help lock in your heel on the ascents and minimize the jamming on your toes during prolonged descents. Secondly, the previous reviewer was right in saying that your little toes get kind of beat up. It's not that I had problems with blisters, just that the narrow toe box tends to rub a bit on the top of the toe. I would also recommend that you wear a heavy morino wool sock and a poly liner, as the problem only became an issue when I tried to use a lighter sock. I also experienced a minor, yet notable, difference in the sizing between the left and right boots. This seemed to only occur first thing in the morning when the boots had been off my feet in the vestibule all night (rode hard- put away wet). After a couple days, I found that booting up and breaking down camp without lacing up took care of the problem within about 10 minutes or so. After that, even honking on the laces didn't give me any problems and the subsequent ankle support was great for a lighter boot. The gore tex worked well for external moisture conditions, but unfortunately, didn't breathe as well as I had hoped, hence the absolute need for poly liners. Absolutely no problems at all with sole separation, even on areas that usually indicate to me if a boot will survive or not and warrant immediate return. I suppose that whether this is the boot for you is primarily a function of how your foot is built, but so far, they do their job well enough to keep them around. I'll go ahead and give them 4 stars.
It's not a matter of breaking the boots in...
...it's a matter of breaking your feet in. I used these boots for a backcountry hike in Grand Canyon (after a long-enough break-in period, and this isn't my first rodeo, mind you) and they destroyed my feet. I was carrying a fairly hefty load and hiking in a dry creekbed on uneven surfaces and if I laced the boots tight enough to provide ankle support I got blisters on both my little toe and big toe (and I have low volume feet). They felt fine if I left the boots loose, but I was in fear of twisting an ankle the whole time. They are light, and the sole is nice and stiff, but they just aren't quite what I expected. The mesh around the top of the last is worn through after one hiking trip. The first pair of ZG65's I purchased had to be replaced by Scarpa because the soles started delaminating within the first week. So, they're just okay, but I think Scarpa should stick to mountaineering gear and leave the light hikers to someone else.