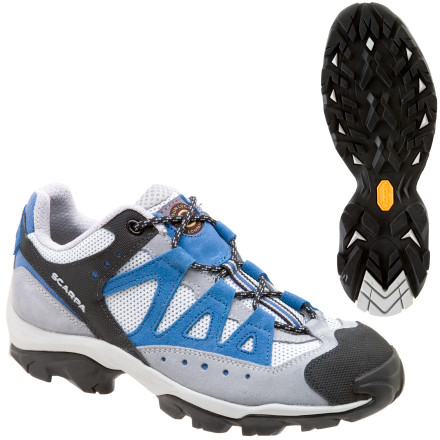 Detail Images
Took a leap of faith and used my only-worn-around-the-house Scarpa's to Europe for a full-blown 2 week hike in the Alps with a 25# pack. They pretty much rocked; despite the apparently lack of a shank, I was up at the front of our group every day and never really felt like it held me back.

A few comments—I have Scarpa backpacking boots and knew the Scarpa last fit me well. It's a narrower last, but if you get a larger size to deal with toe bump (as I did), the heel is a bit difficult to tighten down. I think I'm going to have my shoe guy add another eyelet to help that. I also had a bit of foot slide when side-stepping, but again, to be expected given that I'd gone up in size perhaps even a bit more than I needed to.
narrow feet find love in this shoe
There must be many of us out there, with skinny and/or low-volume feet, who struggle on a daily basis to find any kind of footwear to fit, especially here in the US, land of fat feet.
But search no longer - Scarpa is your answer.
The European lasts that Scarpa uses make a narrower shoe than the standard Merrell / Vasque-type shoes (and the same applies to most of their hiking boots). The leather and suede used by Scarpa is of good quality, and the footwear is always well constructed so that it lasts beautifully. It was such a relief to find a Scarpa stockist in the USA.
The Oxygens are everything that a Scarpa shoe always is. Comfortable, well made, with good tread... a pleasure to wear. Though they don't have a goretex liner (and thus breathe well), the suede is splashproof and you could always apply Nikwax or similar should you wish to improve this. The only downside I have found (true of so many trail shoes) is the ankle opening is fairly large, so you do need to lace them up snugly to prevent any heel-slip.
Hi everyone! The shoes were perfect!! My first hike was an educationl botanical tour. MANY stops and a few too many 'switchbacks' for this older girl. I'm glad I invested in 'hiking' shoes. I live in Sitka, Ak. If anyone has been here, the tour was at 'Beaver Lake' I have a walking stick from trail.
Where are these mademvste@verison.net
Where are these mademvste@verison.net
, ☃bcs_badge_alumni_label☃
This are made in Italy. You can read about their products at:http://www.scarpa.com/scarpa.php
Does this shoe come in narrow widths?
Does this shoe come in narrow widths?
Scarpa are pretty athletic in the fit by themselves. They dont make narrow shows as far as I know. If anything I would love to see a wide. I would just get your normal size, unless you know by trying them on already, they probably wont be that wide in their normal width.