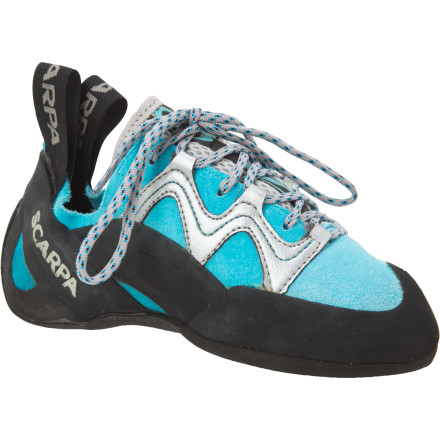 Detail Images
Scarpa recognizes that climbing is all about footwork, hence the intuitive design of the Women's Vapor Climbing Shoe. A Lorica toebox allows full transfer of power and feel to help you push through tough sequences, while an upper comprised of Suede and Lorica ensures comfort and breathability. A sticky Vibram XS Edge sole clings to features like glue to keep you on-route even when gravity has other plans.
Size up a half size! These things are tight and hurt for the first few weeks until you break them in, I sized up a half size to get a better fit. These are an aggressive fit but that is perfect for bouldering. These shoes really helped me build up my bouldering skills. The vibram sole is so sticky. These are durable shoes that will last you. I use these for bouldering only, if these were going to be my sport/multi-pitch shoes I would have sized up a full size for a comfortable fit but that's my personal preference.
Bumped my climbing from v3 to v4
Gender:

Female

Familiarity:

I've used it several times
I've had these shoes for about a month now, and I've been mostly bouldering in them with the occasional top roping route. They're my first pair of shoes, and the grip they can get on the wall compared to rented shoes is absolutely fantastic.



I had tried a size 37, but they hurt so much that it was actually detrimental to my climbing. I got a size 37.5 instead, and they're working great. Still pretty pinchy on the toes, but bearable. They've also been slowly stretching out as I break them in. My only complaint would be that my my heel on the left side doesn't totally fill up the space. I might try adding some padding there to see if that makes for a better fit.
I'd buy them again and again...
Gender:

Female

Familiarity:

I've put it through the wringer
I bought these shoes after reading lots of reviews about the way they fit. I order a 37.5 (I usually wear a 37). The first few weeks, they were torture to wear. Any time I wasn't on the rock, the shoes were off. Sometimes they'd pinch so bad I'd take them off as soon as i got to the top of a route.



Fast forward 3 weeks, and these are the best shoes I have ever owned. Aside from the occasional toe pinch, they stretch just enough to make them bearable but not enough to lose the naturally aggressive fit. This makes thses shoes perfect for both toeing in and heels hooks. I love using micro edges for feet and these make it feel like you're standing on a ledge. On granite its almost like you don't even need a foot because the rubber sticks like crazy.



I've had them for about 8 months now and have thoroughly put them to the test. I've worn down the rubber on the toes to the point that they are now my gym shoes. Although I am seriously contemplating just having them resoled, or simply buying the same pair again. I've tried a lot of other shoes on and tested them at the gym, but nothing fits and grips quite like these do.
Scarpa runs small, I am a half-to-full size bigger in Scarpa climbing shoes than I am in similar Sportivas (usually a 34.5, I ordered 35 and 35.5)

Lets preface this review by saying these shoes just weren't a good fit for my (admittedly tiny) feet. The big toe-to-heel length was great-to-good in the 35 and the 35.5, but in both sizes, it felt as if my 2nd smallest toes were being broken if I had to put any weight on my toes. I chock this up to having a bit too much room at my 2nd and 3rd toe that allowed my smaller toes to slide towards the center.

That being said, these suckers sure can grip. When I wasn't standing around in them looking at a problem and actually on the wall, the discomfort was easier to ignore (and all my toes remain unbroken) as I was working my way up the wall gecko-style. The bend of the shoe is pretty damn aggressive, I'm not sure if it's as dramatic in the bigger sizes.

Bottom line: great shoes (if your toes are the right shape and size) for an aggressive female climber. If my feet didn't fit so poorly in them, I'd have kept them in a heartbeat.