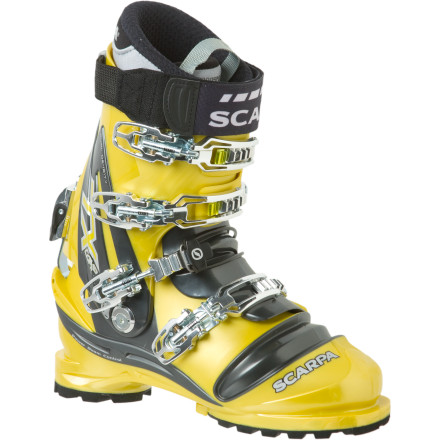 Detail Images
Description
Feed your need for power.
Wide, stiff, and powerful, the TX Comp Telemark Boot carves out it's position as Scarpa's new on-piste, NTN-compatible dominator. Armed to the nines with an Intuition Liner, Pebax shell, Vibram sole, and a burly Active power strap, this boot has garnered awards throughout the industry. Need all the power you can handle for your knee-dropping debauchery? Look towards the TX Comp Boot.
Pebax shell provides a consistent flex despite varying temperatures from deep winter storms to Spring shredding
Intuition Liner provides a supremely comfortable fit in a low-profile package
102mm last means ample room for wider feet
New Telemark Norm (NTN) compatibility brings reduced lateral flex, easier walking and kick-stepping, and the elimination of uncomfortable tele-toe
Dual-inject Edge Guard protects bellows from ski edges during turns
Pivoting Tongue makes entry and exit fast and easy
Fixed Powerblock Forward Lean Mechanism locks cuff and shell together for increased responsiveness and control
Comfy
Familiarity:

I've put it through the wringer
I love this boot. I coming off of Scarpa T1's (the bumble bee's). I live out west and ski mainly at the resort. If it's not a powder day, I stick to bump runs.



I was a little concerned these boots would be too stiff for me. My first few runs had me worried but they loosened up and now I couldn't imagine going with a softer boot.



The fit is great and my feet are nice and toasty.



FYI, I'm 6'2" and 200lbs.
Tx comp vs Tx pro. Getting ready to switch from 75 to ntn this year. Any thoughts advice on Comp vs Pro. I'm 6'4 208lbs. I would be transitioning from T1s. Thanks in advance for your advice.
Hey K,

The TX comp is the most powerful four-buckle boot in SCARPA's NTN family, and is the NTN-compatible equivalent of SCARPA's famed T-Race telemark boot.

The cool thing about the TX Pro is that it also accomodates a Dynafit style tech binding.


Where can i find those boots ? Size: 27.5. Are they out of stock?
Best Answer
Hi Jean-Philippe,

We are currently out of stock in the 27.5, but we do have them ordered to come in! We do not have an exact arrival date, but we're hoping to have them available in the next 4-6 weeks. Please feel free to get back to us with any further questions, you may contact me directly at kweiser@backcountry.com
Yes.
Familiarity:

I've used it several times
THIS is the THE BOOT. It was disconcerting, and a little alarming at first, trying to flex this beast to drop the knee, but I just made alpine turns on them for a couple days to soften them up (or at least get used to them). I've never had this level of control or power from a boot before, and they are super comfortable too. The various layers of liner, plastic shell, and buckles are pretty awkward to get lined up right, but I'll take a few seconds of frustration in the parking lot for control like this. I can't recommend this boot highly enough for telemarkers looking for more power transfer, but it's not for the lightweight, novice, or timid. Put these suckers on and go charge!
Looking to switch to NTN gear this year...
Looking to switch to NTN gear this year and would like some advice on boot selection. I'm looking at the Scarpa TX Pro and Comp, any recommendations? Have been tele skiing for 11 yrs and love the bumps, glades and quick turns...mostly in the East with one trip out west every year.


What are you skiing in now? Are you pretty happy with your current boot's stiffness? If you want the stiffest available go with the Comp, but most people find the Pro stiff enough.
With the exception of two clips all of the skiing in this video was with the TX-Comp.
Best boot ever? Almost!
Familiarity:

I've put it through the wringer
After years in the T-race I jumped into NTN and the TX-Comp. Haven't looked back - everything about NTN is better than 75mm.



Overall the setup is lighter than my 75mm gear, the boot is lighter, much more climb-able without the duckbill, and has all the power that the T-Race has.



Only bummer - no tech inserts. If they had tech inserts they'd be the only boot I'd ever need. Now I switch between the TX-pro for my tech needs and the TX-comp for my NTN skiing.


These boots will earn your respect.
Gender:

Male

Familiarity:

I've put it through the wringer
This is the most comfortable ski boot I've ever ridden. I have put down over 115 days on these skiing five to seven full days a week during winter and spring. They provide a consistent and even flex, the appropriate amount of stiffness and a supportive liner. I like the fact that there are no tech fittings on these boots! My job requires me to walk and hike a ton in these boots, and they have stood up against that wear and tear well! The only issue I've had with these boots is losing one of the lowest buckles on a powder day. Bummer! On the other hand, I was able to test Scarpa's customer service. I shot them an email, received a response within two hours and had a replacement buckle the following week with no charge! All of the emailing took place on the chair rides up between runs within the same day! The loss of the buckle affected the performance of the boot very little and I was still able to work and free ski using these boots without it. These are my all time favorite tele boots! You will not regret this purchase.
Ski to climb ability
Familiarity:

I gave it as a gift but have feedback to share
I got these for my pops as a christmas gift.

Pros: He likes the placement of the ankle buckle as he has high arches. He is a mountain rescue OG and frequently has to skin to location and put on crampons for rescue. With these the transition is seamless and these boots are better for ice climbing than what he had previously.

Cons: Would have been 5 stars if they had tech fittings.
I'd buy them if only they had Tech fittings...
I'd buy them if only they had Tech fittings (Dynafit) and Booster strap.
Too bad you missed this guy then...

4064C at Sierra Trading Post

Hopefully they get more!
Best Answer
I agree... Why does the ultimate NTN boot not have tech fittings?? I was just about to buy it and am glad I didn't. I'll have to deal with the softer TX pro and F1 for now.
Will this boot work in a Marker Duke...
Will this boot work in a Marker Duke binding?
No, the TX Comp will not work in any fixed heel binding. The flex at the bellows will screw up any sort of predictable release and might possibly cause pre-release.
Do you guys sell the retrofit tour lever...
Do you guys sell the retrofit tour lever for previous season's TX Comps?

If not, does anyone know who is selling them?

Thanks

S
I believe the only place to get them is direct from Scarpa. I believe you are looking for the Powerblock Tour mechanism which will run you around $60 plus shipping. You can go to their website and find them under Ski>Accessories, or you could check a local Scarpa dealer to see if they could help you out.
Got em from Scarpa as you suggested. Installed and waiting for decent touring conditions to set in!
Does anyone know if the Scarpa TX Comp or...
Does anyone know if the Scarpa TX Comp or Pro is the same shell as T1 (duckbill) I'm changing over to the NTN and have ridden the T1's for years...fit is great and was hoping it was the same in NTN boots. Thanks
It's not the same. The TX Comp/Pro fits a bit wider than the T1. That said I know a number of people who are able to get a good fit in both boots. It all depends on your feet.
Best Answer
this link can be helpful:
http://www.nstelemark.com/NSTelemark/Telemark_Boot_Fitting.html
I've said it before and I'll say it again: Hands down the best NTN boot there is. Considering all factors (bellows flex, lateral/torsional rigidity, bellows stiffness, quality product) this boot is the best offering for NTN.

And this is coming after I owned and had considerable use on Crispi Shivers, Garmont "False" Prophets, and finally Tx-Comps. I actually wish the bellows were a tad stiffer since there is no black springs option for NTN anymore.

The ski/walk mode is an added bonus as the older versions sucked when you would have one of the mini downhills while skinning and the boot stayed in the forward position. You can't go wrong with the tongue style liner as well. Absolutely loved it since the beginning; it really allows for you to get a more intimate fit than the wrap style. The new style instep buckle setup is pretty nice too. The only thing I would really want to see in this boot is tech fittings. Once that happens I'll be one happy NTN skier.

The only bad thing I can say of this set up is Scarpa dropping the booster strap that came standard with it as it really complemented the rest of the boot well. Picking one up would be worth the extra $30.

Seriously get this boot over any other boot available, it is the best overall option for those that want to charge and get everything out of their boot.