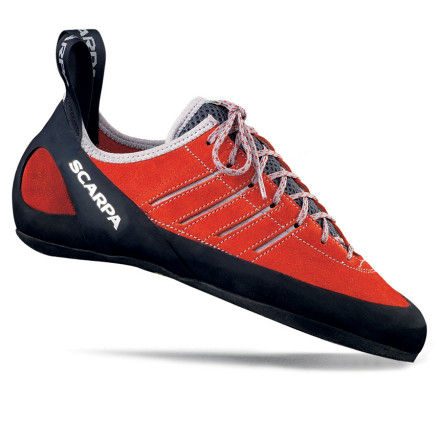 Detail Images
The Scarpa Thunder Climbing Shoe's comfortable toebox takes the toe-torture out of multi-pitch climbs and all-day bouldering sessions without sacrificing edging and crack performance.
Lacing extends to the toe for a customizable fit
Partial lining wicks moisture and helps eliminate stretching
Sticky Vibram XS Edge rubber sole smears well
Side slits ventilate feet for all-day comfort
Great shoe!
Familiarity:

I've put it through the wringer

Fit:

True to size
I've been wearing my Scarpa Thunder Climbing shoes for about 6 months now ( one of about 3 shoes I cycle through) and I still love them. I've worn them trad climbing, sport climbing, bouldering and gym climbing. They are a really comfy shoe that can be worn all day and don't hurt your feet, AND they are really sticky too with great edges.
Pretty good all "arounder"
Have two pairs of these and use them in the gym as well as outside. When climbing outside I feel comfortable with every style (face, crack, slab) and wear them easily all day. Very durable rubber as I climbed a full outdoor season in them.
I would not necessarily rate them as a beginner only shoe, as I know some folks who climb up to 5.11's (outside) in them.
No smelling problem either using them on average 2-3 times a week. Just make sure (as with every shoe) you air/dry them out properly afterwards.
They areare the best shoe that I've used this will be my fourth pair. They don't last that long though
If you are cursed with size 14 feet this is the shoe for you. Plenty of toe room but still fits good in the heel. Of all the shoes that I've tried to make-do with, this one fits perfect. Just snug enough without crippling you for life. Fits true to street size.
When I first started climbing this was the first shoe I ever bought, the price allowed me not to feel like a broke the bank on gear for a sport I might not even want to keep doing. And remember when you first get into climbing your going to shred through your first pair of shoes very very quickly.

This shoe got me through a huge part of my learning curve and held up well to a lot of "beginner" abuse such as toe dragging slipping off small holds and just holds in general . Another nice feature I found with this shoe was the lacing and toe box on this shoe, when you first start out as a climber your really not in the mind set to cram your foot into small little shoes just to maximize climbing potential. Your still at a climbing level where your wanting to fall in love with the sport and really see if this is "your" kind of sport. Scarpa did a really bang up job on making a semi-performace shoe that I feel appeals to newer climbers.

I couldn't really give this shoe more than 3 stars since well I feel it was never designed to be a 5 star shoe in the first place but also for two KEY points.

1. After about 5 months of climbing in these things 3 days a week I had to put them in a ZIP-LOCK bag before putting them in my climbing bag since the stunk soooo bad!

2. After a few months of climbing and pushing my self to climb harder routes I was having a problem with the shoes being able to hang on to smaller foot holds which resulted in a lot of skinning of my knees.
Great shoes. The soles are extremely sticky. Even with a flat foot, and as someone who prefers square-toed climbing shoes, my toes don't stack up too much. There's plenty of comfort but no slippage in the toes/vamp area. I have experienced a little slippage in the heel when walking around after working up a sweat. They have stretched probably 1/4th size within a month of using them 2-3 times a week. The tongue is super comfortable and so is the rest of the shoe. They breathe well. No pinching/biting at the laces or eyeholes. My go-to gym shoes!