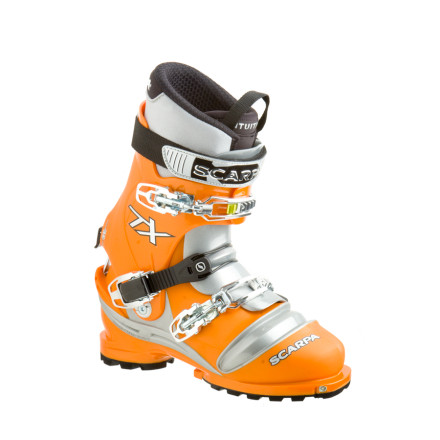 Detail Images

Community Images
The Scarpa Terminator X Telemark Ski Boot works with NTN Bindings to provide tele freeriders the performance they've been dreaming of. NTN boots do not have a duckbill, so it's easy to walk and kick steps on approach. Crampon compatibility lets you go tele on ski mountaineering trips. Scarpa gave the Terminator X boot an integrated dual-density Torsion Frame for increased torsional stiffness for control unlike anything you've experienced. A tall, overlapping cuff and three buckles drive the fattest of tele skis while keeping the weight down for touring efficiency. A pivoting tongue makes getting into and out of this boot quick and easy. Scarpa even added an Intuition liner to ensure total comfort on the longest days.
Unanswered Question
How do these boots stack up for ski...
How do these boots stack up for ski mountaineering with a telemark set up. My old T2s with a crampon on work ok on snow slopes but as soon as you get on steeper ice, between the duck bill and flex of the bellows it just is not great. Do NTN boots fix this (no duck bill) or does the flex of the bellows still create some insecurity compared with mountaineering boots with crampons?

Thanks
torn between these and tx pros. Relative...
torn between these and tx pros. Relative beginner into telemark but 200 lbs and like to push hard. Got BD Verdict mid fats and want to do mostly resort to start but moving into more touring eventually. Will I wish I had Pros for added stiffness?? OR Comps?? Is the TX stiff enough to powerfully drive verdicts? Have been skiing on T1s and old prophets.
Either boot will be enough to drive the Verdicts. If you intend on moving into touring more than resort runs, the regular TX will offer a much more comfortable touring platform while maintaining enough power to drive a big ski.

In addition, you may want to consider exploring the Rottafella NTN Freedom binding. Same NTN benefits with a huge weight loss that will make for touring gold. Everyone I've talked to says you won't notice a difference in stiffness, but it shaves almost a pound off of each foot for the hike up.
thanks. is the freedom available before this fall?
I'm torn between these boots and the tx...
I'm torn between these boots and the tx pros. Seems like the internets all love the pros, but I'm drawn to these due to less weight, and a slightly softer shell. That may come back to haunt me bcuz I want to run 'em on bent cheaters. Has anybody out there run these with big skis? Am I on the wrong path here? I ski hard, but not crazy hard and I'm not into massive overkill. Thoughts? Opinions? Thanks.
Jason,
I belive the Bent cheeater are pretty big skis, they may over power the boots I would go for the Tx pro you will be way happier in the long run.
I have skied on these boots 3 seasons now and they have been good, not great for pushing mid-fats. I have been skiing with 100mm under foot and wondered if the TX might be a better option. They are a lighter option for back and slack-country, yes but not by much.
I am getting a pair of Bent Chetlers though and can't wait! Next season I'll get a stiffer boot.
My advise would be to get a stiffer boot.
i want to buy this boots but you have a...
i want to buy this boots but you have a size 27.5
We are expecting some in early September but do not have any at this time.
What is the difference between these boots...
What is the difference between these boots and the T2 Eco for this year, aside from the renewable plastic in the T2? I'm looking for a boot to do about 50/50 resort and backcountry in the east and am looking to buy soon. Not sure which one would suit me best. I'm about 5'8" 130 lbs and ski aggressively, mostly searching for woods or powder stashes or a combo of both. Thanks in advance.
Colin,
This boot : the Terminator X is for use with the new Rottefella NTN system bindings and will not fit in traditional 75mm Bindings. The changes between old ( red) T2X and the new T2 eco : new plastic, New intuition liner, and they are a tad bit stiffer. Hope this helps. I think the best bet is the T2 Eco for what your needs are .
Anybody know which crampons work with this...
Anybody know which crampons work with this boot?

I thought NTN boots met whatever ISO standard for AT boots and would take any crampon that an AT boot would but the Simonds that I have, which fit my Axons just great, don't fit on my TXs. The boots are too wide for the crampon in the front.
Crampons are tricky with any boot. Since the TX has bellows like a Tele Boot it is wider around the toe area. Every crampon boot combo i have worked with needs some bending of the bails. I would not use a rigid crampon with these as they have bellows and am sure you know that. I like the Camp super light aluminum crampons they seem to cross over to a variety of boots that I have.
Great Boot!!!! Da Best!!!! This boot is a little stiff at first but it has a forward lean adjustment that helps tremendously with boot flexion. I have been teleing on them for 3 weeks with a NTN binding on K2 World Pistes.
With the NTN boots, when using them on...
With the NTN boots, when using them on Dynafit AT setup, because of the bellow, do we need a plate mounted under the soles on the AT skis (like mounting for the Scarpa F1 or F3 boots), any ideas ?
Best Answer
Yes, when, using dynafits with any bellowed boot, it is a good idea to shim them.

Occasionally these shims can present an obstacle to functional use of ski crampons, but Lou Dawson has an answer figured out:
http://www.wildsnow.com/1181/or-2-new-tricks-from-bd-ski-gear/
They come with plastic shims for this included. Haven't tried to combine them with ski crampons.
I really like this boot, very light, great edge control. I was skiing today on pretty hard groomers and had amazing control. making big carving GS turns on my G3 Rapid Transits.I just put Zapz custom footbeds in, and heated the liners yesterday, Control definitely improved with the footbeds, too. Edge control, parallel turns,even on this hard snow was very close to that with my AT setup, Dynafit TLT and 4 buckle Mega-Rides. Then you drop a knee and have great tele edge control too! And all this with a light weight three buckle boot. Haven't tried this boot with the Dynafit setup yet. I am using a different binding than Rotte NTN , the NT Bulldog that is compatible with NTN boots. This binding is 2 lbs lighter than the NTN, and has greater range of motion for skining. Still step-in step-out too, Here is a picture of my boot/binding setup at www.burntmtn.com
So I've been looking to pick up some tele...
So I've been looking to pick up some tele skiis for our approaches for mountaineering and was wondering if these types of boots are crampon compatible? I have a pair of the LS Nepal Evos and cringe at the thought of cramming those bricks into my pack. Thanks!
Best Answer
These boots are crampon compatible, however, they are not exactly featherweight. But if you are using them for approach and climbing, you can eliminate one pair of boots. The evo's I believe are around 2lbs3oz, compared to these at 7lbs11oz
Unanswered Question
What's the boot sole length of a 27?
What's the boot sole length of a 27?
I have a question about AT compatibility....
I have a question about AT compatibility. Does anyone know if these will work with Marker Duke/Baron bindings as well as the NTN bindings? If not, is there an NTN boot that will work with the Marker AT setup?
Best Answer
They won't. You can't tele on the Duke or Baron, because they're not tele bindings. You can't get a boot that will do Marker/Duke and NTN.---------Ya, the only AT binding the NTN boots work with are Dynafits.
Unanswered Question
is scarpa replacing the shell on 2008 tx...
is scarpa replacing the shell on 2008 tx boot to soften / are green tubes available or necessary/ any changes to binding since last year/ what fails i got 30 days on board/ no failures
I have 08/09 orange Terminator X with blue(medium) tubes and Karhu XCD Guides. What a combination! The boots flex when you tour! They are so light I can just manage to "classic" ski on tracks right up to the chairlift and then do turns down the steeps. After then I can go back country trackless touring climbing up and skiing down. Only use skins occasionally. These boots are only 11mm shorter than the black ones. Not sure why anyone would need 4 buckles as when in ski mode they are stiff, powerful and precise. Seem very durable in the new 08/09 NTN binding. My only hint is that medium tubes are for BIG skis only and I am trying to find some soft green ones for my XCD's. I am 90kg and aggressive (on skis) and blue is too strong. The Dynafit setup works well with the included support plate. I am experimenting with my Diamir Freerides as well, and with minor modification of the binding I think they will work! You need the support plate from a ski crampon to stop the boot bending and pre releasing. I never tried the 07/08 boot that everyone hated but this is pure magic. This boot does everything and is comfortable walking around. If you like skiing low stance then watch out, these will make you see over your knees for a change. Check the locktite on the bolts, Scarpa forgot one on my edition and a buckle tried to fall off. Use Red locktite.
It's difficult to review this boot alone, since the NTN binding + boot are a combination that are difficult to separate. So keep that in mind. I bought a pair of last season's T-X's from Backcountry.com. Loved the convenience of the binding and the fit of the boot, but was never completely convinced by the way they skied: something didn't feel quite right. I tried numerous remedies (as suggested in Telemarktips forums), including heating bellows with hairdryer, drilling new hole for a new lower lean setting, and lowering the heelpiece. Over the summer, Scarpa ran a program to replace the lower shell of last year's boots with the newer dual-injection shell from this year's updated model that have a softer bellows flex and decreased forward lean. Finally got to try them out yesterday. Great success! The NTN system finally seems to be fulfil its potential. This time around everything feels right. The boots are stiff and light and comfortable. I love the idea of having one boot for both AT and Tele (although I've yet to test these as AT boots). My only criticism would be that the buckles (on 2007/8 model) are not micro-adjustable, which seems a little cheap. But I think Scarpa added micro-adjust buckles to this year's model. (It certainly looks that way in the photos, even if the description says otherwise.)