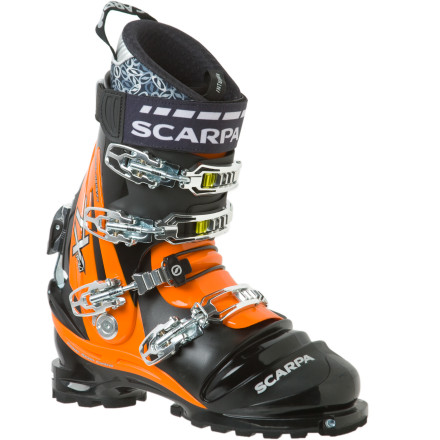 Detail Images

Videos

Community Images
Description
Prepare to be terminated.
Powerful and responsive by design, the Scarpa Terminator X Pro Boot rocks both NTN and TLT binding compatibility for your out-of-bounds knee-dropping quests. Scarpa updated this boot with new hardware, but kept the same luxuriously comfortable and supportive Intuition liner inside. For extra badass points this boot uses a Vibram sole and, and a versatile Pebax shell that keeps the flex consistent no matter how deep the temperature drops.
Intuition Speed Pro G thermomoldable liner provides a fit custom to your foot and keeps the little piggies toasty
102mm last for a semi wide foot or little extra room for those long side country walks
Unique design permits you to use the same boot for telemarking or touring with Dynafit bindings
Triple-injection foot and bi-injection cuff dial the boot's performance zone-by-zone
Pivoting tongue makes getting in and out easy
A Vibram sole to make your approach postholing a bit nicer
i just got a pair of the latest tx pros. i intend to use them with dynafit bindings (i have the shims). with the latest model, there is a stock piece at the heel that seems intended for an ntn binding (i get that these are ntn boots). if you remove it for use with a dynafit binding, there is no piece included (in the box or elsewhere) that will fit. are these available? where can i get one? note that the photo included is from last year's model, but that i need (i'm pretty sure) the part pictured.
I am wondering the same thing....I thought I had done my due diligence, that the TX Pros would be compatible with Fritschi Vipec bindings, by the guys at the shop told me that the necessary "piece" was not available from Scarpa (at least that's what I heard....) I would like to know if someone has a fix.
the heel fitting is available from dynafit (salewa). i had to order mine through customer service. the story i've heard second-/third-hand is that scarpa only approves using dynafit tech bindings with the tx pro and there was concern that people would try to run the boots with non-dynafit bindings (so your vipecs would qualify as a "concern" - ymmv - i also have a vipec setup on another pair of skis but am running dynafit speed turns on the pair i intend to ski with the tx pros)... so they shipped this new heel piece/plug thing in order to... slow people down? i don't know. it's... kinda messy on scarpa's part and some communication from them would have been nice, given the investment consumers are making in the boot. at any rate, the dynafit heel fitting can be retrofit to the new run of the scarpa boots (though dynafit told me they could not warranty its use...). i haven't skied mine yet, but it looks like it will work, with the shims under the forefoot.
Is the scarpa TX PRO boot compatible with f.ex the marker duke binding? Does it fit in a regular alpine binding?
Bendik
Hi Bendik.

Unfortunately they will not be compatible with the Marker Dukes! They will work with an NTN binding or a Tech AT binding. If you have any further questions, I'm happy to help out- I work Mon-Fri 7-3:30MST, just chat in and ask for Kayla!
Hi everyone,



I've used these boots 6 times, and have really enjoyed them and the NTN system so far. Actually I've been thrilled with my decision to go NTN and feel that I can ski even more aggressively than before, that it's somewhat revolutionary for me.



The last time I was out though, I noticed the flex in my right boot's bellow was different. When I got home I inspected and noticed a small crack in the bellow. Notice how the crack is on the outside of the boot, so it's very unlikely that contact from the ski caused it.



I was wondering if someone out there who is familiar with the previous version of this boot and its bellow cracking problems can confirm if this is similar to that phenomenon, or if I really just caused it myself by impacting with some object...? It doesn't look like the crack has broken through the plastic completely, but I'm a bit disappointed to see so much wear in my boot so early into the season, with only 6 times out.



Here is the picture:
Twenty years in Scarpa Telemark boots
Familiarity:

I've put it through the wringer
After skiing on leather telly boots, I have now been skiing on Scarpa Telly boots for 20 years. My first pair were T2's, then I moved up to T1's, which I went through 3 pairs of. I decided to stay with Scarpa when I made the switch to NTN this year. Not surprisingly for me, the fit and performance were great. I am using the TX Pro with the Freedom NTN and am very happy with the performance. I had no learning curve to go through. I just stepped in and skied away. I'm very satisfied with my purchases, and relieved that Scarpa and Rotte worked it all out.
I am switching to NTN from the old T1s.. I bought crispis and they fit terribly... .super painful, I iv resorted to buying Scarpa boots hoping the fit will be better. What is the difference between the Terminator X , TX comp and the X pro? Thanks so much for your help!


The TX Comp is the most powerful four-buckle boot in SCARPA's NTN family, and is the NTN-compatible equivalent of SCARPA's famed T-Race telemark boot. Scarpa rep Paul N. says that the Comp is the stiffest, but people find the Pro to be plenty stiff!

The cool thing about the Terminator X and the TX Pro is that they also accomodate a Dynafit style tech binding - that is when used with a spacer that prevents the boot from flexing.

The Terminator X is a 3 buckle boot, the others are 4 buckle...

Hit me up if you have any other questions!

lfeasler@backcountry.com
How would you compare the flex of this...
How would you compare the flex of this boot to the TRace? I switched back to alpine this past season as I felt I was out-skiing the TRace flex wise. I miss the tele turn, but am tired of feeling like my tele boots are holding me back due to being too soft.
The TRace is going to be slightly stiffer. This boot would be closer to the T1 in flex. The TX Comp is going to be more comparable to the TRace with regards to flex.



Matthew Pizza

mpizza@backcountry.com

800-409-4502 ext. 4438
Comparison
Familiarity:

I've used it several times
They are noticably more comfortable than my T2X's given their Intuition liners and a lot more support which was expected with the 4-buckles and powerstrap. They are also insanely heavier, but great stability. A great inbound boot for sure but I'll stick to 3-buckles for touring thank you.

Scarpa makes quality tele boots through and through as long as you are getting the gear that suits the requirement.
Scuff protector or poor technique
Familiarity:

I've used it several times
I have used these boots 4 times this season and there are very visible scuffs on the inside scuff protectors. Is my telemark technique incorrect or does everyone have scuffs on that scuff protector? I think the scuffs are a result of moving the front lip of my back ski foreward and close to my forward boot. Is that suppose to happen or is my stance too close?
You might wear them to the Office
Familiarity:

I've put it through the wringer
Not only are they stylish, but they are so comfortable that you might want to wear them all the time. They are stiff enough to really access the alpine turns that this binding system can handle, but flexible enough in the toe for the deep knee benders.


Scarpa Terminator X Pro Boot
Can anyone comment on the Terminator X Pro...
Can anyone comment on the Terminator X Pro and how it feels compared to an F1 boot or even the F3? Obviously its more substantial but is it worth the weight, especially for touring?
Hi Eric,



Yes, it is very easy, forget everything about the F1, 2, 3 etc, this boot and bindings take the telemarking back to its roots, that is when the flex and transferal of weight is under the foot of the skier and not in from of it as was the sad consequence when back in the late 1970s Rottefella dropped bindings wider than the infamous 75 mm. Helpful ? I have used up a pair of Crispi EVO, and the NTN Term Pro is like night and day, fitting, quality, details (Crispi is also a very good boot just this is better and lighter). You will never regret it, get the new NTN binding and very important a costume fitted inner sole, God Tur
Can anyone help me I have feet who are...
Can anyone help me

I have feet who are 257-260mm

Would love to know which I should take?

Thanks very much
Hey Losfristos,



You are probably going to fall in the size 26 - 27 range for these boots.
I have quite wide feets and when measuring they're pretty much exactly 262mm. I'm wearing size 26mondo and would not go any bigger. Remember 26.5 will be one whole shell size up.


I'm new to telemark... so will these boots...
I'm new to telemark... so will these boots not work with regular AT bindings? I see other comments explaining prerelease and boot flex- is that concern valid, as in- does that happen often when the DIN is cranked?
These boots will only work in Tech style AT bindings (aka Dynafit, Plum, etc.) and they only work if you use a spacer to prevent the bellows from flexing. They do come with a spacer that works with most of the Dynafit bindings or you can always fashion your own.
Just changed over to NTN and the T X Pro worked great. Because of the thermomoldable liners, I was able to fit my 27.5 feet comfortably into the 27 shell. I am pretty certain the 27.5 would have eventually become too big. As James mentioned below, the toe welt has deformed a little from the Rotefella binding, but it will probably stabilize now. While molding the liners, I elected to flex the bellows with tele-genuflections while they were still hot to hasten the break-in. If you are considering switching to NTN, I suggest you try a rental first and be sure to emphasize weighting the rear foot. It will feel strange at first, but the increase in power transfer and stability is considerable.
Unanswered Question
Other than 3 vs. 4 buckles, what are the...
Other than 3 vs. 4 buckles, what are the differences between the T X and the T X Pro besides cost? Both accept NTN and TLT bindings. The Pro has thermomoldable liners, otherwise...flex? weight? other? Thanks
james
Gender:

Male

Familiarity:

I've used it several times
Amazing boot. the liner feels fantastic. I recommend trying it on in person from someone who actually cares about customer service. because the liner is so customizable the mondo size is misleading. You NEED to do a shell fit! get the smallest size possible and get the liner molded so there's plenty of room in the toe. I wear a size 11 street shoe, and I feel fantastic in a 27. If the liner packs out any it doesn't have too far to go, and I can wear a thicker sock, or relegate it to backcountry only use. The only downside I can think of is I'm in my first 10 days of skiing and The front welt has started to deform, I'm guessing from the ntn binding.
I've been skiing T1's for about 6 yrs and...
I've been skiing T1's for about 6 yrs and now considering the Scarpa TX Pro with MTN binding setup. Can someone tell me how this boot handles Tele turns compared to the T1?
You have probably used it now for a year so then you know, is a different world, no less, I have telemarked since I was five (part of the ski jumping back then) and every day with the boots and this binding is pure joy, as being a kid again... !
I am ready to buy some boots but would...
I am ready to buy some boots but would like to maintain some flexibility in my equipment. Can I put these in a 22Designs Axl telemark binding for the rest of this season? How about G3's?
No. The NTN boots will not work with 75mm bindings like the axl or the O1, or G3 tele bindings. I don't think G3 makes an NTN binding. Only Rottefella. These boots work with the NTN binding or the TTS binding for tele, and any tech at binding.
support puck doesn't fit Radical binding
Familiarity:

I've used it once or twice and have initial impressions
Awesome boot. Be warned the spacer that comes with the boot to support under the bellows in a tech binding fits the Dynafit Vertical but not the Radical. There is a thinner spacer available for some of their lighter tech bindings, seems to be nothing so far for the radical.
sweet boots
Gender:

Male

Familiarity:

I've used it once or twice and have initial impressions
I wear about a size 10-10.5 US shoe and I just purchased the 27.5 boots. I took them to a local shop to get the liners heat molded and they fit like a glove!

I am stoked to have the ability to not only shred these boots with my NTN Freeride bindings mounted on some Armada Norwalks, but also have the capability to throw these boots on an alpine tech touring binding to get some backcountry alpine skiing in this season.



More feedback to come as snow has arrived and the resorts open this week!