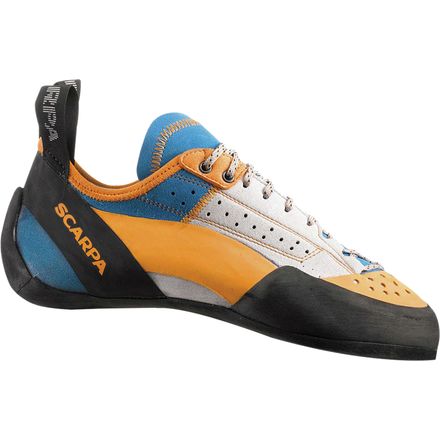 Detail Images

Community Images
Description
A trad climber's delight.
Scarpa designed its Techno X Climbing Shoe to excel on practically any route you throw it on, from vertical, technical sport climbs to trad routes with cracks and slabs. While the technical flat-lasted construction makes this shoe comfortable for all-day climbing on the big walls, its Bi-Tension active randing system provides maximum power on your toe without cramming them down. And its flat toe profile ensures you can jam your foot in the smallest cracks with the utmost comfort. Perforated suede leather provides comfort and breathability, and microsuede overlays add durability. Its Flexan 1.4 midsole keeps the shoe stiff for quality edging and increased support, and the Vibram XS Edge rubber offers incredible grip and durability so you can smear slabby sections with confidence for many seasons. Scarpa left this shoe unlined for an increased sensitivity, which is something you appreciate when you're climbing on slippery, dime-sized edges.
Suede upper with microsuede overlays
Asymmetrical lacing system
Flat toe profile
Flexan 1.4 midsole
Vibram XS Edge rubber
Unlined
Bi-Tension active randing system
Technical flat-lasted construction
Techno heel toe action in the squeeze!
My trad climbing shoe
Familiarity:

I've used it several times

Fit:

True to size
I got these about a half size bigger than normal so my toes don't hurt while they are wedged in a crack. I love the Vibram XS Edge rubber soles-grips well to quartzite which is normally slippery under foot. They do put a pressure point on the outside of the top of my foot. Only reason I didn't give 5 stars. Overall great shoe.
on a brannock device I am a size 12 shoe with an AA width (about as narrow as it gets). I recently got myself a size 45 (11.5). I was looking for something comfortable with completely flat toes for crack and all day (multi pitch). My toes were curled in this size. I heard they stretch about 1/4 size but I don't think that would have been enough. I'll be looking for a size 45.5 because these look like great shoes (haven't used them on plastic or rock to keep em new). They're comfy, and have a great shape to them, once broken in I imagine they smear a lot better than the TC pro's as well, but still edge stiff for edging and certain cracks.
Awesome shoe with almost perfect fit
Familiarity:

I've used it several times

Fit:

Runs small
I agree with the most recent review. This shoe does what it promises, but the fit is a bit small. Specifically, it is crushing my big toe. Everything else is great. This shoe edges like no other shoe I have had and, barring the toe issue, is very comfortable. Smearing is good, if not great, and I have had no problems wtih the stickiness of the rubber. If the toe would just stretch out (and there has been a small bit of stretch), then everything will be perfect. I can see this for use from sport climbing to multipitch trad. A great shoe and made in Italy, no less!
Runs half size small, no stretching!
Familiarity:

I've used it several times

Fit:

Runs small
These shoes are great for crack climbing, especially with the extra toe padding. They're decent at edging and pretty comfy. They run about a half size small (I wear size 9 and bought a 9.5 - YMMV) and don't stretch. If you're looking for an all day shoe, make sure they're comfy when you try them on!

I question the durability... bought a pair in May and had to send them into Scarpa in mid July because the stitching came out on the left shoe where the lace loops through. There was also some loose stitching on the tongue of the right shoe. Scarpa is awesome and they swapped them out and I had a new pair by the end of the week! Hopefully I just had a bad pair, we'll see.

Last thing: Consider buying extra laces if you climb cracks a lot. I blew through laces in less than two months.
Best trad shoe I have owned!
Familiarity:

I've put it through the wringer
This truly is the mythos killer and the reason is performance! This shoe is just as comfortable without stretching a full size after use. The shoe smears better than TC Pro, can edge very well and is great in cracks. This show would steal market share from the TC if it wa a high top for off width protection. IMO this shoe is better than the TC which I have owned because it stands as a better all around shoe. Unless you are standing on dime edges on the dawn wall I would go with this shoe. It is comfortable right out of the box. I was suprised how Comfy it was in cracks not quiet Moccs but pretty close. Only weak spot is heal is low volume so not a great hooker but still works. Here's the important stuff sizing. I wear a 8.5-9 street shoe. For reference I do have a pair of vapor v's 41.5, TC 40.5,muira lace 40, mythos was 39.5. I originally bought my techno sat 41.5 because I read size same as vapor. However since they are flat shoes they felt a little big. My toes were not crunched flat and very comfy I could have easily kept them and performed well. However I knew they would stretch at most .5 so I ordered a pair of 41 (8). They are almost identical in length but the difference I noticed was the overall volume of the shoe was tighter. The reason I tell you this is it was not a dramtic size difference just the little bit I needed. Overall great shoe I like them better than my TC's try them out! Plus got them for 60 bucks cheaper that's a c4 cam.... Here a pic of both sizes literally are exactly same length. And the other is vapor v next techno same size for reference. Hope this helps
Unanswered Question
I had a pair of the old yellow and gray techno's (http://www.backcountry.com/scarpa-techno-climbing-shoe) and absolutely loved them. Anyone know if the sizing between the old Techno and the new Techno X is the same/similar? Would love to replace my old pair...
Great all around "comfort"
Familiarity:

I've put it through the wringer

Fit:

True to size
The more I climb in these the more I love them! I originally bought this as all day crack/trad shoes, but I'm finding that I wear them pretty much all the time. They break the stigma of a "comfort" shoe. They feel great on my feet but I still get loads of performance out of them. Love the slight downturn and stiff sole, you get great performance without having to jam your feet in there.



As for sizing, my street shoe is a US 12 (45.5). For these guys I could have gone with a 45 and been totally fine, but I like my shoes on the snugger side. I ended up getting a 44.5 and after the (minimal) stretching, these guys are perfect!



My advice for sizing on these would be stay at your street size or a half size down for comfort, or a full size down for a snugger fit. Any more than a full size down and you're defeating the intended purpose of this shoe.



I'd highly recommend these shoes for anyone who is in the market for a multipurpose trad/crack/all-day shoe. I wouldn't necessarily recommend these as a beginner shoe, they aren't sensitive and it make make it difficult to learn proper footwork.



Hit me up with any questions!



Ben

brabinowitz@backcountry.com

801-746-7564
Unanswered Question
Harrison, I also climb with a mythos but it's getting time to look at purchasing a new pair of shoes. I wear a 44.5 in my mythos. I saw that you purchased a 43.5 in the Techno X. Did you wear a 43.5 in the mythos? How did the sizing compare?


Unanswered Question
I wear a 44 evolv does scarpa sizing run about the same?
Off the shelf shoe with a custom fit!
Familiarity:

I've put it through the wringer

Fit:

True to size
This is the first climbing shoe that I can wear all day long multi pitching El Potrero. The Techno X is the comfort of a moccasin and the performance of a stiff toe and a nice thick edge. These are a real upgrade from my Mythos. I have a bit of Morton's toe; the toe next to the big toe being a bit longer than the big toe, and the Techno X are the first full on climbing shoe I can wear. Great for sticking those small nubbins that I find at Smith.

On the down side, they turn my feet blue, no I don't lace them that tight, its the dye. Is this dye bad for you? Don't know, but sure love the shoes.
I wear a size 13 street shoe and a size 46 in most La Sportiva shoes, should I get a 46 in these as well or closer to a 47?
I've found that Scarpa is a full Euro size bigger than sportive. So yes, go 47 in Scarpa.
Fantastic Shoe!
Familiarity:

I've put it through the wringer

Fit:

True to size
I have gone through several shoes over the years and these are just awesome. Comfortable, stick like mad and handle just about anything you throw at them. For an all day do it all shoe this is it. I wear a 9.5 in a street shoe and the 9 fits my foot awesome. These will stretch just a tad, or at least mine have.
My go-to shoe.
Familiarity:

I've put it through the wringer

Fit:

True to size
I wear a street shoe of 9.5 and bought these in a 9.0. They stretch just enough to make them fit like a dream. I bought these while at Smith Rock (redpoint cafe) and they are perfect for that type of climbing. Stiff shoe. They've been called a Mythos killer and I think that's accurate. Not only are they stiff and comfortable, but I can edge on them like no other. Think of them like a Mythos + the Pinks and you'll get a sense of why I love these bad boys.



Complaints:



1. When you first wear them the band really digs into your achilles. The back of the shoe is abnormally high and will leave an abrasion mark. After about 15 wears that went away, so still 5 stars.



2. For my foot the toe box was perfect and I felt like I could edge on anything with my big toe. However, it doesn't achieve the same pointedness as, say, the muiras. As a bouldering shoe, it's sub-par, but that's not what the shoe is about. So still 5 stars.



For reference: I also wear a 9.0 in Moccasyms and my foot doesn't work with an Anasazi VCS.


Has anyone else had problems with the technos being slippery? I bought a pair, they fit great, but had so little friction that when I used them at the climbing gym I was unable to do many smeary climbs that I am used to doing with my old scarpa helixes
Hey Lucas,



If you are not digging the rubber on the Techno X but still want a flat lasted laceup that performs well, you might check out the Five Ten Stonelands Laceup, Item# FVT1996. They use Stealth C4, which you can't beat for friction and edging.
Hey guy,



Not sure if these perform the same as the old Technos but I mine definitely took a few sessions and more to break in/ get used to the rubber. I remember thinking the exact same thing my first few trips to the gym with them, but then it was a non issue after.
I wear Scarpa Vapor V size 44.5. Should I...
I wear Scarpa Vapor V size 44.5. Should I get the same size in these?
Best Answer
I would go with the same size you wear in the Vapor V. I just sent you an email as well in regards to sizing and order options we have to help accommodate you in getting the perfect size.
Versatility on the rocks.
Familiarity:

I've put it through the wringer

Fit:

True to size
I'm a huge fan of switching shoes every time my previous pair blows out, but I think I might stick with the Scarpa Techno X climbing shoe for the rest of my life. I got these versatile shoes two weeks ago and I've already put them through the wringer. The first place I took them to was the West Sawtooths, and they performed better than I expected.



So far, these are the best shoes I've climbed with whether I'm climbing crack, slab, or techy faces. They edge, smear, and jam so comfortably that I can wear them for days, so multipitches aren't a problem.



Expect a half-size stretch.
Performance, comfort, versatility!
Familiarity:

I've used it several times

Fit:

True to size
Scarpa has clearly taken their time with this one and Heinz Mariacher, the shoe designer, has designed one hell of a shoe.



The easiest way to describe this shoe would be to say it's where the La Sportiva TC Pro meets the Scarpa Vapor VS Lace. This shoe has the comfort and all day multi-pitching ability of the TC pro but with a precise and conformed fit like that of the Vapor. The "active randing" technology used in this shoe provides hard precision in the toe, a well fitting heel, without the hard aggressive downturn in the toebox. Imagine a non-to-slightly aggressive Solution but with the same form fitting.



The toe box is narrow in profile and cams wonderfully in cracks. It has a small protective layer of rubber which keeps the shoe lasting longer. The flat last allows for precise and friction filled slab climbing, but with significant edging ability.



Although the shoe material is leather - their is so much rubber that forms the rand and on the toe box that it doesn't seem to stretch out much so fit true to size - maybe half size down for more aggressive fit.