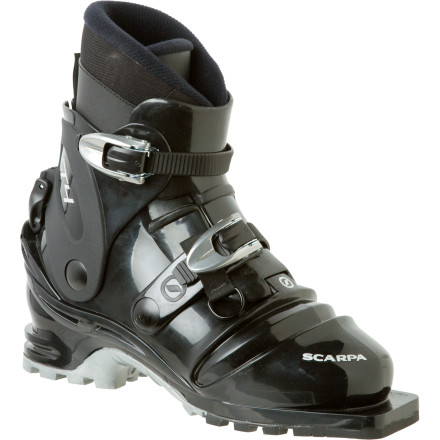 Detail Images

Videos
Description
Gear up for the tour up.
With a minimalist design for touring, the Scarpa T4 Boot is a lightweight offering for tele skiers who are looking for a no-frills ticket to the backcountry. A Pebax shell blends comfort with performance-enhancing stiffness, and the two-buckle design saves weight and hassle on the skin track.
The extra volume of the 102mm last provides additional comfort on the uphill without neglecting downhill performance
Durable Cordura liner provides warmth and a reliable fit
Torsion beam construction adds lateral control despite the low-ankle design
Easy-release ski/walk switch lets you make quick transitions
Low-cuff, two-buckle design keeps weight to a minimum and delivers no-frills touring performance
Vibram Flash outsole provides stead traction if you have to pack up your sticks and hike
Unanswered Question
I've been on T3s which I got for touring/backcountry, along with BD O2 bindings and some freebie Salomon skis - 185s with a skinny waist (although they were fat for me at the time, amazing how they changed). As my daughter has started boarding, I go to resorts with her so I've been using the same setup, which is too light. My freebie ski source is sending me some Atomic Backland drifters with a 95-ish sidecutand I have some G3 Targa bindings to mount on them. My question now is...boots. As you can tell, I'm a cheap mo-fo and would like to keep the T3s if possible, or move to a T4. But, it seems duplicitous so I began looking at T2s. As mentioned, I'm trying ease into this, so would rather not go there unless I have to. My turns are OK, I flip toward regular carving half the time. By changing out my skis, will I see an improvement? Going to a T4 some more improvement? But, ideally, should I bite it and go to the T2s now (vs later in the season)?
Will these work okay at a downhill ski area for a beginning telemark skier?
Hey Mon105952257,

You could use these to learn with at a resort. However, if you plan to mainly ski in resort I would recommend getting the T2. It would be a much better boot for skiing in resort, but is still light and soft enough for long tours.



This boot is really designed for light touring in the backcountry. Even steeper terrain will test the limits of this boots compared to a taller, stiffer boot.
Touring Heaven with a New Footbed
The T4s went for a tour with the original footbeds. Ugh.

Being a little on the fence still between the 27.0 and the 27.5 ( I wear a women's 10 1/2) I picked the 27.5 as my demo hoping to send the 27.0 back unused. I think I got it right but it required a different footbed to correct forefoot volume, arch support and a tiny bit of heel lift. The length was dead on so there was no cramming my feet into the 27.0 and hoping the liner would pack out. They were painful to even get on anyway; first clue. I put a "blueprint" brand insole (cushy!) in there and the fit was much improved.

I suspected that I had a high instep and what I read was that an average instep would have the mondo point/length of foot AND the measurement around the instep (from on the floor, back of the heel and over the front of the ankle) generally match or be very close. My instep measurement was a 33.5 compared to my mondo point measurement of 27.5, therefore high. Those trying to decide on the shell size break might look into comparing these two measurements as trying to get my high instep past the throat of the 27.0 was almost unbearable.

The 102 mm last width was a little much too, but the boots are sold unisex vs mens/womens. The insole took care of that too as it is nearly twice thicker than the Scarpa footbed that comes with the boot.

Now my feet feel snug but not tight; very comfortable. I don't have to crank the buckles down to prevent slop. I have to say that the original footbed felt like running on concrete with bare feet, they felt so hard.

As far as how the boot performs, I really like the soft bellows and I especially like the articulated shell tongue. I am using them with Voile HD Mountaineer and Voile Hardwire bindings (both 3 pin) on old Karhu 10th Mountain (68) and Guide (78, underfoot width) skis.

I use this setup to do long distance touring in rolling, mountainous terrain mostly in powder and spring conditions.

I had Garmont Excursions before. Much too wide. Happy.
I wear a mondo 27.0 in every boot I've ever owned, any brand, tele or AT, to ski on the hill. Do you recommend going up 1/2 size for low angle 3-pin touring? The size chart didn't help. If I went by that I would be in a mondo 28.0 on the hill! Way too big!
Best Answer
Scarpa shells are the same for whole and half sizes but from the .5, so the shell for the 27 will be same as 26.5. The 27.5 will be same shell s 28. They use different liners for the hlf sizes. once you pack out the liner, you'll feel the larger shell. I'd go 27 unless you get cold feet and plan on thick socks.
Thank you for that info jaywong. Since I am female and do tend to get cold feet, and I would like to wear thicker socks for touring, I went with the 27.5. I ordered both sizes, 27.0 and 27.5 to compare. Considering that these boots will stay on gentle to moderate touring terrain for long miles, I went with the warm, comfortable choice. All my hill boots are a performance fit and I think a little room in my boots is going to be a good thing. Precise ski control is not the issue here. So I kind of answered my own question but your input was helpful. Review to come after I ski in them!

BTW, if I go by the Scarpa sizing chart, I am in the recommended size for this touring boot.
Great little boot.
Gender:

Male

Familiarity:

I've put it through the wringer
I'm 5'8" @ 155 pounds.



I've used these as my main ski boot for two years now. I initially bought them when I worked at a ski shop and, though was able to get a major discount, was absolutely broke. I went for the cheapest tele option out there. Skis, boots, bindings, etc.



The T4 is... small, light, soft...etc. etc. It is not a powerful boot. This is not a flaw or a problem, as long as you want this to be a priority. For me, it has been a great boot to learn and master tele-skiing but I have far outgrown it now. I worry that I have developed poor skiing techniques due to how soft the boot is in turns. My fellow telemark buddies remark that 'go in too deep' into the turns and can't snap in and out of turns fast enough. I have a strong suspicion that this is largely due to the boot being nearly as soft as the leather boots I initially learned on.

I use a power strap on the top of the boots to improve strength. I don't find them skiiable otherwise.



The boot causes me pain on the top of my feet due to a poor fitting liner. THis could be my foot, but I have seen other reviews mention the same problem.



I like the boot's weight, and comfort for touring. It is warm and super comfortable when walking and touring. I only experience pain SOMETIMES when i am putting in alot of hours on the descent.



I will be keeping these boots, as well as my light skis (Dynafit Baltoros) for light touring days and chill days on the hill. I am not sure if my next set-up is going to be the tech binding world of alpine touring or committing to the NTN bindings and staying with telemark.

Either way, i finally have money coming in, and i'm ready for a change in skiing options.

These boots have served me well, and I have to say, I knew that they were never going to be that strong of a boot when I bought them (Two buckles..)

I will eventually like to upgrade the liners in them to Intuition. THe liners are a weak point.
What size T4 fits a size 8 to 8.5 mens...
What size T4 fits a size 8 to 8.5 mens street-shoe sized foot?
Mondo sizing is easy. It is a centimeter measurement of the foot. As it happens, size 8 mens measures 26 centimeters. Small trick, 26 0r 2+6=8.
I bought a pair of T4's recently and have...
I bought a pair of T4's recently and have a problem with pressure on my left ankle bone. It actually bruised the area. Gave it a week off and had the same problem today within a few minutes. If I push the tongue pad to the right it feels better until it works it way back. Pretty painful.

Any thoughts??
Replace the liner with something from Intuition, preferably a wrap-around model. They're thermo-moldable, and might alleviate your pain problem.
I had this problem too. It seems to have been alleviated by the boots being broken in. Also, I use a added strap around the top of the boot which GREATLY increases the stiffness of the boot and provides support. This strapping takes the stress off of the ankle and front of my foot.

Though It may be a sizing issue.


Are you pronating? Before spending a lot of money on a new liner I would spend $40 on a Superfeet insole. The problem with almost all boots is the insole that comes with the boot offers little or no support for the foot.
I just bought the T4's for Christmas and the damn liner has given me blisters on the inside of my feet just below the ankle. I was told to try the super feet which I did and I applied mole skin on the second ski and it was more painful the second time around. I could almost feel some nerve damage plus two new blisters in the same spot. I absolutely abhor the two small protrusions in the boot liner at both sides of the heel. I now have to look at an investment of 200.00 more dollars for the intuition liner.


The day after I posted my comment, Intuition liners sent me an email with a suggestion to try a new liner. They asked a few questions about my fit and the wrap around liners were the ticket. Great customer service from Intuition. They make the original liner for the T4. The moldable liner is the only way to go.


These are my everyday go-to touring boot
Familiarity:

I've put it through the wringer
I love these boots. I have had a pair of T-3's for years, and was sad when Scarpa quit making them. But then they came out with the T-4 and I am smiling again. I plan on buying a pair even though I don't need them, just because I worry that Scarpa will quit making them. I used to use them at resorts but have gone to T-2's for resort skiing most of the time, due to going to wider skis when lift skiing. But for backcountry use where you are going to put in some miles AND carve some turns, they rock. I use them with Madshus Annums (100mm wide) and Voile Switchbacks, and I go everywhere I want to go. Trails, trees, gullies, glades. No problem putting in 15 miles and a couple of thousand vert, and then doing it again the next day. I wouldn't dream of doing that in a pair of T-2s. If all you do is skin up and ski down, you might prefer more powerful boots. But if you like to actually lose sight of your car, these boots will get you away from it all and bring you back with a smile on your face.
Hell yea
Familiarity:

I've put it through the wringer
These boots far exceeded my expectations. Very comfortable for long days touring, the walk mode has great range of motion. They also perform really well on the down! They cant be beat by any boot in their class!
Much more control over a softer BC boot!
Gender:

Male

Familiarity:

I've used it several times
I run the Madshus Epoch, 3-pin cable and a Fischer bcx 675, which I really like for mostly touring, and rolling hills, etc. If my intent is to go up, then down, I'll use the T4. Fit is nice, warmth is OK, but they really drive the Epochs in choppy and variable snow. Good boot, but not perfect. May look at replacing the liner with an Intuition liner.
I am wondering about the sizing of these...
I am wondering about the sizing of these boots. I wear a 28.5 in the Scarpa T2X with the wrap around them liners and they are a good performance fit. I would like the T4 for more general touring so perhaps a more comfy fit would be good. I am thinking a 29 in the T4? My street shoe size is an 11
You may be a 28.5 in this boot, too. I'm an 11.5, and I ended up with the 29.0. After a few wears, the liner will slightly shape to your foot.


The 28.5 and 29 use the same plastic outer shell, so you there isn't a huge difference--the 29 jsut uses a thinner liner in the same shell. I tend to prefer a looser fit for touring. My resort boots are 29.5 and a tight performance fit, but my touring boots are 30.5, a whole shell size bigger. If 28.5 is a performance fit, I doubt that 29 is going to feel too big for touring. You might even like 29.5 for touring--fit them like heavy hiking boots for touring to avoid heel blisters. If you go with the 29 and they feel loose, you can probably fix that with socks and insoles.
Are these boots powerful enough for...
Are these boots powerful enough for occasional resort usage with a voile cbr binding?
Rob,
really hard to comment on this as everyone has his own preference. I would say no though 2 buckles and beingpretty soft it is made more for a long range Backcountry boot. I would look at the T2 Eco instead.
A local guy I propsed the same question to pulled out an old set up he started out on. Leather boots a minimal binding. He said he had 10 plus happy years on that set up. He's known for knowing his s%$t.
Short answer, yes. I've skied 90% at resorts on T3's (now T4's) for over 10 years. I have worn holes through the bellows, but still use them exclusively. I learned on leather boots with skinny, long, straight skis. So to me the T3 is plenty of boot for all conditions. I use them with Rossignol Pit Bull bindings and 10+ year old Rossignol Attaques 191cm. (100, 67, 88). When I bought the skis they were about as wide as they were making them. I have no problem getting them on edge with the T3's. But with today's wide boards a bigger boot is likely necessary. IMO, lighter set ups (small boots, skinny skis) are more fun because good techniques is necessary and you ski the the skis, the skis don't ski you. If that makes sense.
They're fine with skis up to 100mm wide. I use them with K2 Heli Stinx at the resort on hard pack days. If you go with much wider skis they don't have the edging power for hard pack, but they are fun with lighter narrower skis. The CRB bindings are pretty neutral, so these soft boots with CRB's would require a bit more technique and wouldn't let you be very aggressive. More active bindings would probably be better for resort skiing.
I got a pair of these and the plan is to...
I got a pair of these and the plan is to set up with tele bindings and madhaus annum type ski. I started thinking that I have a pair of BD Havocs 08 and that pos. i could put a tele binding on them for another fun toy. Anyone think these will be enough to push the BD's around?
Best Answer
That is personal preference. I think you can do anything you want of you put your mind to it . Really though these are a bit soft so it may be a bit of a squirly ride on the havocs.
I use these boots with my annums and it's a perfect match. You can push around up to about 100mm tip width with these boots just fine, but much wider than that they will feel underpowered unless you are in powder.
Unanswered Question
I got a pair of these and the plan is to...
I got a pair of these and the plan is to set up with tele bindings and madhaus annum type ski. I started thinking that I have a pair of BD Havocs 08 and that pos. i could put a tele binding on them for another fun toy. Anyone think these will be enough to push the BD's around?
Day 1 pretty happy. took em for a test drive on a wider pair of waxless karhus with 3 pin set up. Pretty nice feel . I wasn't quite ripping it but could feel the control gap between a regular BC touring type boot and an AT set up. I will be setting up an old pair of BD havocs with a beefier binding for the in between days . We'll see.Warm but not overly. Not suggested for flat or rolling hill days may be a bit of overkill.
I have Madshus Annums (about 100mm wide in the tip) with Voile Switchbacks and T4's. Sweeeeet setup for mountain touring. If you go with much wider skis these boots will be a bit underpowered, but if you like being able to both put in some miles and come down some steeps, these boots answer the call.
Do you ship to Canada (Calgary). Are there...
Do you ship to Canada (Calgary). Are there any women specific boots?

Can this boot fit into an AT binding
No on the AT it is a tele boot. 3pin or other tele set up
wtb kids tele boots, 21.0 mondo, 13 us...
wtb kids tele boots, 21.0 mondo, 13 us kids, pref used any leads??