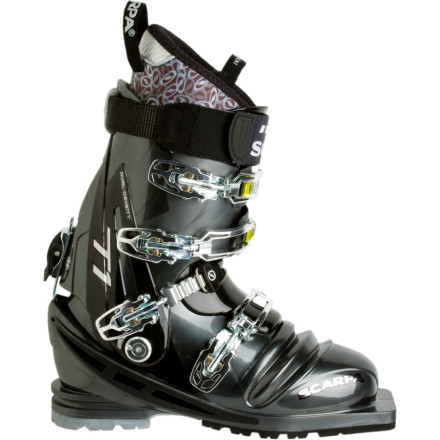 Detail Images

Videos
Description
Your new all-terrain A-game.
If you split your tele time between challenging backcountry terrain and high-speed resort lines, you need a versatile and dependable boot. Slip your feet into the time-tested, Italian-crafted Scarpa T1 Telemark Boots and bask in the comfort and power they offer. You just might take your game a few notches higher this year.
Dual-density Torsion Frame lends the boot lateral stiffness for a solid feel as you shift into high gear
Zero-rocker sole translates to lightning-quick edge-to-edge transitions
PowerBlock Tour forward-lean mechanism maximizes responsiveness without sacrificing walk mode
New Q-Link midstrap system locks your foot down for a powerful, stable feel
Vibram Escape sole offers traction when you're off your skis
Intuition Speed Pro G liners molds to your foot for comfort and doesn't sacrifice a shred of performance
Four buckle design and Active Power Strap place the reins in your control; now see how fast your skis can go
Stiff
Gender:

Male

Familiarity:

I've used it several times
I've read every reviews I've found on the Internet. Got me scared a bit especially that guy speaking of "ruined vacation".. Had a good deal on thess boots. Went from AT with the Maestrale (great boot btw!) to rental tele at work (T2 - Rossi Experience 83). I enjoy the T2. It was a bit beaten up, soft, but still fun to ride. I'm 5'10, 180 pounds. When it gets cold here (-20c and below), the T1s don't really wan't to flex anymore.. On my new Chams 107 however, the boots are a good match. Yes it's all stiff, but it's simply telling me to push harder. In my opinion, the fwd lean is exagerated but I got over it after a few dayz. Let's say it helps me getting bigger quads.. (..Yeah, drilling the plate and bla bla bla, but it already looks like a swiss cheeze I don't want it to break...) ..The no rocker thing is not so cool. Especially with such little movement in walk mode! (I come from a smoooth Maestrale background..). Come on! It makes me walk like a pinguin when it's time to go for the after ski beer.. Overall I'm starting to enjoy these boots.. The color is nice. Can't wait to bring em out of bounds..
Horribly Disappointed
Gender:

Male

Familiarity:

I've used it several times
I have skied T1s for over 10 years. My current pair was the silver tongue version. These new T1s suck beyond words for me. The forward lean is insane and trashes your legs. The bellows is so stiff I am UNABLE to make a tele turn.



I'm a solid intermediate/advanced skier in my old boots. I am not kidding about not being able to make a single tele turn in these boots. I've tried for 5 days straight now (ruined ski vacation), so I'm just P-turning everything. I had an aftermarket insole fitted when I had the boots thermo fit.



FWIW, I'm skiing them with Hammerheads. Tried positions 3 and 4. I weigh about 175 and wouldn't call my myself a hard charging or fast skier, but I do prefer off-piste runs to groomers. I ski a mix of blues and blacks depending on my mood and snow conditions.



Unless I find a solution, my only hope is to unload them ASAP when I get home and not take a horrible beating on the purchase.



I'm giving the boot 1 star because it straight up sucks, FOR ME, even though I've skied T1s for a decade and been 100% free heel since the mid-90s. Try before you buy! YMMV...
Bit of a Change
Familiarity:

I've used it several times
I came to these from a pair of Black Diamond Seekers which had a last which was funky for my foot, but moreover, was not aggressive enough of a boot.

For me, at 5' 9'' and 120 Lbs, skiing on the east coast with 22 Designs Vices, these work fairly well. I'm still getting used to them after roughly ten days on snow. The first thing that struck me was the forward lean. Be award, with this kind of lean, even in walk mode, your thighs will be firing at ALL times. This was a shocker.

When paralleling with the boots, they are great, not to stiff, keeps me forward, and I feel much more aggressive. When tele turning though, I'm still getting my bearings. The heel feels funky, (I sized down a fair amount, as I prefer a performance fit) and feels like it's pushing on my heel uncomfortably. The boot is very narrow and low volume, which is fantastic for me, and can be cranked right down.

Come time for touring though, the walk mode provides. The walk mode is fantastic, and by unbuckling a bit, these boots feel just fine for touring.

All in all, these have been a good buy. I'm still getting used to their flex pattern and how to tele with them, (not exactly a knee to ski kind of boot) and my thighs are growing as well.

Definitely a great improvement for today's wider skis and more active bindings!
Solid Telemark Boot, but..
Ive skied my pair since Sept., skiing mostly resorts and park with close to 20 days hiking resort access BC. For the first half of the season, they skied great. Stiff enough for park and a pair of 188 Vertical Diesels, but still comfortable and forgiving enough for hiking and touring. They ski great on groomers as well as light and heavy pow. Additionally, the liners kept my feet warm with only a couple exceptional days. However, towards the end of the season they started to feel very mushy, almost as if the walk/ski function no longer worked well. I could almost flex the boot 23-30 degrees before the bellows would start flexing. Also, the left shell cracked in three spots near the inner bolt of the ankle strap.



T Races next year I guess.
Great Boots
Gender:

Male

Familiarity:

I've used it several times
I upgraded to these from Scarpa T2s, and haven't had a reason to use the T2s ever since. They're a little heavier, but they really make a difference driving larger skis. The fit, with heat molding, was about the same as the T1s, and overall I've found them to be really comfortable.



My only complaint so far is that after about 40 days in them the foam in the tongue of the left boot broke and was only attached by the elastic outer fabric. While skiing the tongue would slide up, the boot would loosen, and after a run or two I'd have to stop, unbuckle, and push the tongue down. I probably just got a bad liner, as I've never heard anybody else having the problem. In any case, Scarpa replaced them free of charge, no questions asked.
This is my first season in these boots and despite the conditions not being all that great here in CO, my T1 purchase has been well worth it.

I have a narrow foot and out of all the major tele boot manufacturers, the Scarpa fit the best. I demo'ed most, if not all, the comparable boots of this style all last season, and despite having proform pricing (50% off) on one of the other major brands, I still chose Scarpa.

Last year I demo'ed the T2 on several occasions. Although they performed excellent as well, I opted for the T1 to give me that little extra boot.
I love the boot but they have a week spot. I have had 6 pair of T1's these are the the first I broke . I have worn them out so the forward lean dosen't work well after 3 years, this time I broke the steel bar in less than a year. The rest of the boot is great. I thought it would be better that it wasn't going to work it's way deeper into the plastic to be like on walk even locked in ski. But as I first thought the bend is a week spot.
Stiff on the downhill / flexible in walk mode
Below are lengthy discussions on the forward lean in ski mode. The forward lean is proper for being aggressive on making your downhill turns. The ski mode is not meant to be used in skinning, walking around or standing in a lift line (what are you doing in a lift line anyway? :-)). Flip the easy switch on the back to walk mode. The T1 has a nice range of flexibility and comfort. With my fatter skis and beefier bindings (Voile Switchback X2) the T2 is not strong enough to perform.
Reflections on the new T1
I've spent over 15 years in a Scarpa T1 and have had every version since they first came out. The forward lean IS aggressive and requires considerable strength to just stand in a lift line. That being said the forward lean is super effective while skiing and one just has to be aware of this. Doesn't make the first 10 days any easier while I go through the "no pain no gain phase". The new liners are crap. Too thin to provide cushioning, too cold and they are breaking down in the heel quickly. Scarpa's best liner was the lace-up IMHO. The way the boot fits the liner is causing me to have to make sure the liner is seating around the shell properly every time I buckle up...pain in the @#$. The new buckles are worse than those in the past. The ankle buckles plastic alignment pieces fell off after the first three days. The shop warned me these were non-functional and they are. So, as a long time T1 customer I think change is not always good, but these boots still ski as well as any, if not better, than all the others out there. Fix the liner, fix the buckles and fix the overlap of the shell in the liner and I'll be back. Otherwise, I'll consider for the first time, looking at other brands.
I have been skiing a pair of the silver...
I have been skiing a pair of the silver tounged T1s from about five or six years ago in the east and have another pair of the red T2Xs out west. I just went on a trip out west and the transition from the T1s to the T2xs was too great. I felt that the red boots were way too flexible. What scarpa boot in todays lineup is almost as stiff as my T1s?
When locked in these are amazingly aggressive,...
When locked in these are amazingly aggressive, but if I stand up my quads just can't take the pain. The forward lean requires constant flex of the knees. If i'm standing on a straight flat traverse I get no rest! It's like doing a squat and hold against the wall for an entire day. I've adjusted lean to the most upright setting. What to do?
The boot has two positions of lean- try unlocking the heal and stand straight up. You should be able to lock the more upright position by leaning back.
Best Answer
These T1s have a more aggressive forward lean than I thought. My other comment doesn't address your problem. The forward lean is adjustable though. You need a 2 mm alan wrench. Unlock the boot and flex it until the screws are exposed through the small holes on the heel plate. Loosen the screws until the plate loosens up, then push the cuff back as far as it will go.You should see a little mark on the heel plate next to the walk/ski stencil. The mark should be in the highest position. Carefully flex the cuff to expose the screws and tighten them. If this doesn't give you enough upright stance, remove the heel plate. Then drill out the lower screw access hole to 1/4 in. This will bring up even more.
I just drilled a new hole. After numerous days messing around with various options, that was the only solution that worked. If anyone else has this problem I used a 1/4 in drill bit and I think I should have gone a hair smaller. Aside from that... I don't think I should have had to do this. Disappointed long time Scarpa customer.
I just bought these. I've skied these...
I just bought these. I've skied these t1's, the red buckle t1's, and the black grey t1's. These came with a footbed from Scarpa, but with the footbed in I have too much pressure on top of my foot. I do not have a wide foot, so no problem in width. Does anyone have a suggestion on relieving pressure on the top of my foot? I'd like to be able to use a footbed.
Have you molded the liners yet? If so your only solution is to re-mold without the foot beds. The Intuition foam will actually mold to the underside of your foot and give you a little bit of support.
I re-molded them and cut out a piece of thick sock to fit over the pressure point. I buckled the buckle over my foot down to the point of pain when remolding. The boot fits perfectly now!
quiroz- you're supposed to mold the liners with the boots fastened "snug," not tight, and definitely not the point of pain. All that does is pack the liners out. What you should have done is put a toe cap on, and then loosened the top buckles to half the tightness you prefer when skiing, then for the the first half of the mold time, stand in the boots with a 2x4 under the toes of the boots. This helps with heel retention as well as keeping the top of the foot from being squished.
Seriously examine your boot liners to make sure they are not too packed out, since that will decrease their life. If it's all good, then congrats. Good enough.
Paul- that's not the ONLY option, nor is it a very good one.
Jack Wizo- The first time I molded I went for snug and it ended up too tight on top of my foot. By Molding even tighter I effectively left myself more room on top of my foot. The over tightening of the buckle over my foot to the point of pain was the only way to end up with a mold that didn't cut off circulation when fastening later at the loosest setting. The only other option I would have had was removing my footbed, trimming it down, or removing plastic from the inside sole. The footbed is very thin to begin with, so not much room to trim down, and who wants to grind out plastic. In the end I have a perfectly fit boot, but Scarpa would be wise to add more adjustability to the buckle over the top of the foot. I have it on the loosest setting and It took two days of normal pack out for it to be bearable even after the painful mold.
I ski the old, three buckle bumble bees,...
I ski the old, three buckle bumble bees, but they're beat. I'd like something comparable or maybe stiffer. Should I go T1, or T2Eco?
T2 Eco will be comparable maybe a bit softer. The new T1 will be much stiffer.
i have been skiing the bumble bees for 15 years. i tried to ski the t 2 eco last year. vthey are much softer than the old t 1's. i could not ski them well.
Hey does anyone know if the new T1's are...
Hey does anyone know if the new T1's are any wider than the older ones.... Incredible boot but been fighting the width of mine since I got them....
No, they are still made on a similar last. Try Garmonts or Black Diamonds for a wider fit.
It depends on what year your old ones are. if you have old silver tongue or Yellow Tongue T1's yes they wil be different. And if you have a pair with non heat moldable liners you will definately get a different fit.
Thanks for the help ...entering my 4th...
Thanks for the help ...entering my 4th season as a tele skier. Bought my first fat skis last year(K2 SideStash with Hammerheads). Been skiing in T2's and want a stiffer boot but not really a brick. Feel like I need more power into the big ski. Feedback on T1 vs Voodoo or other suggestions would be much appreciated. Mostly slackcountry skiing, some touring, but have a pair of resort skis too for groomers.
T
Best Answer
Hello Scarpa rep here. I can't give you much on the Voodoo as I am a bit biased . But wil tell you if you like the fit of the T2's you willove this boot . A great step up and will suit your backountry needs as well as your on area ripping.
I started teleing three years ago on T1's, I loved them but I have a wider foot and they where just a little to small. I've finally purchased new boots this year and I tried on just about every boot made during the process. I found this years T1 to be way to much boot for me, it feels much burlier than the T1 of just a few years ago. I wouldn't suggest garmont if scarpa fits you, Black Diamond possibly. I suggest the T2s which I thought fit more like my old T1's than the new T1's did. Or BD's push, though the push is rather hefty (almost 9 pounds).
Thanks Kirk...27.5 in a 2008 T2 with orthotics...same for this years T1?
The boot that does it all
Perect for shredding powder and riding resort. The perfect cross over between backountry and resort.