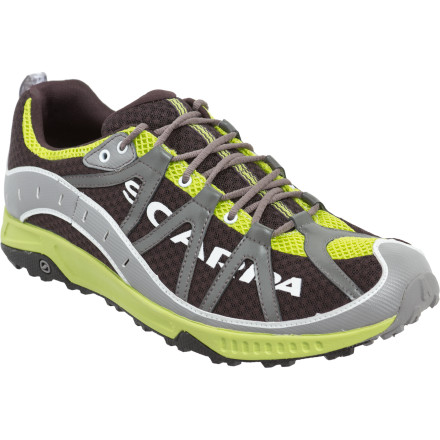 Detail Images

Videos

Community Images
Lighter steps make for longer, more energized runs along mountain loops; that's why the Scarpa Spark Shoe toes the fine line between a minimalist and traditional running shoe. With enough padding to cushion your rocky strides, this trail shoe provides an excellent introduction to the minimalist movement, all the while using more eco-friendly materials in its construction.
Mostly mesh upper and polyester lining (partially recycled) aid breathability and moisture expulsion to reduce blisters
Partially recycled synthetic leather adds reinforcement to increase durability over rough mountain trails
Hi-Tensile fabric forefoot strike plate guards against twisting and impact injury without adding much weight
Molded EVA midsole cushions your steps, features a minimal 6mm drop, and an EcoPure EVA additive encourages degradation in landfills
Partially recycled Speed Lite rubber outsole grips the mud, sand, or slick rock of your favorite running trail
Laces and mesh are 100% recycled Ecosensor polyester to reduce fossil fuel emissions
Andrew F's warning of" zero friction when wet - scrambling over wet rock is scary" is spot on.



I stepped on one rock that looked dry but was wet. my foot slipped and i sprained my ankle badly.



suitable for dry terrain.

when wet, they grip like wet ice on wet ice.

look elsewhere for an all-weather choice










Comfy feet
Familiarity:

I've put it through the wringer

Fit:

True to size
Comfortable feet often make or break my day and I have never been happier than in my Sparks. They offer a great combination of being lightweight, yet protective enough for when I attempt runs longer than what I have really trained for. I ran the Power of Four 50k in the Sparks, with no training runs longer than 17miles. At the end of the race my feet were in great shape, which hasn't been the case with previous shoes.
A solid performer
Familiarity:

I've put it through the wringer

Fit:

True to size
I'm on my 4th pair of these and I hoarded three more in my closet for when the current pair wears out.



Pros: Lightweight (11oz/shoe for size 44.5), low drop, pretty sticky rubber (though it's no Stealth C4), wide toe box, dries very quickly. The rockplate is quite effective and provides a lot of underfoot protection for such a light shoe.

Cons: Rubber outsole (which feels more like dense foam than your usual Stealth C4 or vibram) wears out quickly. I managed to completely wear through the outsoles on one pair in 200 miles on the Sierra High Route. My other pairs have lasted about 300 miles, which is less than other shoes in the same weight category. Also, they have close to zero friction when wet - scrambling over wet rock is scary. Much worse than competing rubber compounds when wet.



If you put Stealth C4 or Frixion XF on these I would never wear another pair of shoes.
Good light weight hiking shoe
Familiarity:

I've used it once or twice and have initial impressions

Fit:

True to size
I wore these shoes on a West Coast Trail hike (~50 miles). Quite comfortable, no blisters, which is rare. Lightweight. Good traction. Quick drying, did not acquire any smells despite 4 days in wet and muddy conditions. Not sure about durability, I put them to some abuse and the white stripes and letters lost the white layer, otherwise no damage. I initially ordered a half size too large and then swapped for a smaller pair. So far it seems to be a good choice for my purpose of a lightweight hiking shoe for fast and light backpacking.
Scarpa Spark Shoe - Men's
This is my go-to shoe. I wear it daily for just about everything. It's performed well on trails, roads, indoors, with yak trax on, and in light drizzle. The tread is showing some wear, but that's it. They breathe extremely well and are super comfy right out of the box--never had any blisters or hot spots. At 9.5 oz w/ a low drop, it gives you somewhat of a barefoot feel, but provides plenty of cushion and support when and where you need it. I have two pairs already, and will be buying these again!
Does anyone know how the sizing on these...
Does anyone know how the sizing on these feels compared to La Sportiva? Particularly compared to the Sportiva Wildcats or Raptors?
Best Answer
Pretty similar in my experience. I am a US men's 9 and wear a 42 in the Scarpas and Sportivas. These felt a little wider than my Vertical Ks and about the same as the Wildcats.
Could someone who owns, or has used, these...
Could someone who owns, or has used, these shoes comment on the arch fit/support? I read elsewhere that they may not be good for those with high arches. Also, are these generally wide-fitting? Thanks.
You've heard right, these do not have substantial support. They're a great, lightweight alternative to bulkier, more sturdy trail runners. What you give up in support, you gain in weigh savings. I personally have very narrow feet and am able to comfortably wear these without feeling like I'm moving significantly from side to side within the shoe.
I agree with Dave! First thing I did was buy some Sole insoles and they made a world of difference. Great shoes, particularly with the insole upgrade.
Thanks Dave and Brendan for the replies. I get the gist of what you're saying about the Sparks. I realize they're on the lightweight/minimal end for trail runners. My curiosity is mostly focused on how flat, or not flat, the arch area in particular is. Having moderately high arches, I appreciate shoes that have some arch contour to them. True, this can often be fixed with replacement insoles like Sole or Superfeet. I'm tempted to give the Sparks a try. If I'm typically a size 11 in Adidas road running shoes, I'm going to assume I'd be a 44.5 in the Sparks. Might be 44, however, depending on width as well.
Solid out of the box
Gender:

Male

Familiarity:

I've used it once or twice and have initial impressions
Scarpa does a nice job with their first trail runners. They felt a little stiff in my hands out of the box, but I was pleasantly surprised on this weekend's trail run. I ran over several large gravel piles at a quarry, and only got one small rock in the shoe. Not bad for low-ankle shoes. For all the inclines and declines, I never got a hot spot. I think they'll only get more comfortable as they break in.

They handled steep, loose dirt on serious ascents--gripping was solid. Solid on the descents as well.

The mesh looks to drain water well, and there are holes for water to be forced out through the fabric in small openings in the soles. Didn't encounter water this weekend, but I'll be wearing these shoes for three Spartan races in 2013.

I wear Nike Frees for road running/races, and these felt comparable in weight.

I initially ordered size 12's, but they were a bit snug on the front of my toes. The 12 1/2s fit much better, with a little room in the toes.

I would definitely recommend these shoes, especially if you can get them in your size on sale!
Excellent shoes
Gender:

Male

Familiarity:

I've put it through the wringer
On to my second pair. Comfortable right out of the box, nice wide toebox (I ordered a half size larger, based on recommendations). I'm a low-moderate distance trail runner (5-12 miles, generally), running in PA, with very technical trails, and these shoes have performed well. I think the Inov-8 Roclite's adhered better generally, but these do a good job on all but the slickest, mossiest rocks.
Very light and comfortable. Much more of a running shoe than scrambler, but they'll do the job. Great fit right out of the gate, but Scarpa always fits like a glove for me (longer/narrow foot).
Lighting up the mountains
After trying out dozens of trail shoes over the past years, I've noticed a trend of shoes becoming increasingly less and less like running shoes. The Spark straight away is reminiscent of an actual running shoe that has blended in some of the "modern" aspects that have become popular. The heel/toe drop is on the more minimal side at 6 mm vs a standard 12 like in most road shoes. The cushion is dense and sufficient that rocks and rough trail don't cause discomfort. But, they are sufficient to go long distances (I've yet to take them past 25 miles but the feet felt fine). The weight is that of a light weight training shoe, coming in at around 9-10 oz, giving a nimble feeling or "nimbility" as I like to say. And lastly, the tread is just aggressive enough to provide great traction in loose dirt/rock but not so cumbersome that it inhibits running. On the flip side, the moderate tread pattern holds its own on talus or moderate slabby rock.



I'd say the shoe is great as an everyday trainer for those that get out in the mountains in a variety of conditions.
My first experiance with a low drop(6 mm) shoe. Big difference and I really like the stride. With every step I landed on my foot not just banging my heel down and rolling to the next stride. Super light, breathable, and well made.
Love the shoes. Very light and comfy. But the tongue keeps migrating to the outside of the shoes no matter you lace it up. Perhaps I should lace it up super-tight? I dunno. Except for this one annoyance, a great shoe.
Perfect warm weather trail crusher
These really do feel like wearing nothing. They're an excellent minimalist shoe and the thin mesh upper adds top notch breathability.
These things are AWESOME. I have never owned a shoe that is so light but still unbelievably comfortable. It is great! Tons of cushion, but you still get a feel for the terrain under your feet. I was going to use them exclusively for trail running and light day hikes/overnights, but theyve turned into a "wear them as often as possible" kind of shoe.