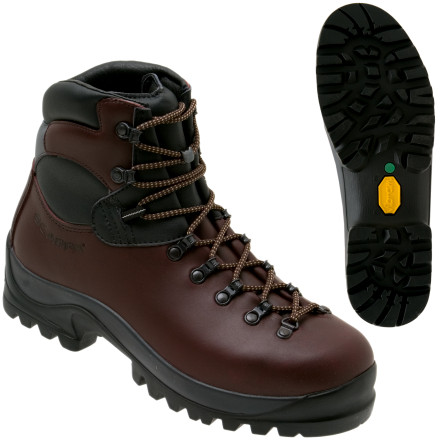 Detail Images

Community Images
The Scarpa SL M3 Men's Backpacking Boots' silicone-impregnated leather uppers stand up against the most abusive trails while they give you water protection for wet-weather hikes. Scarpa added articulated cuffs to increase flexibility while still giving you the support you expect from leather boots. Vibram M3 outsoles increase the SL M3 Backpacking Boots' traction on steep, rough, slippery trails, so you stay on your feet and continue your hike with ease.
Lacing eyelets breaking off
Familiarity:

I've put it through the wringer

Fit:

True to size
I have a pair of Scarpa SL M3 boots which I purchased about 5 years ago. They are used only in winter hill walking in Scotland with occasional crampon use. They are excellent boots except for rivets securing the eyelets breaking off due to rusting rivets. Scarpa UK advise that use of japanned steel rivets is normal in the trade but other manufacturers advise otherwise and use non corrosive rivets. If you manage to hold onto the lacing eyelet they can be secured by bolting to the boots with 4mm dia. bolts, nuts and washers. I have effected this repair on my boots and they work well after the repair. A bit Heath Robinson I admit but effective.
1st Pair Lasted a Decade - Hard to Trump
Gender:

Male

Familiarity:

I've put it through the wringer

Fit:

True to size
About 3+ years into my second pair. 1st pair made it through perhaps 3,500-4,000 miles from the Himalayas to the gorgeous trails of Hong Kong. Simply indestructible. 2nd pair not as robustly made, but high quality nonetheless. Handled crampons flawlessly on glacier climb up the Hotlum Bolam Ridge at Mt. Shasta this summer.



I have relatively wide feet and these accommodate to a tee. True to fit as well. Break-in time: Almost immediate.



Only downside: Stiching on top interior performed well for a year and then started to unravel. Small technicality in my book. One other oddity: I've tried contacting Scarpa USA but number on website is inactive.
Unanswered Question
Ive recently broken a couple of locking...
Ive recently broken a couple of locking lace hooks on my SL m3 scarpa's and need to get them replaced. Can I get them repaired through Back Country or recommend someone who will do a Scarpa quality job?. The locking eyelets are cast and not the best idea especilly in rocky terrain as they will be prone to knocks but the rest of the boots are the best ive had and the fit is perfect for me would hate to have to swap them. would even consider standard hooks if i could keep the boots.



regards wayne


I've been wearing these boots for 6 years now. They are the most comfortable footwear I own and they probably are bombproof. My walks are generally between 10 and 20km in a day but often I am scambling over rocks or wading up creeks. Unlike my friends' Gortex and various other pretty boots, the glue, the stitching and the leather on mine has never failed. The sole on my oldest pair is getting thin now but still functions as new. I've just bought another pair of SL M3's to put in the cupboard "for a rainy day". And their sizing options are fantastic. I do wear off the shelf orthotics in them and I would recommend this to everyone. For me it adds $50 to the cost but they'd still be cheap at twice the price.
What product do you recommend to maintain...
What product do you recommend to maintain the leather?
Best Answer
Hey jas5579292,

A couple good ways to maintain the leather on the Scarpa SL M3 Backpacking Boot - Men's is applying the Nikwax Conditioner For Leather. Also, the Nikwax Fabric & Leather Spray Footwear Treatment is good for re-treatment of the waterproofness of the leather.
When I got these boots, I was sort of concerned for the fit, as my feet are somewhat oddly shaped. Not a problem. Any issues I have with the fit at this point I believe will be resolved as the boots break in. Speaking of which, they are crazy stiff. It doesn't get in the way of my walking motion, but these are not for the casual hiker/day hiker. I will use them with a fairly heavy pack. I didn't find them to be too heavy as some have complained about. I was actually surprised at how light they felt compared to what I was expecting.

These boots are definately built to last. I can stride over all sorts of terrain knowing my feet are protected. I will have to update this review as I get more miles on them.
Can these shoes be resoled once worn...
Can these shoes be resoled once worn out?
Hey JB,

Thanks for the question. I checked with Scarpa and it appears that they can be resoled. Please visit the link below for the repair/resole centers that they recommend:

http://www.scarpa.com/scarpa/control/cmsroot/WarrantyAndRepairs#leatherboot
Yes, the SL M3 can be resoled(more than once) being the boot incorporates a Littleway Stitch.) I would also highly recommend Dave Page. He is one of the top(if not the top) cobbler in the states.
After approximately 77 days of wear the fabric lining at the heel tore away in one of my SLs. I have since heard that this also happened to someone else (although admittedly after more use). Anyway, the shoes have a great pedigree, but I have a suspicion that there is a design flaw at that part of the heel for this model SL. Or perhaps there is a batch out there with a weakness in the fabric.

In the end the local distributor (I am Australia based) decided that this was not covered by warranty. This obviously seems like a convenient line to take for them. That is, they chose not to entertain the idea that there happened to be a weakness in the fabric of that boot, instead choosing the "normal wear and tear" line (which I of course cannot disprove). I kept the Scarpa company in the loop on this and I can only assume that their silence means that they support this approach to customer service.

So this one is a cautionary tale.
Just returned from 2 months of trekking in India and Nepal. I found that while these boots offer fantastic protection and great traction, they were just too heavy for me. They were fairly waterproof, though I did get a bit of wetness after 8 hours in snow (that is a lot for any boot) The lugs are huge, and take some getting used to since you add a couple inches of height but they handle any terrain, and I was never worried about twisting an ankle. The break-in period is significant, but it is always that way for top-grain leather. Overall, it is a well-made boot but I would only buy it again for a technical mountaineering trip, not a trek.
So, I got this in a size 15(50) Wide. Even in a wide, it was still pretty narrow in the toe box, but I hoped that, being an all leather boot, the leather would stretch to fit my boot. I was wrong. I took them on one 40 mile backpacking trip (after hiking 50 miles in them to break them in) and they wound up tearing my feet up. I blame myself for this tho, and not the boot. The boots themselves are badassed. The Vibram soles are super stiff and great for the jagged granite rocks you'd find in the Sierras. They don't get very hot, and are extremely water proof (see the picture I posted). I hiked with a 50lb pack over some pretty gnarly terrain and the balls of my feet never once felt even the sharpest rock. BUt like I said, the boots didn't fit right. They were much too narrow in the toes and (I don't know if that caused this) my heels pushed into the back of the boots unmercifully on even the slightest incline. I wound up getting blisters all over my feet. Once again tho, that's my own damned fault. I knew the boots didn't fit the best, but I didn't have enough time to break in another pair of boots before the trip, and I didn't want to call off the trip, so I went anyways. (It's hard to find a last minute 15 Wide.)

I've used the Asolo Powermatic 200, the Lowa Banff and Trekker, and the Danner ML2, and out of all of them, this is the heaviest and stiffest. That's great of you plan on using crampons though, and honestly, after they're broken in, you hardly notice the weight. I wind up returning them just because I found the made-in-Germany Lowas fit my wide toes much better, but in terms of quality, I'd say these are on par with Asolos and Lowas, thought they're definitely beefier than the two (The Danner ML2, though, is better used as a paperweight.)

If your looking for a solid pair of boots and your feet are narrower, you def won't go wrong with these bad boys. They're def one of the best and good from anywhere between backpacking and snowshoeing, to things that require crampons. (that's what the little green dot on the sole means- stiff enough to use with crampons).

Hope that helps.
Scarpa SL M3 Vs Zamberlan Vioz GT Vs Asolo GV 520
The winner? All three equally. Cop-out maybe, but let me explain myself.

Italians make the best backpacking/mountaineering boots. Period. Show me an exception, and I'd say that to be a very rare exception to this experience driven rule.

From the beginning I was torn on which boot to get first. They are all in a similar class. They are all Italian companies. Zamberlan and Scarpa manufacture their boots in Italy, however Asolo has their operation in Romania, an Eastern European neighbor. Asolo has always had their manufacturing operation in Romania (at the same factory), and it is my belief that they are of consistent quality (I own other Asolo footwear).

To the brass tacks -- all 3 have high quality semi-rigid leather uppers. Two are waterproof, and one is highly water resistant. The Vioz Gt and the GV 520 are built with a Gore-Tex liner making them 100% waterproof. The SL M3 utilizes silicone impregnated leather, and is highly water resistant (but this is an advantage in it's own right as I discuss below).

It is my opinion that the three different boots are the highest quality, highest utility, and highest durability in this rough class on the market today. So how the hell do you decide? Well, as we all know a boot is only as good as its fit on an individual foot. The SL M3 may be the best hiking/rock traversing boot ever made, but if it does not agree with your foot's profile it will undoubtedly be one of the worst. So before you buy, try them on. Try these three boots, and try three others. Get an idea of what meshes best with your foot's profile.

If they all seem to fit equally well then what?

Well, that's the issue I ran into. I finally went with the Zamberlan Vioz Gt because it was fully waterproof. I went with the Zam over Asolo's waterproof option for no other reason than the boot felt a hair better on my foot.

Skipping forward... I have acquired all three boots. I say acquired because each boot is an asset and investment in your outdoor and daily life. Over time the three boots have taken on different roles. They are each a different tool, and like tools in your garage, no one tool is better than another holding quality, craftsmenship, etc. constant. Different tools are utilized under different applications.

The application of my three different boots:

I wear a running shoe in a US 10.5 or about EU 44.

Zamberlan Vioz Gt (EU 44): I use these for blitz hikes and mountain running. I know it sounds crazy to run in these bad boys, but they perform wonderfully, and I can see no other footwear option that would equal its performance when I want to run me a mountain. I ran the the sand dunes in southern CO from campground to highest point in 30.15 minutes using these monsters --This boot runs true to size, and fits a mid profile foot. Its sole is rigid with a slight flex in the front ball. Break in period (short). My 44s fit perfectly snug.

Asolo GV 520 (EU 45 wide): I use as my in the middle "tool of all trades" boot. I love to wear them around in my daily life, and find them hard to take off at night. I hike, do heavy load summer mountaineering, puddle hopping, whatever in these. They perform exceptionally at everything I put them through. --This boot runs a tad skinny and a hair short. They fit a slimmer profiled foot. Its sole is rigid from front to back. Break in period (short to medium). My 45 EE's fit perfectly snug.

Scarpa SL M3 (EU 45): I live in the CO rockies and there's a lot of uneven and jagged granite to be had. I have found the the SL M3 to perform the best on intensive - granite rich hikes. Its super rigid soles keep my feet comfortable on the most unforgiving rock. Its overall rigid design keeps my ankles in line, when those rocks start moving unexpectedly. There's something about them that just excels on rock. They't don't have gore-tex so if you don't keep up on your waterproofing (take care of your boots guys) you can get quick moisture saturation, but this has never been an issue for me. All leather, and no gore- tex may seem like a disadvantage to some people, but it depends on your situation and use as I've explained. However, I love that it is an all leather upper with no liner. It really is a thing of beauty. The all leather feel is a pleasure like no other -- my feet always feel good in them. Get the SL M3's on your feet, and I don't think you'll care that they don't have Gore-Tex. --This boot runs a hair skinny and maybe a little short. They fit a slimmer profiled foot, but I have wide feet, and regular width is perfect. It's soles are extra rigid with little flex to be found. Break in period (medium to long). My 45's are perfectly snug.

Clarification: just because I use one boot for certain applications, and one for others, does not mean that I couldn't use any of these boots successfully in any of the applications I've described. They all perform equally well. In my particular case each boot has tended towards separate uses.

My advice to you if you're unsure of which boot to buy: brainstorm in detail what your actual use will be like. Consider what activities you do most, consider how much rigidity you desire, consider moisture environment, consider availability and access to water proofing products, consider weight, etc. As I said, get them on your feet. Get an idea of each boot's profile relative to your foot's profile, and consider if the FEEL of any one boot on your foot meshes with whatever uses you foresee yourself using them for (holding previously mentioned criteria in mind).
are these boots good on slippery rocks...
are these boots good on slippery rocks etc.?
These boots have awesome traction. Of course, they aren't foolproof, but the vibram rubber is super sticky and amazing.
I have a bulbous heel that extends a bit...
I have a bulbous heel that extends a bit farther back than most peoples feet and just previously bought the scarpa Barun and still have the problem on inclines where my heel in the only thing lifting up on the boot which causes MAJOR blisters. I had the asolo FSN 95 before these and had them for 5 years and still got the same blisters on the back of my heel. I decided its time for a new boot that fits my heel. I tried this boot on for a few minutes on a incline thing in the stores and they felt better than most. Is there any boot out there that caters to my kind of foot? is the M3 the boot for me? I need help on this one.
I remember that the excess padding on the upper heel section made it better for my heel on the inclines. Can someone confirm that there is additional padding there compared to most boots?
I know asolos dont fit my feet. I havn't tried Zamberlan though. Maybe someone else would know?
I have these boots and experienced the same problem on inclines. Take your boots to a good cobbler. they have a machine they can work the back of the boot with that will make that problem go away.