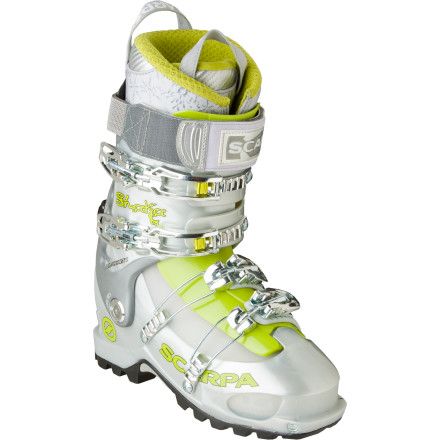 Detail Images
Scarpa designed the Women's Shaka Alpine Touring Boot for advanced female skiers who need a stiff, high-performance boot in the backcountry and off the tram. The Shaka is compatible with all alpine touring and Dynafit bindings, so pick your poison and let 'er rip.
Dual-density V-Frame power ribs around the boot's cuff, four-buckle design, and built-in power strap make the boot super-solid in the toughest and most technical conditions
Intuition Speed Pro Women's liner is specifically designed to custom-mold around a woman's foot shape
Included ski tongue maximizes downhill driving power, and additional walk tongue swaps out for more comfort on all-day tours
Tour mechanism releases for easier walking
Optimized Touring Pivot gives the option for increased touring efficiency (follow special mounting instructions)
Unanswered Question
Are these boots compatible with traditional...
Are these boots compatible with traditional alpine bindings?
Just wondering whether anyone might know...
Just wondering whether anyone might know if these boots fit the same as the Gea? I live in Australia, and trying these sorts of boots on is very hard to come by. I've tried the Gea on, and the 23.5 fits really well, especially around the heel (Very skinny narrow feet... often difficult to find boots that fit), but I would like a boot that's a little stiffer.
Scarpa boots fit the same, the entire brand is good for narrow feet
Best Answer
No, these two fit very different. The Shaka has a 104mm forefoot last and fits wide. The Gea has a 101mm forefoot and fits narrower. If you are interested in a stiffer boot wait for the Gea RS which is coming this Fall and is the same fit as the Gea but much stiffer.
Go-to boot for backcountry powder!
I ski the Shakas all winter long, and love their downhill performance for skiing big powder skis! While lighter AT boots can work, I love the feeling of power/support from the Shakas, which make them my go-to boot all winter long. I also like that they're easy to get on/off like an alpine boot, and are comfortable to tour in . . . I definitely recommend them!
I'm shopping for AT boots for my wife. ...
I'm shopping for AT boots for my wife. She has a challenge in that her feet are wide--EE width when we measured. It appears that most women's AT boots are made to fit a slimmer foot. She tried on this boot, BD's swift and Shiva boots, and one of Dynafit's women's models. This and the BD swift seemed to be the most comfortable at first. She's a 24.5 Mondo. After a few minutes her feet started to fall asleep and she felt pressure in different places. Our big question is, how far does thermo molding go? Is it possible to modify the plastic boot? It seems that I've heard of that. I've also heard of custom foot beds, would that help with the width issue?

A concern we have is that we may need to mail order these, but not knowing how the fit is going to turn out, a return policy is important--or at least working with a store that will be able to make the modifications we need. What is Backcountry.com's return policy on AT Boots?

Thanks DP
backcountry.com has a lifetime unlimited return policy. They are super amazing about returns. You can search "backcountry.com return policy" on google to find it.

As for the boots, thermo molding goes a very long way if done correctly by a fitter. And most any boot shell can be heated up and punched out in hot spot areas to create needed space. A custom foot bed can add needed support for the foot, but I do not think it is going to help you with any issues if the shell is too narrow.

If she has any issues with the width, it will primarily be the volume inside the shell, as the liner will mold as needed.

My suggestion would be to contact backcountry.com (via chat) and see if they can locate the last size each boot was built on. If they can not asking the manufacturer will work. The last is the actual foot form the boot was built on and will determine the inner volume of the shell. Essentially you could find out who's boot is built on the largest last.

With backcountry.com's return policy it might be worth ordering a few boots and trying each boot on. Try them on with the liner out of the boot and see if the width of her foot is hitting the inner edges of the shell, the will tell you quickly if the boot is too narrow.

Best of luck.
I'm interested to know how the pebax shell...
I'm interested to know how the pebax shell compares to polyurethane shells of other AT boots. I.e. - more/less durable, stiffer, lighter/heavier.
Thanks
Lighter and less reactive to temperature change. Just as stiff if not stiffer than poly under certain situations.
Thanks Michael - curious now as to what kind of situations pebax would be stiffer under?
Many thanks.
Hoping for some advice on sizes. I am just...
Hoping for some advice on sizes. I am just getting into touring.
I have size 5.5 regular shoe size (size 36 euro), and I prefer a very stiff ski boot.
Would the 22.5 suit?
Unfortunately, there is nowhere nearby to try on scarpas...
Any other advice on smaller but 'performance' boots would be appreciated.
The Gaia TF-X from Dynafit is another stiffer option that comes in a 22.5. Or, go lighter, but still stiff with the ZZero Px-TF. Fit is tough if you can't try them on. Your foot shape, regardless of "size", may fit one brand and not another. Happy Hunting!
early season Chugach skiing
We had a great early season in Southcentral AK and my buddy Luc made this video to commemorate it . . . this was essentially my first month on the Shakas and I loved them!
I bought these boots to replace my Garmont Megarides for my ski mountaineering setup (Dynafit vertical ST on K2 Mt. Bakers). The Megarides were waaaaayyyy to soft for me, and sketched me out on anything other than crust or hero pow! The Shaka gives me amazing confidence to rip. I love the stiffness and weight! So good!

I have the Scarpa Domina as well, and the fit is identical. The buckles on the Shaka are way better too! Overall, I'm super happy!
Hi, I've been skiing Scarpas tele boots...
Hi, I've been skiing Scarpas tele boots for years. I have T2x in a 24.5. Could I feel confident ordering the same size in the Shaka?
Best Answer
Short answer yes. Long answer there is a slight fit difference in fit between the two. The Shaka will be a tad wider and a tab higher volume, but with a proper thermofit you will be happy with the Shaka
Just wondering if these fit true to the...
Just wondering if these fit true to the mondo sizing chart or if they have a tendency to run a bit larger or smaller? Any other feedback on how they perform would be greatly appreciated!!!
Caleb,
yes the will fit true to the sizing chart. They did get Editors choice in Backountry Magazine. These are based off of our best selling Skookum you can look to reviews on that model for more information. A hard charging dynafit compatible bootI do not fell you will be disappointed
I am a 7 (normal shoes) to 8 (running shoes) and wear a 24 . . . so I'd say they're mostly true to size . . .