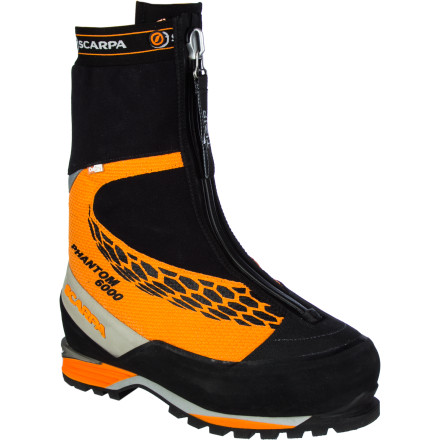 Detail Images

Community Images
Description
Take the next step up a steep and icy face when you slide your feet in the rugged Phantom 6000.
Give your foot a warm and sturdy platform to help you crush your next winter ascent when you lace and zip it up inside the Scarpa Phatom 6000 Mountaineering Boot. This fortress of warmth features a built-in zip-up gaitor for sealing out the skin-searing cold and a waterproof liner so your feet stay dry even on slushy snowfields in late May.
The tough S-tech upper's rubber rand holds up to the abuse any frozen mountain dishes out
Toe and heel plastic rands secure your crampons as you begin a climb into the heavens
Waterproof liner is beefed up with a layer of EVA foam and heat-reflective aluminum to keep the warm air inside
Insole and midsole cushion your steps while staying sensitive enough to feel each foothold before you take the next
Vibram Mulaz outsole grips the rocks and snow as you approach the icefall
Ergofit System stretches in the ankle for a dynamic fit for aggressive ice climbers and mountaineers
Removable Mountain Lite liner lets you dry the sweaty liners in your sleeping bag on longer expeditions to keep them fresh and unfrozen
Super Warm!
Familiarity:

I've used it once or twice and have initial impressions

Fit:

True to size
So, I should probably point out that I'm female and bought these because they don't seem to make double boots for women. After trying on a few pairs, I went with the Phantoms because they fit my wide feet way better than other boots.
So far I've only taken them out into the Chugach front range (double boots are definitely overkill), but it's winter -- conditions were 30 mph winds and well below 0. When I got back to the truck, my feet were soaked -- with sweat; the boots stayed hot and otherwise very dry -- despite trekking through snow (calf-deep in some places). Those built-in gaiters work! A buddy was in Spantiks and wasn't so lucky. The Scarpas were also surprisingly grippy and the toe dug in and held on to icy/snowy rocks (when crampons made the climb treacherous).
My only complaint is that I started to get blisters on my first hike, but I think it's because my heel is narrower than a typical male foot, so there's a smidge more room at the heel than there should be.
Unanswered Question
Am looking for a boot for 7000'ers in Indian Himalayas/ Central Asia. Scarpa says these (Phantom 6000) are suitable for 7000 m peaks. Can someone provide useful info or is someone there reading this who has been up to 7000 + with these boots?
Thanks in advance.
hi, is these shoes for wide foot? I have normal or maybe narrow foot, so does these shoes fit on me? need help fast please
Scarpa's boots tend to fit wide feet better but could fit you just fine. With a normal to narrow foot, maybe try La Sportiva first, unless you need the Phantom 6000's specific features. Good luck!
I ice climb from time to time, and this winter I will take an intro mountainering course. This past winter while climbing in the Hyalite canyon at 22 deg, my toes (like my fingers) were pretty cold (in my Nepal Evo boots, which I otherwise love) which made me miserable. I am looking for some comfortable boots for someone like myself, whose toes get cold easily. I probably will not be going very high in elevation, no more than 14,000 feet or so. Recommendations? Thank you for the help.
Hey denp436529!



Due to the construction of this boot you will find it is going to be warmer than the Nepal Evo. The built in gaitor not only helps trap some heat, but will keep your feet drier compared to just wearing those nepals with pants and an over boot gaitor. For the climbing and mountaineering you are doing these sound like a great choice. If you would like to talk about ordering a pair or have other questions please contact me.



Dan Gates

Expert Gearhead

801.746.7582

dgates@backcountry.com


Amazingly light/low profile double boots
Familiarity:

I've put it through the wringer

Fit:

True to size
When I first bought these boots, my idea was to have one boot that could take me pretty much anywhere my winter climbing would take me. Eventually I bought a pair of lighter single boots for warmer days and more technical climbs, but the Phantom 6000s perform so well that I find myself wearing them almost every time I go out.



I've climbed in these boots in temps as low as -27F in the Canadian Rockies and had no issues with cold feet, and I've also been technical mixed climbs and had minimal issues with excess bulk.



The integrated gaitor is very functional and can be used to tuck one's pants in when it's time for more delicate footwork.



Photo: getting ready for a climb of the Ham n Eggs Couloir on the Mooses Tooth, with a view of Denali in the distance.
Hi, I used US 11 M, EUR 44 1/2 on my Salewa Men's Mountain Trainer Mid GTX Hiking Boot, and I'm wondering if I've to go with a 11 also on this boots or go to a 12 (EUR 46), since I've read that many people had some issues with small numbers. Any advice?
Which boots will be the best choice for Aconcagua-Phantom 6000 or La Sportiva Baruntse? Are Phantom 600O wider than Baruntse? Is size 48 of Phantom 6000 equal to US size 14?
Best Answer
Hi J.W.,

I was there a couple of years ago. I used La Sportiva Spantiks and they worked GREAT ! For my approach boot I used La Spotiva EVO's. The temps are only "extreme" from camp 3 to the summit. Spantiks or the equivilent will do.
I would take Phantoms or Spantiks. The Baruntses are just a lot bulkier.
Fantastic Boots
Familiarity:

I've used it several times

Fit:

True to size
While comfort and warmth are to a large extent subjective, here's what I think of these boots.

I tried on the Spantiks, Baruntses, and the Phantoms side-by-side and the comfort of the Phantoms was superior.

I kept the Phantoms and wore them so far on Cotopaxi, Chimborazo, Mount Washington NH (winter), and various ice climbs in the north east. I was glad to find out that on top of comfy they are really warm. In all of the above climbs I wore just a wool sock liner - did not wear thick hiking socks.

I can't speak for Denali, but I plan to climb it in these and have a pair of 40 below just in case.



The inner boot, is more of a foam sock than a stiff foam inner boot like the ones on Koflachs. But that doesn't make then flimsy by any means. As a matter of fact they are very warm, very form-fitting, and they also have a stiff sole that you can walk around in when at base camp.


Hi I'm just wondering about these boots for denali, I was told they would be warm enough and won't need overboots, but the guide companies seam to be telling their clients to go with 8k'ers like Olympus mons etc...

Are these a lot warmer than the spatniks? Also I'm a size 45 should I be upsizing to a 46?
Best Answer
The Spantiks are going to be warmer than these. I would say you might be able to get away with a pair of these but, definitely bring some Forty Below over boots. Those over boots could save your hide if you are ready for a summit push and the temperature drops. They are just really good to have on a trip of that length with the possibility for that kind of cold. I would also up size a bit to accommodate any swelling from altitude that you might have. I didnt have any swelling and up sized my boots for no reason but, it would have been terrible if I did not plan for that. I would go with these if I had used them before in -30 degrees with my over boot and was fine. If it was my first time on a trip like this I might think about getting the 8000's just to be sure. Once your up there there is no swapping out boots, if its too cold for your feet to climb you are going to be sitting in your tent. When we were up there definitely saw people with these, the Spantiks and the 8000's. Just depends on the individual.
These are fine boots, but I wouldn't take them to Denali, maybe unless you're going in July, and are prepared to wait in your tent on summit day if it's really cold. I wore Spantiks with Forty Below overboots on Memorial weekend, and my feet were marginally warm enough. And I ski all winter with just liner socks. There's a reason Spantiks are the gold standard for really cold technical climbing.
These boots are fine for Denali. I climbed Denali between late May/early June (2014) with these boots and I was fine. My feet stayed warm. I did bring 40 Below overboots; I wouldn't go to Denali without them, despite which boot you're wearing. The liners seem a bit flimsy, but they're OK. I did bring a second boot liner, though (from the Baruntse), which was nice to have, though I think I would have been fine without them. I switched between the two liners depending on where I was on the mountain and the weather. These are great boots. If they fit, go for it.



Check out these posts from the Cold Thistle blog regarding the Phantoms and the Baruntse liners:



http://coldthistle.blogspot.com/2013/01/true-love-dane-and-his-boots.html



http://coldthistle.blogspot.com/2010/11/double-boot-inner-boots-molding-fitting.html
I would also recommend the overboot strategy. If you plan on having other uses for 8000 meter boots, then by all means, take those. Even expensive boots are cheaper than toes...
Double boot that climbs like a single
Familiarity:

I've put it through the wringer

Fit:

Runs small
I switched to using the Phantom 6000's for alpine climbing in the Alaska Range, and I couldn't be happier.

The Phantom 6000's keep my feet very warm, but they fit and move like single boots, making me much more comfortable on technical terrain.

These boots are also several ounces lighter than my previous double were, a noticeable weight difference on long days.

The lacing system is simple and easy to use with gloves on. The integrated gaitor with waterproof zipper works really well.
I am looking for a boot for denali, any...
I am looking for a boot for denali, any help would be great, I know everyone wears the spatnik apparently , guess I am more asking about the baturas 2.0 and the phantom 6000, would they be warm enough. I'm in Aus and no one sells these in store!
Best Answer
Hi Daniel,



These would easily be warm enough. I assume you're not going for a winter ascent? Regardless, these should be more than warm enough. These are nice because you won't need an overboot with them. The removable liner is also key, as you can take it out and put it in your sleeping bag with you each night. Hope this helps!
How would these compare to the Spantik?
How would these compare to the Spantik?
Best Answer
You have better control over fit with the P6000 than the Spantik due to the lacing system (especially better heel lock). P6000 is lower volume, lighter, and has better ground feel than the Spantik. I don't have a direct comparison of warmth, but the P6000 might be only slightly less insulating if I had to guess. I've used my Phantoms at -20F and my feet stayed warm in a medium weight pair of SmartWool socks.
You have better control over fit with the P6000 than the Spantik due to the lacing system (especially better heel lock). P6000 is lower volume, lighter, and has better ground feel than the Spantik. I don't have a direct comparison of warmth, but the P6000 might be only slightly less insulating if I had to guess. I've used my Phantoms at -20F and my feet stayed warm in a medium weight pair of SmartWool socks.
Slightly lower profile and slightly less warm than the Spantik.
I wear size 43,should I up size or go with...
I wear size 43,should I up size or go with my size? For a trip to Elbrus (summer) are they an overkill? I am planing to go in my Nepal Evo GTX. Help needed fast!!!!
Best Answer
It depends on how you react to altitude. Do your feet swell a lot at altitude? My first high altitude trip I sized up just in case and found my feet didnt swell that much so I could have gotten away with a smaller size. I wouldnt say these are overkill, really depends on who you are and your style of climbing. If your going to be moving slow, I'd probably rock something like these just to ensure warmth. You can always dry em out if you sweat, Im a cold person and I would always rather deal with the moisture and the black toe.
Unanswered Question
These boots seem to run a bit small. Has...
These boots seem to run a bit small. Has that been the case for others out there? I'm trying out a size 44 right now and my big toe is just about at the end of the liner (I typically were a 9.5 street shoe and regular hiking boot). The shells seem like they're the right size, though (about two fingers worth of space between my heel and the shell). Am I missing something?
I'm looking for a boot to use in Bolivia...
I'm looking for a boot to use in Bolivia on about 4-5 peaks over 6000m. Would you recommend the LS Batura 2.0 or the Scarpa Phantom 6000?
Hi, spent over a month in Bolivia last year with the Batura EVO, climbed Huayna Potosi, Condoriri, Alpamayo Chico and Illimani. Only on the final stretch of Illimani at around 6300m I felt a little cold on my feet. But the Baturas are so much lighter than the plastic double boots everybody else was wearing. I would definitely recomend them for Bolivia. I met a guy that was climbing with the Scarpa Phantom 6000 in Huayna and he was very pleased with them too. I supose the Scarpas are a bit warmer then the Baturas, also a bit less stiff. Both probably will fill your needs.
Unanswered Question
would these fit the same as the mont blanc...
would these fit the same as the mont blanc gtx?


Almost perfect out of the box.
I felt really good about these boots right out of the box. Before these boots I was clunking around in heavy Invernos so these felt great. Light and reasonably comfortable to walk in, but seem stiff enough for technical ice, and they fit perfectly with my BD Saber Tooths. First time out, I took them out on a 12 mile slog (2k ft of elv. gain) through snow and ice @ 20 F with moderate winds. They are defiantly warm (below tree line, I unzipped the gaiters my feet were so warm). After a few miles I did notice some heel lift and heal hot spots. By the end of the hike my feet were pretty beat up. After getting home and drying them out (mostly from sweat, the gaiters work well) I noticed that the stock foot-beds are pretty flimsy. I decided to give them another try with some green Superfeet and sock liners to take up some extra volume and mitigate some of that heal lift. I tried this configuration on my second hike, about 4 miles of level terrain through deep snow and again around 20 F, and my feet felt fine afterwards. Even tough the chewed my feet up initially I'm giving them 4 stars because i think they still have potential to be great boots with the after market liners. I'll have to put them trough the wringer to know for sure.
Originally bought the La Sportiva Batura 2.0's, but the heal on them was way too tight and the tongue on those boots cut into my foot. Returned them and bought these for Liberty Ridge on Rainier (will be doing in the next few months). Wore them on 17 mile hikes to break them in and then for Notch Couloir on Longs Peak.What I have to say is that they are incredibly comfortable for being triple boots. Cold was never a problem in the sub-freezing temps (20s F). Will revise review after Rainier, and planning on wearing these on Denali in the next couple years as well.