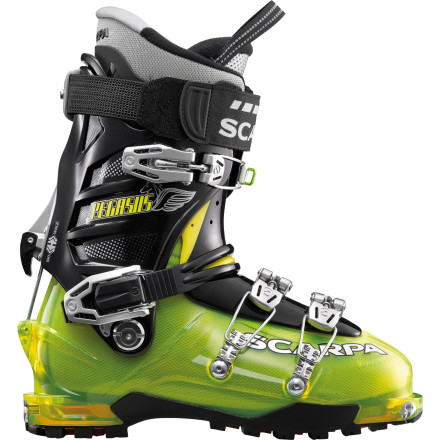 Videos
Since you don't have a flying horse to transport you to the top of pristine backcountry lines, you'll have to settle for the next best thing: the Scarpa Pegasus Alpine Touring Boot. The Wiregate Tour-Lock buckle securely switches between skiing and touring modes while the Axial Alpine design provides an unimpeded range of motion on the way up and power transmission on the way down.

Mid-stiff flex of 100 provides ample support for leaving your mark in untouched backcountry powder bowls
101mm last width provides performance without crushing your foot
Instant Fit Flex Pro Liner features Lycra for easy entry, elastic on the instep for eliminating pressure points, and a Cocona interior for odor and moisture control
Axial Alpine construction utilizes the best of Cabrio and overlap designs for easy on and off, unimpeded touring range of motion, and powerful transmission to the ski
Wiregate Tour-Lock Buckle quickly and securely switches between touring and skiing modes
Four buckles and an Active Power Strap securely anchor your foot in the boot
Quick-step fittings make getting in and out of TLT bindings easier than ever before
Compatible with AT and TLT binding systems
Vibram Cayman Sole has a smooth rubber toe for a perfect fit with bindings and a lugged sole for traction in variable terrain
Unanswered Question
i am a 8.5 -9 street shoe, I know the scarpa AT boots size a little different than most, can you recommend what size I would be in a scrap, usually i would be 26.5.
Scarpa performance, affordable price
Familiarity:

I've put it through the wringer
Just call us Team Pegasus. My friends and I all went in on the Scarpa Pegasus Alpine Touring Boot because Backcountry is giving such a great discount on them, and none of us are disappointed. These boots have seen five-mile ascents up semi-snowy peaks, three-mile hikes to no snow (we were looking for something to ski), and of course the best snow days of the season. The boot's walk mode offers a natural stride uphill, and it locks down to give an aggressive performance downhill. Scarpa's Axial Alpine construction in innovative and secure, and the liner is super comfy. These are the lightest boots I've worn, so I have no problem with the fact that their are lighter alpine boots out there.
So far, so good
Gender:

Male

Familiarity:

I've used it once or twice and have initial impressions
I cracked one of my Black Diamond Slants at the beginning of last season, which pretty much shattered my faith in those boots...so I grabbed the Pegasus when I saw the price. The hardware, strap, liner, sole, and Dynafit tech fittings all feel better than those on the Slant. It's just a better feeling boot, overall. I really like the notched easy-entry tech fittings; makes getting into Speed Radicals super smooth. The walk/ski switch feels more solid, too. I'll refrain from commenting on fit, as it'll be different for everyone, but the Slants seem to have a wider toe box. I've skied these in the resort and for a short few-hour tour...really liking them so far. Hard to beat for the money if you're not looking for something super stiff or carbon fiber.
By the Wraith of Zeus!!!!
Familiarity:

I've put it through the wringer
Boom. Same Scarpa crush-ability - affordable price - they dont make em anymore so get em while they are hot.



I got a pair of these to rock when, and if, my Maestrales decide to take the forever nap in brokenville. This has yet to happen, but in the mean time I've gone ahead and broken them in - and yes, they are pretty much exactly like the Maestrale - with the one major feature being that these do not come with intuitions - BUT - if you really cared, you could buy new liners, OR, the liners these come with are amazing in themselves and do a decent job at molding to your foot with use.



These are slightly heavier than the maestrale - but not by any real conceivable amount, because let's be honest, if you're into counting grams you've already shelled out for those carbon fiber rando-race boots that cost as much as a house down payment.



Great 4 buckle configuration - excellent stiffness - features pebax only in the tongue - where you really need it - and the rest is made from poly-plastic - this makes the boot affordable without compromising on stiffness.



The color is so fresh lime it hurts. Get yourself a bottle of tequila cause you'll be shredding margaritas all day.




I have learned from a fitter that I have a very high instep and should choose a boot accordingly (and apparently technica is one company that leans toward a higher instep?). Does scarpa, in particular the pegasus, have a reasonably high instep?
Best Answer
I also have a high instep and did not find that to be a problem with these boots. My fitting issue was getting one too small and the pain that arose from smushed toes. Fairly comfortable boot skinning up, just couldn't fly with the downhill. Hope that helps!
Hello There,



I purchased these boots a month or so ago from the site and was recommended towards the Salomon Guardian 16 (last years model, Blue in color). Took that setup to the shop, said it would not pass the stress test, was recommended to the new Guardian 13s that have a pivoting PFD (cant remember if that's the right name, but it is the piece below the toe on the binding. They mounted those, not those do not pass the test because of the rubber sole on the Pegasus. Any recommendations on what binding will actually work with this boot?? My skis are BD Justice 185s and 115 under boot.

Any help is greatly appreciated and so far the boots feel great!

Brent
They will work with the Marker Series. Duke, Baron, or the Tour 10&12.
What size would be the best fit for a size ten shoe?
Hey Redairline,

Most likely the 28 will fit you best in these boots. Some of this will depend on how aggressive of a fit you like. If you know your current mondo size I would go with that same size in these boots, unless you are looking to size down or up from your current size.
Touring at a good Value.
Familiarity:

I've used it once or twice and have initial impressions
These boots are not flashy. They're not the lightest. They're not the stiffest (or the softest). They won't put on your skins for you, make you rich or attract flocks of star struck admirers.



They will however get you up and down the slopes comfortably. They are super versatile between AT and alpine, TLT. They're super easy to adjust from walk to ski mode. And they're an overall great value boot for casual backcountry skiers or those looking to get a great setup at a much more affordable price. They're your old reliable first car, not a Ferrari, but they'll get it done.
Would the 28.5 fit in the small Marker...
Would the 28.5 fit in the small Marker Duke?
Hey Big,



The Boot Sole Length of this boot in a 28.5 is 326 mm. You would need the Large Dukes for that size.
How would these work with marker dukes? ...
How would these work with marker dukes?


Best Answer
Dan,



You would simply have to adjust the height of the AFD to fit the sole of the boot. The Dukes are compatible with both Alpine and AT boots.
Scarpa Pegasus Alpine Touring Boot
Good value performance- though heavy
Familiarity:

I've put it through the wringer
I've been skiing the Scarpa Pegasus ) for the 11/12 season and currently use them to work ski patrol.



Nowadays I have a pair of the Scarpa Rush, which is my go to touring boot, but last year I did most of my touring in these.



The vast majority of my skiing is touring, and I'm not opposed to longer approaches to ski objectives and days with up to 10 000 feet of vertical. I don't really huck cliffs, but I do like to ski in steeper terrain (45+ degrees). My first impressions were that this boot was perfect, but I have now come to conclude that the weight savings for the Rush are worth the extra dollars- especially because the Rush and Maestrale come with a much nicer thermo moldable Intuition liner (atleast this was the case last season.)



Obviously the most important feature of a boot is fit, and Scarpa is apparently made for my foot.



Worth noting: The forward lean angle is a little more aggressive than for the Rush I think.



Also the shell size that Scarpa uses for half sizes is the larger one (ie. a size 28.5 is a 29 shell with a thicker liner NOT as 28 shell with a thinner one!)