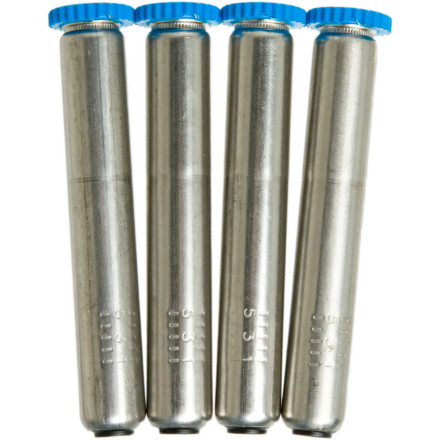 Choose the right color Scarpa (Rottefella) NTN Power Tubes to add or reduce tension, or to just replace your NTN Binding's spring cartridges. The micro-adjustable tubes are color-coordinated to correspond to different levels of spring resistance—so you can achieve the level of stiffness you need to carve up the mountain the way you want.
White tubes are extra soft for beginners and lightweight skiers with small boots
Green tubes are a tad stiffer for more confident skiers with small boots or novice skiers with large boots
Blue tubes are the standard for large-boot sizes and fulfill the needs of most average-sized skiers that rip the resort
Red tubes bring pro-level tension to the NTN for the heaviest skiers that huck and rip like a sponsorship deal is on the line
NOTE: Will only work with Scarpa NTN bindings; second generation NTN and older are not compatible.
Share your thoughts
What do you think of the
Scarpa
NTN Power Tubes
? Share a...
I just received these tubes, and the...
I just received these tubes, and the packaging says "NTN Freeride." Nothing in the item description mentioned whether these tubes were for the Freeride or Freedoms (which is what I have). There is another listing for NTN power tubes that are specifically described as Freeride tubes, so I assumed that these would be for the Freedoms. So do the different bindings use different tubes, or are they interchangeable?
Unanswered Question
I've had my NTN set up for 2 years now and...
I've had my NTN set up for 2 years now and am curious as to whether I can move up to the red power tubes. I'm 5'7" and 120 lbs. I had blue for this season but ended up breaking them somehow so there's little stiffness left in them. Before I go out and buy new tubes, can I safely buy red or should I stick to blue?
Red for Heavier, assertive Tele Skiers
Gender:

Male

Familiarity:

I've put it through the wringer
Love these Red Power Tubes. EZ to install if you install only one tube at a time. I replaced the Green Tubes that came with my NTN bindings with these Red Tubes because of my weight and assertive tele skiing style. As suggested on Telemarktips.com and the New Telemark Norm wiki at http://www.newtelemarkguide.com/wiki/New_Telemark_Norm_(NTN) , I jumped to the Red Tubes at a lower release setting. Gives more of an active feedback than the Blue or Green tubes, with a lower release setting for a heavier skier. See the wiki at the link above where they discuss body weight and tube selection. Love these tubes! I've bought two sets from Backcountry.com and they delivered them mucho quickly so I could put 'em in and ski the next day.
The description for the NTN Power Tubes...
The description for the NTN Power Tubes states, "NOTE: Will only work with Scarpa NTN bindings; second generation NTN and older are not compatible."

First off, my (and all, I'm pretty sure) NTN bindings are made by Rottefella, and Scarpa is not the only boot manufacturer that fits the NTN binding. (Garmont and Crispi, too.) i.e. it's confusing to say that this is for a "Scarpa" NTN binding, when it is plainly made by Rottefella in Norway, not Scarpa in Italy.

As to my question, my bindings have a date of June, 2010 embossed on the bottom of them. Will these Power Tubes fit that binding? It is my understanding that these are version 2.2 bindings, i.e. the third iteration.
I say they should be compatible. Of all places, SCARPA's site should specificy if not. Rottefella is even in the page location bar: https://www.scarpa.com/scarpa/products/ROTTEFELLA/p_R20800006-Wht-XSoft.

Version 2 was supposedly in 08/09 so seems to be V3, but I could not find a specific statement.
I'm looking to move into the NTN setup,...
I'm looking to move into the NTN setup, and I'm currently riding Hammerheads in a number 4 position with T1 boots. What colour cartridges would be right to get the same stiffness with a TX Pro boot, mondo sized 25 (so using a "small" NTN binding)? Green or Blue? Thanks, Mike
Mike - I'd go with the Blues.

Remember that the NTN system is designed to let the boots dictate stiffness and performance rather than the bindings.
Well Thought Out and Improved
These are really a great product. The punched or scribed tension indicators are an added plus from the original painted on indicators, which would wash off after a few weeks.

The ends are easily adjusted with a screwdriver or with your hands.

The springs are pretty durable and will last about a full season for me (50+ days). I prefer the Red cartridges but wish they still had the black ones from the original binding. If you like skiing O1 Rid Stiff or 22 Design bindings with the stiffer springs and setting, you'll want to have the Reds and will wish for blacks. If they had the blacks it'd be a 5 star review for me.