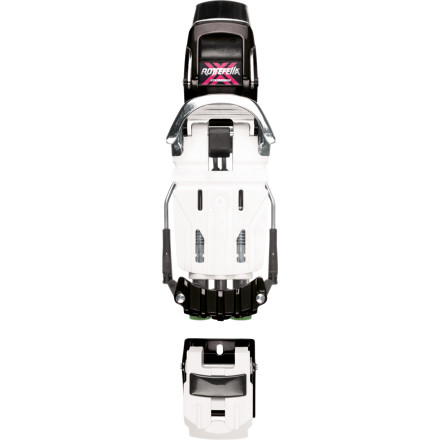 Colors
Description
Leave the duckbill in the dust.
Produced by the Norwegian binding specialists at Rottefella, the Scarpa NTN Freeride Binding is a power trip for hard-charging resort and slackcountry Tele riders. The NTN Freeride allows you to get in and out of the binding while standing and will release from the boot in the event of a nasty crash. But the really sweet part is how it skis; the binding provides an incredible amount of lateral stability that translates into powerful edge control, providing the power to drive modern powder skis with over 100mm underfoot. Step in and drive your big, fat skis at mach speeds.
Lateral Release Function releases when you need it to, potentially saving your knees when you tomahawk out of a landing
30 degrees of pivot range and heel elevator allow you to slap on the skins and earn your turns
Small binding comes with a soft power tube, large size comes with medium power tube
NTN Freeride provides unmatched lateral power and edge control, especially when driving skis with over 100mm underfoot
Adjustable forward flex allows you to fine tune the flex to your preference
Easy entry and exit while standing so you never have to kneel down for your tele bindings again
Symmetrical bindings eliminate confusion about which one is for the left or right foot
Comes standard with 110mm ski brake
it's cool to have releasable bindings, but beware: there is a big learning curve. These ski nothing like my Targas. After 10 years in my Targas, it took me a couple of days to overhaul my tele technique to ski these confidently.
Bomber
Familiarity:

I've put it through the wringer
This is my first NTN rig. I've been on 22 Design Hammerheads for years.



These bindings are stiffer and faster reacting, IMO. They are a little heavy but I ski mostly inbounds so its not an issue.



On a side note, they're really easy to get in and out of, almost like alpine bindings.
Can anyone verify the screw size that is used to mount the binding to the mounting plate? I'm missing one.
Tele ho!
Familiarity:

I've put it through the wringer
I have been skiing on NTNs for about 3 years now. I was always interested in tele skiing but I value my bones and joints. The NTN releases and has brakes! I tell you, once you go tele, you are not coming back. These bindings rock - they do everything they are supposed to do. You can even ski alpine style if you tele technique is a little behind (or the slope is really STEEP). I love the innovation. The bindings are a little heavy but are solidly made. Get a nice set of skis with average length/width/stiffness/cut and you are ready for a lot of deep knee bends/lunges. What I really like is that after 45 years of skiing, these bindings make the mountain bigger and slow me down to ski with my friends and family who were not as fortunate to grow up 20min from the slopes. Just get 'em and get out there.



5 stars for innovation, easy and reliability of use, and getting me into tele skiing



4 stars as they are a little heavy (titanium, anyone?)
Is this binding good for groomers and...
Is this binding good for groomers and glades?


Had my first day on them on Saturday. They are pretty awesome. Mostly hard pack and wind blown. But they performed beyond my expectations. Very responsive, good edge control. Almost forget that the heel is free.
Gentlemen,



this binding takes anything, as the old World champion in down hill and ski jumping told me as a kid, its the man ontop of the ski that really matters... true, still, the NTN is a new and better world, telemark back to its roots, you will never go wrong. I have used my for past three years - a lot !(even broken a pair), but they are rock solid, take any type of snow or what ever you try out, they are good for walking too. But if you are all of the piste try the new NTN and get even more joy ! God Tur
would you be able to mount these on the...
would you be able to mount these on the Rossignol S7 which have a 115mm waist? i know it says it comes with standard 110mm break width but can this be changed? Or does anyone just recommend sticking with a standard tele binding and boot instead of the ntn


Best Answer
What I have done in the past, was to just bend the brakes out a bit. Although the brakes do not squeeze in like alpine brakes do when retracted, 5 mm is nothing to worry about.
It's probably way too late for this answer to help you make a decision for this year, but no, I don't recommend staying with 75 mm. Go NTN! The power and control is leaps and bounds ahead of what 75 mm provides, and it's releasable and nearly step-in to boot.
Love it but....
Gender:

Female

Familiarity:

I've put it through the wringer
I bought my NTN set up in 2010, back when they were still bright orange and I love them. They're a great binding and made learning tele super easy. Unlike your average tele binding, these have ski brakes too so you can lock your skis togther. I use them to tour as well and the weight honestly doesn't bother me. I feel they are just as heavy as Marker's or Salomon's AT set up. One disappointment in these bindings, though, is that just last week I cracked the metal siding and blew out the cartridges. Now I'm an 18 year old girl, 115 lbs. You would think that metal would be able to withstand my skiing and blue cartridges would be beefy enough to handle me but I guess not... If it weren't for that, they would have a 5 star review hands down. Either way, these bindings are super stable

Oh another draw back is that on super wet days, they do have the potential to ice up under your boot but if you just stick a piece of rubber in there, it fixes it no problem.



UPDATE: So that tiny crack in the orange siding has now spread through the binding. I contacted Scarpa and even though they were out of warranty, they said I could send the bindings in and they could have a look. Well 7 weeks later and many phone calls and emails later, Scarpa finally got back to me saying they couldn't do anything since they were out of warranty. So now I'm stuck with broken bindings, and 7 weeks of frustration, anxiety, and a wasted season pass.
Fun stuff!
Gender:

Male

Familiarity:

I've used it once or twice and have initial impressions
The NTN Freerides are the new of the new when it comes to tele bindings. I recently mounted these on my Armada Norwalks with Scarpa Terminator X Pro boots. These bindings are extremely easy to use and click in and out of.



I skied these at Snowbird, UT and they definitely have a different feel than my old set up with G3 traditional tele bindings. You need to apply more force near your shin to really flex the boot and initiate your turns vs. more of your toe when skiing a traditional tele.



I am all around stoked on these bindings and can't wait to shred these the rest of the season!