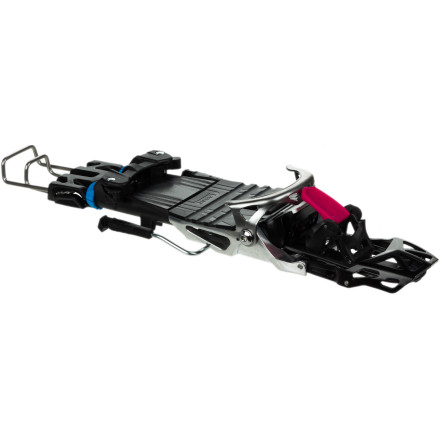 Colors

Detail Images

Community Images
Description
Power is liberating.
The lightweight Scarpa NTN Freedom Binding blazes uphill and bombs down. With wide-degree walk mode and two climbing-wire sizes, the Freedom loves to hike; with standard 110mm brake width for fat skis, it rips through untracked terrain. Free your heel and fuel the freshie obsession.
Stainless steel and plastic construction delivers lightweight strength
More forgiving and forward flex than the Freeride model
60-degree free-pivot opening angle for easy hiking motion
Two climbing wire heights, 35mm and 65mm
Comes standard with 110mm ski brakes, perfect for your fatties
Share your thoughts
What do you think of the
Scarpa
NTN Freedom Binding
? Share a...
99%
Familiarity:

I've used it several times
71 in, 211 lbs, tele for 3 years. Mounted on 193 Nordica Patrons and 180 Moment Tahoes. CRISPI EVO NTN boots.

I have been using the NTN Freeride for 2 years. First day out I hated them. It was also my first day out on my shiny new Patrons in 8 inches of PNW rain/snow. I think it was the skis fault, later on I set the base to 1 and the side to 2 and took them out in the east, not perfect but I had set them at 5 thinking I needed power. Ended up setting them to 3 or 4 and have been quite pleased. Not sure if the issue was the tune, the skis or me, but they are my every day binding now.

They do trap snow when touring, and pink lever can get gummed up and I try to treat them with respect.

Skiing-I like them better then the freerides, they have a little more angle to them I suppose. If you knee to the ski they may pop into tour mode.

Tour mode-Pretty easy, I like the ROM and the 2 bail heights.

Cons-Drilling 11 holes into your ski, no plate (like the freeride). I have them mounting with binding freedom so I can mount STH 14's alpine (so in total 22 holes or something) is a big commitment.
Nearly the Holy Grail Is Right
Familiarity:

I've put it through the wringer
I skied these bindings really hard this winter. I have two of these bindings mounted, one on 184 Moment Deathwishes (112 under foot) and one on 180 Icelantic Gypseys. I switched from Scarpa T-Races to the Scarpa TX-Comps. I feel like it is a pretty comperable setup in terms of strength and stiffness, but is a full 2 lbs lighter! I toured, booted and skied inbounds a lot with both. The quasi step-in system is nice, but the big points for me are having a brake and the lateral release. Both these features work well, and I've only had a ski come off when I wanted it to. My only gripes are that there is not a full free pivot in the touring mode, and the base plate is plastic and can crack/chip.

Totally sold, not sure I will ever go back to 75mm again. It can be expensive to get into, but worth it for the NTN.
good bindings but not durable
Familiarity:

I've used it several times
I have been skiing the Freedom's for two seasons now. I have used them for both in bound and touring in the woods. I have about 65-70 days on these bindings total. I have serious concerns with the durability of these bindings. I have broken two of these bindings to date while in groomed trails. Each time the steel mounting plate cracked causing the bindings to lose all spring tension and lock up in touring mode. The local shop replaced the bindings the first time they cracked and the second set of new bindings has cracked in the same place. Rotofella touts them as being step in bindings. They are not even close to being step in bindings. I am using Crispi boots and you have to force the boot into the toe basket while pinning the ski down with your poles. With a little practice you can pin the ski down and slam the boot into the basket in one motion but they are not step in bindings. I am very pleased with how they ski. I am just not impressed with their durability.
Nearly the holy grail?
Familiarity:

I've put it through the wringer
Quasi step in, brakes, a release mechanism and a fairly reliable history make this the perfect binding for inbounds and sidecountry use. Those logging serious vertical might be jealous of the lighter weight and free pivot of the faithful old switchbacks or TTS systems.

On the downhill I have one gripe which is that the ramp angle is bizarre - the heel is actually lower than the ball of foot, and this makes it hard to keep your weight forward. Not a deal breaker as a 6mm shim under the heel and thin shim on the underfoot pink bit resolved this issue for me. One other minor gripe is that I find the binding a little too neutral for my tastes... if you like to active bindings such as the HH on pos 3 or higher then this will feel a bit more neutral.

For most people this is going to be the perfect, reliable/do it all binding.
I have been skiing these bindings with a pair of Crispi boots in my first season on NTN. Question/concern is my big toe joints feel like they are getting beat up, sore most of the time, never had this before. Anyone else have this experience? Any thoughts? Thanks
Hey Meg,
First step is to take boots to a boot fitter. Ask among the most knowledgeable/gear geek of your skiing acquaintances, call shops, and find somebody in your region who truly knows how to fit a ski boot. I don't think the binding is the source of the pain, probably the boot.
Unanswered Question
Anyone had trouble mounting these on skis that were previously mounted with another binding? I'm switching from 22d's Axl binding on Rossi Soul 7s.
Unanswered Question
I am not familiar with common failure points in these bindings. Any suggestions for spare parts to have on hand for longer tours? (beyond the normal repair kit items...zip ties, duct tape, super glue , bailing wire, etc.)
Also, do you have a list of the specific bit sizes I would need to carry?
I mounted these with Quiver Killers ski inserts so I can swap these between skis. Unfortunately removing the heel pieces is problematic. The plastic part snaps into the aluminium frame, holding the heel risers. Trying to snap that plastic part back out, I can't seem to avoid breaking it. Have already cracked one, still usable, but any more leverage risks destroying it. So my temporary workaround is to use Axl heels on one pair of skis (mounted sideways to match the holes). Does anyone have any hints as to:
1 - Any magic method to unmount heel pieces?
2 - Any source where I can buy additional heel pieces without buying the whole binding?
I'm in New Zealand.
Best Answer
Drill the holes through the plastic part above the mount holes. That way you can remove the heel piece without disconnecting the plastic from the metal part.
Peter - just wondering if you are taking them off the right way. You flip the ski on the side and put your flat blade screwdriver on the side of the black plastic insert and push in and away from the ski. On the first side it will pop a little and when you push on the second side it will pop out (and usually across the room.) If they're breaking I wonder if you are prying them off from the top of the ski? Link has a good discussion of this topic. http://www.backcountrytalk.earnyourturns.com/vb/showthread.php?324-Swapping-NTN-Freedom-Heel-w-Inserts
Hey Hey, that was too easy. Worked a treat when I tried it today. Thanks!
I am currently on a pair of CRBs + Crispi 3 buckle CXPs and they just do not feel not energetic enough--thinking about migrating to the Freedoms and 4 buckles, but I only weigh 125+ lbs and flexing stiff boots can be a pain. Any suggestions on men's boots for a moderately aggressive intermediate skier? Currently driving a pair of K2 160 Gotbacks that I really love.
Best Answer
Maybe something like the BD Seeker or Push, Scarpa T2. They are not soft telemark boots but, also not in the upper end of flex ratings either. If you go to a NTN binding like this you will lose a lot of flex all together. The boots that are compatible with this binding do away with the duck bill of traditional telemark boots. A lot of the flex in the boot comes from this duck bill, its a different way of telemark skiing. Maybe an updated binding like the SwitchBack could give you some more energy as well. I am going off information from Casey's experience with them so I will ask him to chime in when he gets to work on Tuesday, I am definitely an alpine skier.
Does anyone know how to set the release...
Does anyone know how to set the release tension? Not on their website. Yesterday it should have released and I've got a badly sprained ankle. My fault, borrowing a friend's and never checked into this. This binding skis so much better than Targa or Axl for me that I will stay faithful to it even if it rips my foot clear off.
Best Answer
You can find info on release settings here:

http://www.scarpa.com/DownloadPdf?dataResourceId=Powertube%20Ajustment
I have also just suffered a sprained ankle from failure to release. You can see my story and my conclusions on release settings here: http://blog.petertaylor.co.nz/2014/08/17/telemark-ntn-binding-injury/

It is frustrating that the brochure that comes with the binding is not readily available as a download. I couldn't find it. Thanks Paul Nanawa for the link.
Good and Bad
Familiarity:

I've put it through the wringer
I'm in my second year of using these both for touring and lift served runs. They take a bit of getting used to after 75mm but they are miles better in terms of stability. For touring, the big disadvantage is inability to fit ski crampons. Otherwise, skinning is good. Only one serious problem and I've seen this reported elsewhere is that the bindings have never released for me and I've had one or two tumbles where I would like them to have done. I'm using the recommended release settings for my weight - any ideas welcome. I use Scarpa Terminator X boots which are brilliant and great for touring and Movement Logic Skis.
Different release mechanism
Familiarity:

I've put it through the wringer
I hit a rock while skiing at moderate speed through a low angle glade, the result is shown in the picture. The alu base snapped at the toe bail connection. I own several pairs of these now and unfortunately this is the only pair I didn't buy from backcountry. I've been waiting for over a month for the store where I bought them to get it fixed under warranty from Scarpa.
Moral of the story....................
............... buy them from backcountry, they would have had a new pair to me 3 weeks ago.
I still really like the binding, if you use anything a lot there are bound to be some wear and tear issues.
I'll give the binding 3*
Backcountry return policy 5*
Hence the average of 4*
1 Year follow up with NTN Freedom
Familiarity:

I've put it through the wringer
I've been using these for a year now on 2 pairs of skis in New Hampshire. I am 6'1" 180lbs and ski quite aggressively 40-50 days a year. Mostly lift served with some in bounds skinning and occasional days backcountry. My thoughts are as follows:
-Binding has reliable progressive flex, tension stays put where set.
-A lot of lift served skiing will wear the product, just replaced toe bumper. Bindings will look beaten up but it's worth it IMHO for the weight saving over the free ride. These are not designed for exclusively lift served skiing.
- They do release and I feel this is a huge safety benefit even without DIN certification.
- I feel these bindings are plenty active (stiff) enough compared to BD01 or Hammerheads, it is important to remember the the degree of stiffness is a combination of the binding AND the boot, so choose carefully.
- It's really important to loctite the star drive bolts on either side of the toe bail or you will lose them.
- I'm undecided about the brake feature, it's nice to have sometimes however they can get in the way and it's not possible to remove them without re-mounting.
- I used my old 75mm boots for a ski demo recently and I can't imagine going back to them.
-Touring mode works well, dual height risers are a nice feature.
-Logical design that has been well executed, if durability could be improved and brakes made optional or less obtrusive it would be perfect. Perhaps a Titanium version to bring the weight down even more ?
I'm used to skiing an active binding...
I'm used to skiing an active binding (Hammerhead Bombshells)...I really dislike Targa bindings now. Would I be happier with the Freeride in that case, or is the Freedom pretty active as well? I like to skin up my local ski area so the Freedom's touring features are tempting. I wouldn't be doing any long backcountry trips on these, though. (I also have an AT setup I would probably prefer). I would also be using it for lift-served as well. thanks!
I migrated from the Targa, over the years, to the Karhu, HH and Axl and then the Freeride and now the Freedom. The Freedom is plenty active for me, here in Utah. I don't think there's much point in getting the Freeride over the Freedom unless you ski back east resort only. The Freedom may even be a bit easier to get used to than the Freeride, if you've never been on NTNs. The NTN is active immediately in its range of motion, so you have to "drive the cuff" of the rear boot more. Once you're used to it, they ski very well.
Can anyone compare the NTN Freedoms to a...
Can anyone compare the NTN Freedoms to a TTS system?
at 3.5lbs/pair compared to 2lbs/pair for TTS I am leaning towards the latter but concerned with lateral rigidity.
lateral rigidity is the same. both have an icing problem under the forefoot. i have pre-released a few times from TTS when using the stock toe piece, fixed by changing to a different tech toe piece (currently using plums). Overall, TTS requires a bit more tinkering but for touring, I think it is superior, feels a bit more bomber, easier to repair, many readily available parts. Freedom is more convenient (brakes, step-in).
Wrong picture or wrong text
The picture shows a Freeride, but the text describes a Freedom. FYI.

The Freedom is an awesome binding. 5 stars.
Binding pictured is Freeride.
Gender:

Male

Familiarity:

I've put it through the wringer
The binding pictured is the Freeride, not the Freedom. Here's a picture of the Freedom...At the front of the binding, at the pivot point, you can see there's a "Torx" style screw (on each side). I've found that this screw tends to back out. Once I applied some locktite to it, the screw stayed in place very nicely. It has a greater range of motion than the Freeride, both in the tour mode and in the ski mode, so it feels a little more like a classic telemark binding. I love the way it skis, the convenience of step in, and the ability to release - an ability I've used! The way in which it attaches enhances edge control. I have 80 days on 2 pair with no issues. In one season, I broke 2 toe pieces on the Freeride, however, which has a more active feel earlier in its initiation (it takes a bit more forward pressure to "break the bellows", on the Freeride) which takes a while to get used to. There was no "getting used to" the Freedom...it was easy to ski on the first run. If you are inclined to parallel turn, or turn flat footed, like on a run out if you're just too lazy to make every turn a tele turn, for instance, the Freedom has a slight "pitch up" on the toe piece that makes skiing flat footed a bit easier, as well. I have them on a pair of Armada JJs and a pair of Rossi S3s. Also, the ski brake on the Freedom seems easier to bend to fit the width of your wide skis than the Freeride's brakes, which means you may be able to make the brakes work on a wider range of widths.
Freedom >> Freeride
Familiarity:

I've used it several times
I took the leap and swapped out some nearly-new Freeride bindings for some Freedoms last year, and despite a few bugs, I am ecstatic about the upgrade. The advantages extend far beyond the weight savings and the pivot range. Somehow the mechanism is a much better match with my boots (TX Pros), with a nice smooth flex. I'm not the "knee-to-ski" type, but the Freedrides had a slightly restricted ROM that would force your foot to move in the boot when you try to drop deep. Whereas with the Freerides I was always tempted to crank up the resistance to gain more control (and sacrifice releasability), with the Freedom I discovered that relaxing the tension enabled my turns to be more nimble and snappy. After several trips to the resort I found I was skiing my best when the blue tubes were cranked down to 1-1.5. Seriously. Paradigm shift for me. I think it helps that these engage quicker when you raise your heel, but bottom line, I was just turning more easily. Moguls were fun again. No more thinking about or prepping turns, just snapping them.
What is the difference between the Freeride...
What is the difference between the Freeride and the Freedom, and how do I determine which is the best for me?

Best Answer
The Freedom has a better touring mode which gives the rider a much greater range of motion when hiking. The Freeride is a heavier binding used more for resort skiing and because of the binding plate can be switched between different skis.
Both bindings have free pivot touring modes, but the Freedom is lighter and has less resistance and greater range-of-motion than the Freeride while in touring mode.