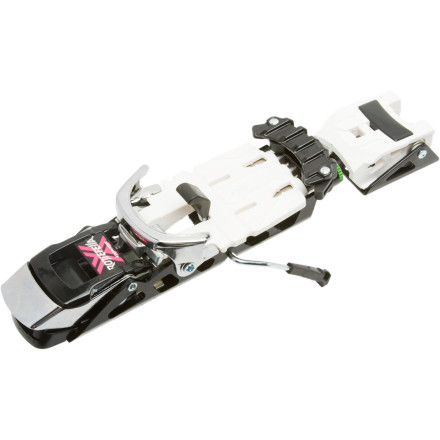 Community Images
Switch your set-up to the super-sturdy and easy-to-use Scarpa (Rottefella) NTN Binding system when your telemark binders don't cut it on steep lines and big cliff hucks. With compatible boots (sold separately) the New Telemark Norm (NTN) lives up to its name once you lock down the forefoot section of the boot with a quick flick of the front lever. Then the innovative binding delivers unmatched boot-to-edge response and great lateral stability for the confidence and power you need to go bigger and faster than the heel-imprisoned alpine brethren you used to envy.
Uphill mode disengages the tension for easy strides and features a flip-up heel piece for climbing steep skin tracks
Select a large or small binding size to match your NTN boot's size
Colors correspond to the binding's adjustable power tubes, or springs, and should be selected based on ability, weight, age, and boot size
White tubes are extra soft for beginners and older skiers with small boots
Green tubes are a tad stiffer for more confident skiers with small boots or novice skiers with large boots
Blue tubes are the standard for large boot sizes and full-fill the needs of most average-sized skiers that rip the resort
Red tubes (sold separately) bring pro-level tension to the NTN for the heaviest skiers that huck and rip like a sponsorship deal is on the line
Symmetrical binding allows switching between skis to keep edges sharp longer
I'm happy...
Familiarity:

I've put it through the wringer
Great performance when pushing hard in all conditions, which gives you the confidence to push harder. I'm sure the new boot-binding set-up helped me progress my technique.

Release system works when you need it to. I've released 3 or 4 times in the 60-70 days used, at least one of which would've been an ACL injury...

On the down side, they're pretty heavy, and a big financial commitment with new boots & all
Resort Ripper
Familiarity:

I've used it once or twice and have initial impressions
I have read and digested every possible review to be found on the NTN interface system for telemark. Taking the plunge was a gamble, as you just can't go out and demo this gear here in the east! Opted for the gamble and mounted up the Freeride with the Garmont Prophet, removed the hammerheads and went out on the hill with moderate trepidation, having read the technique adjustment statements out there. After one day on the hill in packed powder eastern conditions, I will never return to cable bindings for resort tele. These things are incredible. Apline carves are stable and you can pressure the cuff if you like, no "over the handle bars" feeling at high speeds. The Tele turns hook up on the uphill ski instantly, with no slop and drive the ski to it's optimum, carving and smearing as you desire. Turn transition is smooth and edge control powerful, probably not for the true "knee to ski" folks out there due to pivot range. Not much adjustment period, if you know how to carve a turn on any gear. A little weird in that it was mounted boot center at first, but dialed in quickly. I might opt for a 1 cm aft of center for western apps.
Surprisingly good touring, too!
Gender:

Male

Familiarity:

I've used it several times
Setup: TX Pro 29.5, Blue springs, setting 2.5

If you've got your 75mm set up dialed in and you like the way it feels, then by all means stick with it. For all of it's advantages, NTN has a very different feel than your 75mm. The best way to describe it would be "mechanical." With all of the additional power comes a sort of detachment as the boot and binding do most of the work. Organic transitions tend to give way to more of a clicking in and out of position and more hockey-stop style turning, especially on groomers. You can see this stylistic difference in a lot of youtube videos.

After practicing on groomers I finally got these out for some backcountry and mountaineering trips, and to my surprise they were fantastic. I know these were designed with the downhill in mind, but I felt totally comfortable on the climbs and even some long flat tours. Personally, I find it very helpful that these have a somewhat limited range of pivoting--it makes kick turns and now clearing much easier, and translates more of your leg-work into forward ski motion. Granted, these bindings are still much heavier than they need to be, which is evident in the new Freedom binding.

Now, most important, test your new equipment thoroughly before hitting the slopes. Particularly, BENCH TEST THE RELEASE MECHANISM repeatedly. Adjust your spring cartridges to a level at which you are comfortable with the release. I find that blue cartridges turned past '3' are very hard to wrangle out of the binding. Release will be inconsistent until the bindings have worn in the bill of the boot a bit.
The Good, The Bad, The (not) Ugly
The good: I love the way this skis. Great edge control, great feel, easy in/out. The good is really good.

The bad: After about 20 days, I cracked both toe pieces. Now, today, on day 66 (46 on the replacement) I've cracked another.

The (not ugly): Thank goodness I bought these from backcountry. I will be returning them. I have the Scarpa TX boot, which I'll hold on to until next season when I'll try next year's model. I don't want to give up on this set up, as I do love it, but I may be forced to. I'll stick with it for a while, but I can't say I recommend someone else pull the trigger due to durability issues. Having said that, if you get them from backcountry, at least you know you'll get full satisfaction if things go wrong! I've included a picture of the damage I've been getting.
FYI- do not follow this photo for mounting....
FYI- do not follow this photo for mounting. The heel piece in the photo is backwards. REI's photo is backwards as well. You'd never be able to flip the heel piece up for tour mode with your pole in this position. Has anyone else noticed this?
When the shop first mounted mine, they attached the heel backwards. I assume they were going off the pictures. I struggled for two seasons to flip the riser up while touring. Then, I talked to a Scarpa rep buddy who was riding the NTN and he showed me the light. A quick flip and life in tour mode has been cake!

So, yes. The picture is backwards. The pivot should be toward the front of the heel and the black section should curve with the heel of the boot. Garmont has the picture right. So does Scarpa.
I wear a 31. But I'm dying to try NTN. Do...
I wear a 31. But I'm dying to try NTN. Do you think it's possible? Or will I have to squeeze into 30.5s?
You will. Garmont's Prophet is the largest mondo NTN boot available at 30.5, which fits a 13.5 foot. (http://www.garmontusa.com/mondo.html) If you heat mold the liner with a toe cap, you should find enough room in there to ski comfortably.
I wear a US 8.5 size scarpa T1, would I...
I wear a US 8.5 size scarpa T1, would I need the long or short binding when getting ntn boots and bindings
Your right on the cusp. If you go with a size 26 (or smaller) NTN boot (what I would recommend) you'll need the small size binding. If you go with a size 26.5 (or bigger) boot you'll need the large size binding
I have a 27 size boot, but I have found NTN small binding for $100. Would I ben able to make the small work with the 27 boot?

Does the 5 cm make a difference?
DID NOT release in crash.
I've been on the NTN for over a year now. The binding does deliver the power and is a fun telemark experience, however the release is questionable. I crashed while racing NASTAR and ended up in a tumbling crash and the binding DID NOT release. I was racing green tubes set at 3 and I weigh 150 pounds. My ankle is fractured and I'll be having my knee examined this week. I still want to tele, but I'll probably look at the Voile CRB or Garmont 7tm as options. I certainly will not race a tele binding again. NTN is a fun binding, just don't rely on it releasing to save your bones/ligaments.
I've skied since I was 3, and I still love downhill to bits. I've got 4 pairs of skis for different occasions, and I tried telemark once before on 75mm bindings,,, and just couldn't enjoy it. I just bought myself some black diamond skis with the NTN bindings, and MY GOD, what an experience. For an ex downhill skier, the NTN standard gives such precise edge control, no flippy rear ski, but just SO much fun and allowing you to enjoy such different aspects to skiing that you've done before. It just opens up a new challenging but FUN style of skiing, and so far after 5 runs, I LOVE TELEMARK!!!
I've been on the NTNs for three seasons, now. Before that, I was on a pair of Rotefella wire bindings. The difference is night and day.

The NTN system is phenomenal. Where my old wires put tension on the boot and lifted the heel, tossing me forward, the NTNs remain flat but engage immediately. The tension feels very linear and smooth. The design of the NTNs lock the boot in place, allowing no lateral flex. My old wires would stretch side to side. Touring mode engages effortlessly and pivots freely. I did have one incident where the wire got caught in the mechanism and wouldn't release the binding properly, but that was easy to fix.

I weigh around 200 lbs and blue springs on about a 4-4.5 feel good. I'm not fighting the skis at all, but they do what I ask of them. As my technique gets better, the NTNs get better. Proper front-to-back balance elicits beautiful, almost effortless turns out of these things. I'm an NTN convert for life.

Also, if you reverse the heel lifts, they're much easier to pop into touring mode with a pole.
Is there any difference in this years NTN...
Is there any difference in this years NTN binding vs prior years (other than color)?
Other than the obvious color change there are some slight modifications to the frame geometry to make it stronger.
Does anyone know where to get some extra...
Does anyone know where to get some extra set screws for these bindings (perhaps backcountry could hook me up with some...)? I bought some base plates from here, but one of my set screw head stripped while loosening it to get the bindings off my other skis.
Contact Scarpa, Garmont, or the Crispi US distributor Alpina Sports for that need. Each one of those companies is taking a part in the distribution for the bindings in the states to go along with promoting NTN and the boots. They'll be able to help you out with the additional screws you'll need.
nice binding but there's a hidden cost
I have not yet had a chance to ski these bindings yet. they seem well built. my only gripe so far concerns the brakes. the brakes included are for a 95mm waist ski. to me that means 90% of folks will have to spend another $40 to get the 110 or 125mm brake for their skis. lame.
I've only been skiing NTN for 2 days but I love it! I went from a complete alpine set up and the difference in control and stability is mind-blowing. Just watching people ski NTN vs tele you can see the difference on how much more control you have with these bindings. Can't wait to get back on the slopes and ski some more!
I heard you need special telemark boots...
I heard you need special telemark boots for these bindings, is that true? Why wouldn't you be able to use regular tele boots?
The NTN boots don't have a duckbill like the 75mm Tele boots, and the NTN boots have a "second heel" underneath the forefoot that the binding grabs onto.
start on page two of the review for the NTN.

http://blistergearreview.com/gear-reviews/review-rotefella-ntn-binding-dps-wailer-112rp-hybrid-178cm
Best safety feature in the freeheel world...
Read any avalanche info, and it'll say "if caught in a slide, take your skis off ASAP".
Unlike most other tele bindings, these bindings release in a crash. That might just keep you alive in the backcountry. What more do I need to say?
Best telemark i've ever had
Coming from Norway, i've done a lot of freeheeling, started out in my childhood. With NTN i've had my best telemarking so far. Probably the best invention coming from Norway since the outboard engine...
When is the new season's model coming...
When is the new season's model coming in?
It looks like we should be getting them in late September.
Well I've skied and toured on NTN freedoms. For downhill the big advantage is stability and touring is good too EXCEPT you can't fit ski crampons so that rules out steeper more technical climbs. I use Scarpa Terminator which are brilliant and they will work will Dynafit bindings. Regarding release, I am light, around 70 kg and not an aggressive skier and I've had a couple of tumbles when I would have expected the bindings to release. Alas, no but luckily I'm still in one piece. I am using the medium springs and the recommended release settings so a bit puzzled. My skis are Movement Logics which are quite light and also brilliant. Although I like the NTN's compared to 75mm I'm worried why they didn't release. Seems like a common thread reading the comments above.