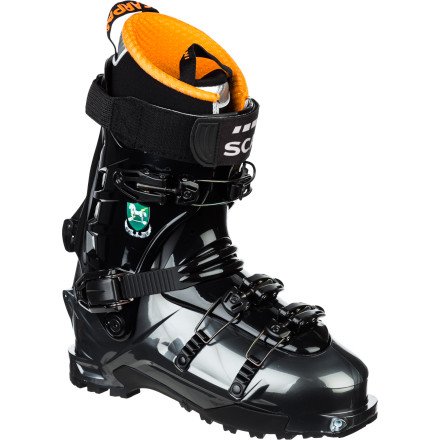 Detail Images
When you're going for the win, go in one of the lightest four-buckle AT boots on the planet, the Scarpa Maestrale Tactical Alpine Touring Boot. This featherweight but burly boot gives you speedy efficiency for tireless ascents and four Magnesium Mirage buckles for clamped-down performance. But the 100-flex Pebax Rnew shell not only flies like a demon on the downhill, its hybrid and exclusive Axial Alpine closure blends overlap and cabrio construction for bomber strength and ultra smooth flex and performance. The asymmetric tongue delivers precise power transmission, while a heel-retention strap gives you a secure hold. The Intuition Pro Flex G liner is thermomoldable for customizable comfort and efficient warmth. You can heat up this warm, cozy, flatlock-stitched Ultralon liner at home (following directions only) or take it to your trusty local shop for instant gratification and a fit that won't pack out.

Because Scarpa knows we need to be nice to the planet to keep that snow we love coming down, it made the Maestrale with Pebax Rnew, a plant-based plastic that's made from castor beans instead of petroleum products. It takes 30% less energy to make the plastic and creates about 30% fewer emissions in the process. But don't worry, you're not sacrificing an iota of performance for this eco-friendliness; in fact, Pebax Rnew retains its stiffness over a slightly wider temperature range than normal Pebax or polyurethane.

A wide range of motion in walk mode makes the hike more comfortable and efficient, without having to flex the ankle up the hill. When you make your quick summit, there's the nice and easy Quick-step fittings and FIS to make getting into your skis a breeze, even in deep snow. The grippy Vibram Cayman sole uses smooth, thin, and lugged rubber strategically for secure footing on treacherous terrain. Now crank down on those buckles and power strap, and taste sweet success.
Pebax Rnew Planet-Friendly shell
Exclusive Axial Alpine closure overlap-cabrio construction
Asymmetric tongue
Intuition Pro Flex G liner
100 flex
101-millimeter last
39-degree range of motion in walk mode
Heel retention strap
Quick-step fittings and Fitting Indicator System
Four Magnesium Mirage buckles
Wiregate Tour-lock buckle clasp
45-millimeter Active Power Strap
Vibram Cayman sole
Unanswered Question
Say it ain't so! Can this be the boot? ...
Say it ain't so! Can this be the boot? I'm an honest 14.5 US when I buy an average shoe (even though there's no such thing). Once and a blue moon, I can wear a 13. NIKE-15. My La Sportiva 31.5 mondo ice boots were too small for me. Had to sell them. My current ice boots are Solomon, 48 2/3rds Euro. They fit quite well. My Lange Banchee downhill boots have a sole legth of 362, but I'm not sure of the actual size and I had to grind plastic out of the toe box to make them bearable. I can't say that I've seen a 33 mondo in a true AT boot. What's your opinion? Is this the "big foot's" dream? Just a couple companies making a 31.5 or 32, but never a 33! And one last question...how is this different than the Maestrale RS? Is the RS a stiffer nylon shell?


I am a size 14 shoe. Do you think the...
I am a size 14 shoe. Do you think the liners would pack out and make the size 33 to loose on my foot or could I tighten these down enough to work. Also does anyone know the sole length? I would like to know if they will fit in a size XL fritschi freeride binding.
Best Answer
I would be suprised if you really took a 33. I wear a size 13 shoe and have the maestrale rs in a 28.5 (scarpa breaks on the half-size unlike most) and could have feasibly gone 27.5 and had a bootfitter work them out. Never buy a boot based on your shoe size, go to a store that carries these boots (or any scarpa maestrale) and boot fit them. In addition to verifying length, you should know that these boots are medium width (101 last I think) and you will want to make sure that works for your foot or have a bootfitter make them work for you, I had mine punched on the 6th toe. The key is you can make a boot a little bigger but not a little smaller and its a lot to spend on an ill fitting boot.
timp51748, I have been looking for comments like the ones you made on the mondo sizing for the Maestrale RS for days now. I will be buying a pair, but cannot try them on because here in Santiago, Chile no-one carries Scarpa ski boots. I have two pairs of Scarpa hiking and mountaineering boots, but they are UK/US sizes. You wear size 13 shoes and use the 28.5 Scarpas. I wear shoes size 12, and was thinking about buying the 28.5 and 29.5 sizes and then return the pair that doesn't fit, but from your comments I think I might have to buy the 27.5 and 28.5. I use size 28.5 Lange RX 130 LV's for resort skiing, and they fit me great (Surefoot foam injected liners help, of course). I know everyones' feet are different, especialmente when ski boots are concerned (I was a bootfitter in PC, Utah for 5 yrs), but I am unable to try boots on before buying, so any thoughts you can provide would be greatly appreciated.
what size would yopu recomend I wear a...
what size would yopu recomend I wear a 11.5-12 shoe; also have they fixed the problem w/ the walk mode/alpine mode lock breaking referenced on several reviews?
each foot is different so its hard to say- if you can go to a store and try them out then do it. you will likely end up trading them back in when you guess wrong otherwise. What type of fit are you looking for?
How is this different than the Maestrale...
How is this different than the Maestrale or Maestrale RS? Is the flex or weight different? Or is this just a cosmetic difference?
Best Answer
This is exactly the same as the Standard Maestrale except for color