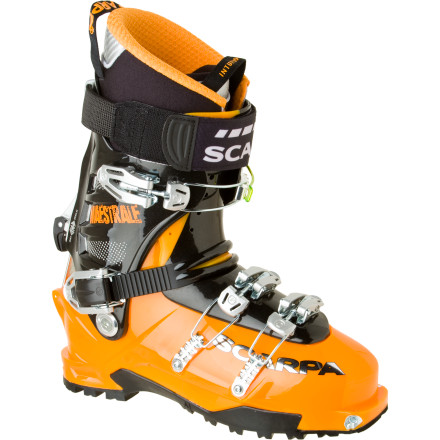 Detail Images

Videos

Community Images
A huge range of motion, stiff downhill performance, and super-lightweight, eco-friendly plastics come together to create the Scarpa Maestrale Boot. Max out your daily vertical when you flip into walk mode and utilize the Maestrale's 40-degree range of motion in the cuff, which fast-forwards lengthy approaches. At the top of another untracked glade, lock the cuff at either 18 or 22 degrees and then press your ankle into the medium-stiff tongue for fast, liberating turns from top to bottom.
Pebax Renew shell material is durable, performs excellent in cold temps, and comes from renewable non-food plant sources to reduce fossil fuel waste
Vibram Mistral sole features shock support and tread worthy of tough couloir ascents, while it fits seamlessly into AT bindings
Alpine Axial tongue closure uses a hinge to open the lower boot for easy entry and exit while also successfully adjusting the boot's volume
Intuition Pro Flex liner stretches with your strides going up but transfers the power of your downhill turns with its stiff tongue and collar
Wiregate Tour-Lock buckle clasp secures your buckles so a bump from your ski's edge doesn't open them during a demanding push up a steep, exposed face
Quick-step fittings and Fitting Indicator System makes your TLT binding system easier to click in and out than ever before
Nice boots but hard to find crampons for
Got my boots 2 weeks ago just before we start to have the first snow fall in the Andes ( Chile) .



Iam a 14 size shoe and got the 31.5 mondopoint. Fits just fine. Maybe next time I would go for the RS. A bit stiffer.

The only problem I can't get to fit a pair of crampons on it. I tried the grivel G 12 , BD sabretooth and the walking/ski mode get in its way. Does not clip past the vertical.



Does any one know how to solve it?

What crampons fit the Maestarale????



I found the sarken Petzl to work but the dont have the long bar in Chile and neither in BC.



Saludos de la patagonia!!!
Maestrale Magic...feel the love.
Familiarity:

I've put it through the wringer
I own the Technical (all black) version of this, but they are exactly the same and when choosing a boot it's obviously most important to get the right fit because you're going to be wearing them a lot hopefully and want the most comfortable and at the same time need performance, oh ya and also want them to be light-weight. I'm a measured size 8.5 and went with the size 8 (26) and at first they felt a little too tight but after 14 or so days in them now they feel perfect. They are so light yet almost too stiff on the downhill for me, but that is ok. They seem to be a little softer if you don't crank the buckles too tight on top and just keep snug and would rather have too stiff then too soft anyday. Awesome range of motion in walk mode, nice deep heel cup, amazingly light for such a tough boot. Highly Recommended.
I just purchased this boot and I have never...
I just purchased this boot and I have never owned AT boots before. How should an AT boot fit for length. I have skied for many years and I fit my Alpine boots tight, but should these be a little longer for comfort during touring?
Best Answer
Hey Null,

I would say it depends on your preference. I know many skiers who like the tight fit on their AT set up because they don't want it to mess with their downhill performance. I like my AT boots to fit more comfortably than my downhill ones because I will be hiking in them and like my feet to be comfortable for the uphill and downhill. I still got mine fairly stiff, just not as stiff as I would look for in a downhill boot. I don't feel it compromises my downhill performance. I wear a 10.5 shoe and got a 27.5 Maestrale boot. Hope this helps! If you have any other questions feel free to call us at 1-800-409-4502.
Unanswered Question
How does the fit of the Maestrale compare...
How does the fit of the Maestrale compare to the T2? I'm most specifically interested in shoe/foot size comparison.
Will Scrapa Maestro mesh with Volkl Nunataq...
Will Scrapa Maestro mesh with Volkl Nunataq (170) with Atomic tracker 16 binding? Currently I have Volkl RTM80 (176). Can I use the boots on my current Alpine Marker IPT (non AT) bindings?

I am new to backcountry - need suggestions/help with the gear.



Update -2



Thanks Grant Burton for the input to go light.



I am narrowing down to K2 Coomback (174cm), Dynafit Titan Boots (27.5)(has AT/Technical interchangeable soles), Dynafit TLT Radical FT binding, and will complement the package with BD expedition or Whippet self-arrest poles.



This will ensure that I get a good value/equipment which will grow with my vertical back country (BC) experience - future proof.



The set up will keep me happy inbound and outbound - took me a while to figure out the equipment.



Though Scarpa is a great technical boot I'll wait until I earn my stripes. What do you think?


Best Answer
Hey Gerry,

That sounds like a sweet set up for tearing up the sidecountry! I would recommend something lighter if you were looking into week long tours into the backcountry. However that sounds perfect for someone who is transitioning from downhill skiing. As for boot compatibility, there are not many non AT bindings that will work with AT boots. The sole exception to this is the the Marker lord bindings, for now. Let us know if you have any more questions! you can also call us at 1-800-409-4502.
Hey Gerry,

I'm happy to help. That sounds like a killer backcountry set up! I have a pair of the dynafit radical FT's and love them. I would only recommend a heavier, downhill specific binding if you were launching off large cliffs inbounds. As for the dynafit boots and K2 skis I think you have found a great match! Your set up should be light weight and comfortable. You will be good to go for inbound and outbound skiing, Enjoy! As for the Scarpa boots, I'm sure you'll earn your stripes in no time.
Will these fit in Marker baron bindings ...
Will these fit in Marker baron bindings


Yes they do. I have the Maestrale RS, which is basically the same boot but with stiffer shel and better buckles and I have the Marker Barons on my K2 Coomback's. Fantastic boot.
Great Boot
Familiarity:

I've used it several times
Second pair of Scarpa boots to own. Light, fits well, easy to put on. Top it all I get no blisters on first break-in.
Perfect backcountry ski boot!
When it comes to technical touring boots the Maestrale is hard to beat. The boot provides plenty of comfort for the hike up and killer control for the way down, just don't forget to switch them into downhill mode! The boot's buckles are especially engineered to provide extra flex on the way up, but can easily be tightened up for quality downhill performance. In comparison to the Maestrale RS, this boot is not as stiff, which for me is perfect because I am not dropping large cliffs in them. The less stiff boot provides more comfort so that your not dying to take the boots off by the end of the day. Other than its technical benefits, the orange boot goes great with my green skis! For added comfort I would recommend buying separate soles, and getting the boot heat molded to your foot.
I'd like to be able to use these with a...
I'd like to be able to use these with a 12-point, steel crampon when ascent/descent conditions aren't right for skinning/skiing. However, the front bail on my bd serac pros fits poorly on the wide front welt of these boots.



Has anyone found a good fit with these boots and any particular crampons? I've ordered some of bd's wider toe bails for the serac pros, but I'm not sure they'll fit either (and I'm worried the wider bail won't work with my other boots, Nepal Evos).



Any help is greatly appreciated.
Best Answer
Grivel G20/22 seem to work as do the Camp Aluminum versions. Best fit is likely the Grivel Haute Route but is it not fully steel, just the front half. Going to be difficult to get one crampon working on both your Nepals and the Scarpa.


From my experience:

-Grivel G12 fits well

- BD Sabretooth fits well with larger toe bail (but not with stock toe bail)
Year three
Familiarity:

I've put it through the wringer
In great shape. No structural issues. Hardly any wear on soles despite lots of walking. Buckels still function with no problems. Liners are in good shape. You can see a little they are worn by the rivots holding the buckle attachment on the foot. Started taping once I notice and it hasn't gotten worse. Likely because, I'm in biggest liner the shells should hold.
Can you get fittings to allow use of DIN...
Can you get fittings to allow use of DIN bindings?
No, These boots will only work with Alpine Touring bindings
Best Answer
Andy, I'm sure you meant an alpine style touring binding. These work great with those. I have several friends who use that exact combo. Mainly because they hate trying to manage the tech bindings when they have lost a ski in powder. I'm not sure it makes much of a difference but they think DIN is easier for them to get back on. These are great boots, I wear them every time I go out.
Nice boot!
Familiarity:

I've used it several times
Good fit on a narrow foot. Solid performer by At standards. Soem others walk better and offer more support. Bu the Maestrale is a time proven boot for any ski up to 100mm for and any conditions. Size down if you wnat them for skiing. Size up/shoe size if you are planning long tours.
Great Boot - period.
Familiarity:

I've put it through the wringer
Didn't think I could be this happy with a boot. 100+ days and not a single problem. Super light but still sturdy. 4 buckle system ensures they stay snug. Intuition liners make these ready to go from day-one especially if you get them molded. Still using the stock inserts. Amazing range in walking/touring mood. Vibram soles handle snow, pavement, and rocks like a champ. Use in combination with Dynafit Radical - great match. Width problems can solved with liner sizing within the same shell size (ask your boot fitter). Probably equivalent to 100 stiffness so if you prefer racing performance/stiffer boot the RS might be a better choice. I wear a 10 1/2 shoe and 280 Maestrale.
Flexible and Wide fit
Familiarity:

I've put it through the wringer
I have been using these for a full season and they are indeed light and very flexible to walk in.

Whats not mentioned in the other reviews is the fit. This is the widest AT-boot you can get from Scarpa, and alot wider than anything from Dynafit. If you have wide feet and want light weight, this is one of the few shoes that realy work without to much blocking. Nice to know if your a bigfoot feet like me :)
Impressive
Familiarity:

I've used it several times
I picked up a pair of these this year for side country and some longer trips, and I have been very pleased. The custom form fit made them surprisingly comfortable, and they proved very versatile. While boot packing they also performed very well. I am not going to pretend to be a touring boot expert, but I am very happy with these after a full season in the Alps.
What an awesome boot. Spent a full ski / sled season with these and they held up wonderfully. No problems with any of the straps / ski mode buckle that others have reported. I ski this with the Dynafit Huascaran and have had no issue driving a 115mm ski. The range of motion is amazing and walk mode super comfortable. No problem spending 10+ hour with these suckers on. I wear a 10.5 shoe and got the 27.5.
what is the last width on these? I am...
what is the last width on these? I am trying to roundup the narrowest to choose from.
Hey JB,

101mm last width.
I ride 105's but got the Maestrale RS. It is stiffer than the regular Maestrale, so I would agree with Josh. Probably wouldn't go wider than 100's with them.