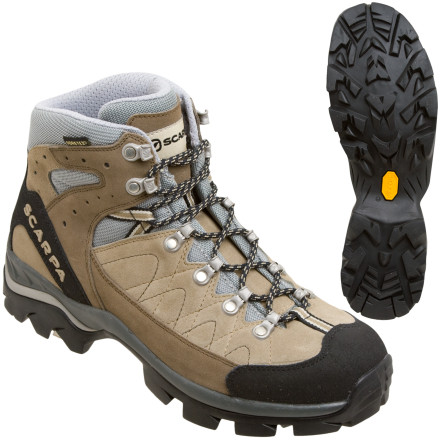 Detail Images

Videos

Community Images
The Scarpa Men's Kailash GTX Hiking Boot provides the durability of a suede upper and the waterproof breathable performance of Gore-Tex. A Vibram Hi-Trail Lite sole creates all the traction you need for anything from scree to dirt to mud, and it lasts for years and years of trail time. Scarpa added a protective rubber toe cap to this midweight boot, so you don't go wearing it out before its time. The Kailash GTX Hiking Boot supports your ankles well enough for a weeklong trip yet remains light enough for day hikes.
Share your thoughts
What do you think of the
Scarpa
Kailash GTX Hiking Boot - Men's
? Share a...
My 2nd Pair
Gender:

Male

Familiarity:

I've used it several times

Fit:

True to size

Size Purchased:

EU 47/ US 13
I am a very frequent hiker in my day to day life. My dog and I live in the Blue Ridge Mountains and hike extensively on trails ranging from well-graded fire roads to narrow rocky or rooty single track trails. We hike every day that weather permits and usually try to cover between 5 and 9 miles on each of our hikes.

At this rate I tend to go through boots with some regularity.

A few years ago I bought my first pair of Kailash GTX boots and by my estimate I have put about 5,600 miles on them. Due to my gait I have worn the outer edge of the heels of the boots so they were really ready to be retired. I went to a couple of local stores to try on the current crop of the new hot boots and ended up buying a pair of Lowas on the recommendation of the sales staff at one of the stores.

They fit fine and are light in weight but I have found that I can feel sharp rocks through the soles if I am hiking on rocky terrain.

As a consequence of this discovery I searched the Internet to see if the Kailash was still available and Backcountry was selling it at a very reasonable price.

I ordered a pair and now am using both the new Scarpas and the Lowas depending on where I am hiking. I am thrilled that my favorite boot is still being made and now can fine-tune my footwear to the hike I am doing.
I need another pair of these great boots
I now use Scarpa boots exclusively. Plastic hardshells for winter and these for everything else. I finished my 4k footers of new England with these (67 mountains over 4k feet) out of those I used these boots for 30+ mountains and over 300 miles of rock scrambles and muddy rocky root filled trails. They look new still but have lost 10% of tread naturally. They are not as cushiony as a Merrel but last much longer and for me, the soles have the best grip. if you look at the bottom of the sole it has cleats facing in every direction for uphill, downhill, right side slope left side slope. seriously can save your life. I took my merrills on one trip because I thought I wouldn't need these b.a. boots and slid down a very steep slab of granite on a mountain in Vermont. So if your going to be on a mountain don't mess around. I am buying another pair now for my son to climb with me in Yosemite this summer. I wouldn't trust anything else. My pair is only on its 5th season so I'll try them for another year and see how it goes. I get mine a half size big as all mountain climbers should. Any step can be your last so live it up
Medium
Familiarity:

I've put it through the wringer

Fit:

Runs small
I've owned many different hiking boots over the years. This one is just ok. It is a bit narrow in the toebox. It looks great but the seams fray and open easily. It takes longer to break in than most hikers, more like a backpacking boot. So, bottom line is, you're not wrong for buying this one, but there are better options out there.
BL - CO
Familiarity:

I returned this product before using it

Fit:

True to size
I'm looking for a light weight hiker and because of the sale price, I took a gamble to see if the Kailash would fit. Bottom line: not recommended for low vol narrow feet as advertised the Scarpa BX last is for normal feet; too wide for my feet. The Scarpa BD last, with pulley-lock lace is almost perfect, e.g., Scarpa Zanskar. Still looking for a light weight summer hiker?..
Magnetic Pillows
Gender:

Male

Familiarity:

I've put it through the wringer

Fit:

True to size
I did my research on these prior to buying for my vacation to Yosemite this December. From the reviews on here I read endless reports of no blisters and out of the box comfort which from my use has been proven absolutely true. So far they have been to Yosemite, Kings Canyon, Sequoia and Zion National Park as well as up to Desolation Lake here in Utah. These boots have been absolutely awesome right out of the box and their vibram soles stick to everything. Granite, sandstone, scree, ice, wet trees you name it and they remain dry and waterproof while crossing streams or running through powder for 4 hrs.

The reviews on backcountry made me confident in my purchase as well as reading the review of the boots done by gear scout for military times. So far I am completely sold on the boots and have possibly convinced my dad to scrap his tread less Keens klogs for these.

As far as sizing goes, I wear a 10.5 with a normal arch so I chose the 44.5 since I wear smartwool hikers, they fit perfect and give me just a little bit of extra space in the toe box that helps.

hope this review helps you make the right choice for footwear.


Great Temperate Boot
Familiarity:

I've put it through the wringer

Fit:

True to size
These boots are waterproof, insulated, rugged, and have great support for carrying heavy packs. I usually don't carry more than 50lbs with these on, but I've carried 75 without any issue. The vibram sole is grippy. I could prob climb a 5.5. Great for loose rocky terrain. The insulation will sweat your feet out in temps over 70-75 degrees. In temps below 20 degrees you've really gotta keep your feet moving to keep your toes warm. In between those temps, they rock! They dry pretty fast too, which is good because they don't really vent. They are pretty short, so walking through deep water isn't really an option, but I've been rock hopping streams with dry feet all they way. I've put a lot of miles on them and they don't show it. Really sick looking boot. I wear them out all the time. When I see someone else wearing Scarpas, I assume that they are hardcore adventurers that expect a lot from their gear and put particular demands on every piece. I initially got them to wear in that mountains in Afghanistan, but I've since worn them tons of other places on more recreationally oriented trips. Never disappoint. I'm no author, so I really can't express just how great these are, but I am sold on Scarpa boots for life. Now I just need to find a good pair for summer hiking. Any recommendations?
they run a little narrow
Familiarity:

I've put it through the wringer

Fit:

Runs small
These boots are awesome. By that, I mean they're stiff, light, good grip, and they look awesome. The one drawback is that they run a little narrow. I didn't realize that right away because it was only at the end of the day that my feet would start to hurt, or when wearing super-thick socks for extra warmth. Tried stretching them with a professional shoe stretcher but they're so rugged it didn't work. My solution was to buy a second pair in wide. They're that good. Only pair of shoes I've ever needed in wide - buyer beware.
In two years I have hiked 1,000+ miles and summited 50+ mountains in these and they're still chuggin' along! The Vibram sole is really beginning to show wear, but the body of the boot is still pretty stiff all things considered. When I wear these out, I'll probably just get another pair.

(Summit of Rocky Mountain, tallest in the Bob Marshall Complex.)
Great Sizing and solid quality boots!
Familiarity:

I've used it several times

Fit:

True to size
I got these boots around 6 months ago, and they have held up very well. The sizing, 40 1/2(7 2/3), was perfect. Very sturdy boots with good tread. Look forward to testing them even more intensively in the future.
Impressed!
Gender:

Male

Familiarity:

I've put it through the wringer

Fit:

True to size
I bought these boots after much research for a backcountry bow hunt in the Mt Zirkel wilderness of Colorado. It didn't hurt that I got them on sale at Backcountry.com for $135.00 ! I suppose I've put about 100 miles of steep rugged terrain on these boots since July of 2013. Many miles with full gear packs and there are not many "trails" in high country bowhunting!
These boots performed flawlessly! Very comfortable, lite ,dry (on the inside) and they grip exceptionally well on wet logs and rocks. I was surprised by the grip! No worries about blisters! The only small detractor would be that there is not a lot of ventilation during warm weather.
I did replace the insole w/ a pair of super feet greens...
BP
Kailash?
Familiarity:

I've used it several times

Fit:

True to size
I live at Bariloche (North Patagonia) and the winter conditions often present wet snow or swampy terrains. I found on this gear confort and reliabitity. The disign of the sole makes each step easier due to the rising curve of the sole tips. I'm very happy with them.
Great boots!
Familiarity:

I've used it several times

Fit:

True to size
Just got home from a week in the Sawtooth range in central Idaho. Took about 30 miles to break them in ( I had a few nasty blisters), but after mile 70 my feet feel great and no more blisters. I walked through every stream crossing with confidence, definitely waterproof. I can't wait for my next backpacking adventure so I can get the most out of my new boots.
Great Boot
Familiarity:

I gave it as a gift but have feedback to share

Fit:

True to size
I got these boots as a gift and have to admit that Scarpa produces high quality products! I wear a Size 6.5 Mens which is a 39 and Scarpa is one of the few hiking manufacturers that offer the smaller sizes. Upon receiving the boots, they are a great fit and while breaking them in, I had no blisters or hot spots! I would buy Scarpa again and would purchase these boots over again.
Great Boot
Familiarity:

I've put it through the wringer

Fit:

True to size
A friend recommended this boot to me. I have put this boot to the test in the worst environments possible and it has performed like no other. Very durable and comfortable and also very stylish. I love this boot! Please do not stop making this boot.
Not a bad deal
Familiarity:

I've used it several times

Fit:

True to size
Scored a pair on the cheap via SAC (last year's color?), a phenomenal buy. Stupid cheap...

Anyway, size seems pretty true, I normally wear a 45.5 in Scarpa's Italian built boots as they seem to reliably run a tad small. In these Romanian built boots, a 45 would fit fine (which is my normal shoe size) with a lighter summer sock. Toe box seems wider than the Italian built boots too, very roomy by comparison. Extremely comfortable right out of the box and required zero break in miles. Just laced & went with no troubles. Insoles are not the greatest, but a bit improved over previously encountered ones from Scarpa - will slide some Superfeet inserts in there soon.

Sole is not as grippy as my old Scarpa Mustangs for scrambling around on the trails I frequent, but they do clear mud nicely. Lacing is the usual easy Scarpa goodness, works great and ties off with ease. Laces seem okay, not as stretchy as previous boots - held their tension without fuss.

All that said, the boots seem very comfy & capable just like the numerous reviews I read about this particular boot.

I dig 'em and hope they wear as well as my Mustangs did over the years.
Durable and stable
Familiarity:

I've put it through the wringer

Fit:

True to size
I committed an unforgiveable act in hiking and purchased these boots on my way to the trail for a wet winter hike. I put eight miles on them the first day over semi challenging terrain with no hotspots or blisters. Since purchasing these boots I have been all over the southwest to include the grand canyon. They perform their best when its cool to cold out like all goretex boots. I have only re-treated the outside once in 3 years and still no leaks. The boot fit has been true to size and it is very stable over rocky terrain. Overall a great boot!
Coming from a full leather Vasque Summit GTX i cant say enough about the kailish. Obviously its going to have the Scarpa quality the world has come to know, but i would have never thought they would be so comfy. I would say they compare to asolo in quality. They broke in very easily, really just took one hike up chimney tops in gsmnp to break them in. We did eatern half of AT in GSMNP and mt leconte in the snow and ice and my feet stayed dry and mostly warm other than sitting around shelter at night. The boots worked great with katoohla microspikes. This is a picture at icewater springs shelter with the microspikes on. Overall awesome boot and will diffidently buy another pair when these bite the dust.
Scarpa Kailash GTX Boot - Men's
I were size US 12. Anyone recommend a...
I were size US 12. Anyone recommend a size for me. There is either 45 or 46.5 left. Not sure what size to go with.
Best Answer
The size chart recommends 45.5/46 for a size 12. These boots run a little narrow. If you have a wider foot you might be able to use the 46.5. In my opinion, when it comes to hiking boots, you want a little bit of extra toe space to accommodate for swelling in your feet as you are hiking. That being said, you also don't want your foot moving around. Don't compromise a good fit for a good boot. You can always give it a shot and then return it if it doesn't work. Backcountry has an awesome return policy.
Thanks. Just ordered three different sizes to find the perfect fit. They were willing to let me return the other two free of charge.