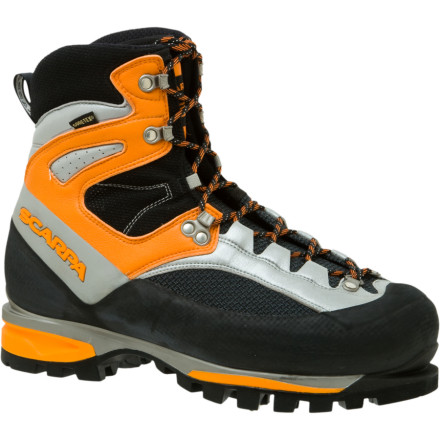 Detail Images
The Scarpa Jorasses Pro GTX Mountaineering Boot handles technical climbing for bagging vert on ice and mixed climbs, and offers the versatility to make miles on rugged approaches. While the Jorasses are sensitive enough for precision ice-flow footwork, the Gore-Tex lining means you don't sacrifice warmth or comfort while hanging off a glassy stalactite.
Articulated Flex Point ankle offers solid boot protection without completely cutting off range of motion
Lightweight design, flexible cuff, and Advanced Mid-Sole System ensure maximum comfort for long climbs and approaches
Insulated Comfort Gore-Tex liner keeps your foot dry and warm even when you post-hole through thigh-deep snow and get showered with ice
The boot is well constructed, warm and comfortable. I have climbed Mt. Cook in them, climbed WI5 and M6 and the boots have much more in them. The perform very well on technical terrain, and are comfortable over moraine and glaciers. The weight is good, but comparable to other boots in the same class. The only thing is I see the front part of the sole has a bit more wear than I would expect with the work they have done thus far. Nonetheless, if you are looking for a good single boot, these will work nicely.
I'm 42 on scarpa escape does someone know...
I'm 42 on scarpa escape does someone know if it would be the same size for the jorasses or a bit bigger
Should be the same size as long as your using the same socks
Out of the box, Scarpa's Jorasses Pro GTX boots are solid. They look extremely well made, with quality construction on the seams and around the rand. The lacing system is great and I don't have any doubt that the boots will stay tight when it counts the most. However, at first, I was worried they were too big. I wear a Euro 43 - 43.5 (10.5) and bought the 44.5 to accommodate winter hiking socks. Even with the thick synthetic hiking socks (the ones I'll ultimately be wearing with the boot) they felt too large - I didn't have good heel hold and I felt like I had too much room in the toe box. However, I then purchased running/hiking oriented insoles because the original ones are definitely inadequate. They're just cheap thin foam (see picture) without any padding. The insoles made the difference. The insoles raised my foot up enough to put it in the correct position for great heel hold and now the boots feel great. This is just an initial impression and I'll soon be breaking them in on a couple hikes - then we'll see if I still have that great heel hold after a few miles.
Hi, bought these shoes online. Love them!...
Hi, bought these shoes online. Love them! The problem is my feet slide to the front of the boots until big toes are pressed against the front. At the same time, there is a lot of room left in the hill area. They are almost two sizes bigger then my street shoes. How to fix this problem (insoles, ...) please?
Ken,
I speak from personal experience after a similar issue eight years ago. Insoles will help, but your foot will still shift forward, especially during a descent, or if your trying to kick into ice. This will result in blisters, foot fatigue and sore shins. My recommendation is, return them for a better size.
Is this boot warm enough for Rainier in...
Is this boot warm enough for Rainier in early June? i'll be on the mountain for 6 days.
Yes they will be warm enough... if you think there will be an issue, replace/add a wool insole as most of the heat will be lost from the bottom of the foot instead of else where...
well I bought a full size larger and am glad I did. I have put a couple of hiking miles on them and found out of the box comfort and ease of lacing and lace-locking great.(you tie them they stay and you do not need to keep tension on the lace while tieing) I wear orthodics they fit inside the boots heal pocket. the downside of this boot, there is not a lot of foot bed pading it comes with a thin removable insert ,what seems like an after thought 400$ dollers buy a deccent foot bed? they are light and articulate well, while still giving ankle support and they beat the crap out of the double plastics but will they keep me warm? only time will tell
How does this boot compare to scarpa's...
How does this boot compare to scarpa's mont blanc? I am looking for something with the same fit as the mont blanc but better ankle support.
Steve, The Mont Blanc will actually have more ankle support. The Jorasses Pro is basically the lighter more nimble version of the Mont Blanc making it better for more difficult climbing but less supportive. The Mont Blanc is more general purpose and will provide more ankle support.
Anybody know how this boot will fit in...
Anybody know how this boot will fit in comparison to the Sportiva Trango Prime? Looking for a touch wider toebox to accommodate a big toe turned in from rock shoe abuse.
Best Answer
My experience is that they do run a bit wider than the Trango series.
Picked up a pair of these after trying them on and wow...very comfy and snug in the heal. I have narrow feet and noticed extra volume at the top of the foot. Donned a second pair of socks and problem solved. Second pair of socks did not hinder blood flow and my toes have stayed warm at single digit temps.
The Scarpas are a bit wider in the forefoot and the toe box. I have wide feet (E width) and am very pleased in the Jorasses Pro's.
if you were to give this boot a low temp...
if you were to give this boot a low temp rating what would it be?
Best Answer
The short answer is about +15ºF.

The long answer is that there are so many different variables to rate boot warmth, that a number is almost meaningless. If boots could be rated to a number, manufacturers would surely do so. Factors that will affect your comfort include: whether or not your feet are dry, what socks you wear, how tightly the boots fit, your personal circulation in your extremities, what you're wearing on your legs, what you've eaten that morning and much more.

Boots like these, without a removable liner, are good for ice climbing and shorter mountaineering trips where they're less likely to get drenched and weight and fit are a primary concern. Once these are wet, though, they're going to be wet for the rest of your trip.

For longer expeditions, plastic or synthetic boots with removable liners that you can dry in your sleeping bag at night are the standard, and will result in much warmer feet.
I'd echo everything Simon said below but I'd be more liberal with a "guess" of 0-5°F as a low rating.
I have the Scarpa Summit, and find that when I'm in an inactive state for several minutes, my toes start to get chilled around 20-25. However, once on the move, they warm very quickly. I've worn the Summits on a few occasions in/around 5 degrees and while my feet weren't cold, I could definitely tell they were trending towards cold - this was while I was moving about hiking/climbing. According to your boot fit, you can boost the rating a bit with different socks, insoles and toe warmers.
If you're moving consistently... probably around 5-7F. If static, around 15F. If you want this for all around use (as many of us do), use a GTX gaiter which will add warmth to the lower leg, and make sure you have good circulation in the boot. Finding the right combination of lace tension, socks, and insoles is key to happy feet.
Does anyone know how these things fit...
Does anyone know how these things fit compared to the Freney?
These have a little straighter last compared the very asymetric last of the Freney. Heel and forefoot should be similar width, but the toe box has a bit more volume. Overall, it fits pretty much the same.