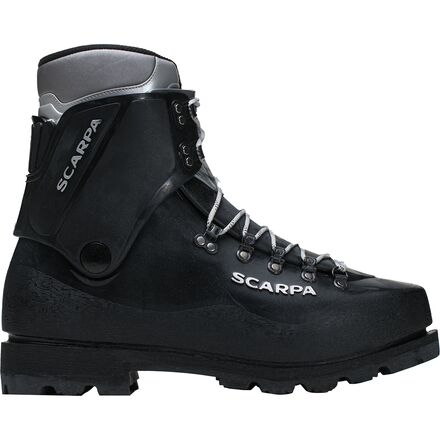 Detail Images
The Scarpa Inverno Mountaineering Boot has been a staple of ice and alpine climbing for years and still remains the go-to choice for cold, multi-day ascents. From Alaska to the Andes to the Alps, countless climbers have trusted the bomber Pebax upper and Vibram sole to handle anything the mountain throws their way. Scarpa added a removable EVA insulated liner, which keeps your toes toasty in harsh cold and can be dried in your sleeping bag at night. It goes without saying that these double boots feature full step-in crampon compatibility.
Unanswered Question
What UK men's size would I order for a women's U.S. size 9?


Unanswered Question
I'm a bit of a newbie to plastics and picked up a pair of used Invernos for an upcoming mountain goat hunt. They fit great, are comfortable once I figured the lacing configuration that worked best for my shins, and I've logged quite a few miles hiking on some pretty rugged terrain. That said, the high altitude liners, while comfy, are definitely warm, and I'm a little concerned that my feet might overheat on this late summer 5-6000' hunt. I occasionally see reference to the older style "Cordura" liners and was wondering if they might be more appropriate for this application? I've also been told the Intuition liners are an awesome replacement, but again, don't necessarily need the additional warmth, just comfort. Any thoughts from the community? Thanks.
I need U.S. size 8.5. Is there anyway can you get me a U.S. 8.5?
Hi Angela,

Unfortunately we do not have any 8.5 ordered to come in at this time. Please do let us know if you have any further questions!
Has anybody used the Black Diamond Cyborgs with these boots? Those are the crampons I think I would order if/when I pull the trigger on some plastics like these, but it would be reassuring to get some background info on compatibility.
Cyborg Pro or Clip? The Pro with the front metal bail is the way to go. Sometimes you need to offset the metal bail to get it to fit a plastic boot like this perfectly but, it will definitely work for you.
The answer is incorrect. The standard bails that come with the Cyborg Pros do not fit my Invernos. You should test before giving advice like this. I'm in the process of getting the larger toe bails from the BD website to see if it helps.
I have the older models of cyborgs and they clip on my invernos better than any crampon ive ever used. width on my boots is perfect...no need to trim boot sole.
Entry level Double Boots
Familiarity:

I've used it several times

Fit:

Runs large
If you are just getting into mountaineering and find yourself in colder climates the Scarpa Inverno's are a great buy. I've only used them in New England on 1 day trips so far, but they kept my feet toasty in sub zero temps all day with just a thin ski sock. They don't have new aged materials and might not feature the latest technologies, but these are a great cheap way to get into a set of warm double boots.



Very similar to the Koflach Degree, but a pound heavier (not that I noticed a ton since I'm used to ski boots). The vibram outsole provides excellent traction when you aren't wearing crampons on microspikes.



The liners are pretty standard, but do keep you warm and dry out relatively easily. The Pebax shell is one that will last for seasons to come. The pair I've used is over 6 years old and they are in great condition.



Only thing I noticed was that the boots did seem to run a little on the larger side in the toe box, but had a narrower heel cup. For me the narrower heel cup was great, but if you have bigger feet this may be an issue.
Narrow heel cup
Familiarity:

I returned this product before using it

Fit:

Runs small
Sending these back, but having tried on a LOT of double boots so thought I'd pass along that these are very narrow in the heel, sorta grip your heel on the sides. Seems like it would be a rubbing point. The toe-box is roomy for my wide foot. The boots are not as heavy as you'd think, and have a nice system for putting the boot on with the liner already laced to your foot.

The UK 7 fit well for a women's 8 normal street size foot, so size up accordingly.
Does the Job... Painfully
Familiarity:

I've put it through the wringer

Fit:

True to size
If you have some mountaineering objective in mind, these boots will probably do the job. The problem? They are INCREDIBLY heavy, stiff, and bulky.



The fact is... plastic double boots were the standard in mountaineering fare several years ago. Nowadays, there are plenty of single (leather and synthetic) boots that will perform just as well at a fraction of the weight while allowing for more flexibility.



Did they keep my feet warm? Yeah. But after using these for five days, my poor shins couldn't take it anymore.



Verdict: Spend more $$ and get a proper set of single boots (or something like the LS Spantik if you really need a technical double boot).
Do they come with the high altitude...
Do they come with the high altitude liners?
Yes, These come standard with the High Altitude lIners
I wood like the size 13.5 us. das your...
I wood like the size 13.5 us.

das your company has this size
We only have these boots in sizes currently listed in the select options drop-down. It looks like at the moment we only have these as big as size 13 US.
Are these boots good enough for a 7000m...
Are these boots good enough for a 7000m peak in the Himalayas?
Not a good choice at all. Back in the day, these (or the Koflachs) made it up plenty of 7000-8000m peaks (with beefed up liners) but that's because there was nothing better out there.



Nowadays, there are MUCH better choices.



For 7000m-8000m peaks there are only three big players in town... the La Sportiva Olympus Mons, Millet Everest GTX, and Lowa Expedition 8000. They are MUCH warmer than this boot and more comfortable.
how do these compare to the Kolfach? I am...
how do these compare to the Kolfach? I am trying to decide between this boot and the spantiks, man just don't know if I can go the price on the spantik, I have always used a single leather boot, I once rented a pair of kolfach and had shin bang and my feet were in bad condition after 3 days, I will be going to Huascaran and need to get something.
Scarpa now manufactures Kolfach. These are going to to be the warmest you can get with a double plastic boot. They are also heavy, and bulky. Your feet will be warm though, especially with the high altitude liners. I'd recommend trying a pair on locally first, or maybe rent a pair for a day climb.
I wear a size 46 Scarpa regular boots,...
I wear a size 46 Scarpa regular boots, should I buy US size 12 or size 13 for this Scarpa Inverno?
Best Answer
So you know the nature of the fit then? I've never worn a pair of Scarpas that when worn with heavy sock and liner combinations didn't give me a better fit (especially in the toe box) when I sized up. Best case scenario: the 13s fit you perfectly and you wear them for years. Worst case scenario: you return the 13s and have a replacement pair of 12s in a few days. Finely tuned to how they feel best to you. Fairly easy deal to the perfect fit. It's just like that with boots sometimes.
Thanks Phil! These sizes are confusing, I've got the size 46 Scarpa Charmoz GTX and it's pretty good in length and ok for width (I too got super wide feet), I'm going to Rainier in two weeks and they said I needed plastic boots, I'll get the size 13!
Not a problem, Meng. Man, with only two weeks, you better chop-chop on getting the boots and your feet in synch! Enjoy.
I was very skeptical of buying plastic liner boots due to my odd shaped feet. I have size 13, very wide feet and if you're in the same boat you know your options are limited. Since boots never fit well, my feet are always cold from being cram packed into them. I thought that by going with a full leather boot I had a better chance at breaking the boot in, so I originally bought the Scarpa Mont Blanc GTX. Though they showed promise it only took a few minutes of walking around to realize it was going to be an epic battle between the boots and I before they broke in, if ever. My buddy who is much more experienced than I am had been waving me off the leather boots. He said the ability to stuff the liners in your sleeping bag with you at night to dry was critical for him, so I tried a pair of the Invernos. I couldn't be happier with the decision. The boots are warm and pretty much fit me great right out of the box. With a little investigation I learned that if I have any trouble spots I can go to my local ski boot fitter and they can tweak and punch the boots for me. That is way better than me reshaping them with sore feet and blisters.

I have seen reports of shin bang with these boots. That happened to me as well until I started lacing the upper section while in a forward lunge position with my knee bent sharply. Shin bang gone.

I wear my UK size 13 Invernos with Smartwool Mountaineering socks; buy them in your US size on the UK scale to allow thick socks. Also, they are a great fit with the BD Sabretooth Crampons, but you'll need to buy the long bars for the crampons to fit them if you are in the same size as me, and probably even several sizes smaller (I'd guess down to 9 or 10 but not totally sure).

If you have wide feet that never fit into ski boots out of the box, try these mountaineering boots first. At least you know that they have worked for dothers, and they can be shaped if not perfect.
Where did I leave my Lunar Rover?
These boots make you feel like Neil Armstrong. If there was water, aka snow, on the moon, he would've had a pair of these. They are rock solid on snow. So if you are going to be on snow, then use these. If you are not going to be on snow, then don't because your life will suck. They are shin eaters but your shins will break in over time, because the boot certainly will not. It might just be easier to leave them loose at the top instead. Warm enough and hardcore enough for the moon or your next 4000m + peak.
Guys, I am an 8.5 size US but this boot...
Guys,

I am an 8.5 size US but this boot only have full sizes is it right ? Should I buy an 8 or a 9 ?? Thank you all for your feedback.
Best Answer
Scarpa is pretty true to size so if you're set on these boots go with the 9 and see if it fits. If not send it back and get something else. Also check out the leather 4 season mountaineering boots like the Mont Blanc.
Bruno,

I agree with Ryan: get a 9 and see if it fits. Keep your sock thickness in mind as well!

Happy trails!
I went up a full size in this boot. I typically wear an 11.5 US trainer/casual shoe, but found the best fit for me to be the 12.5 US (11.5 UK). I usually wear this boot with a green or orange Superfeet insert, as well as a thin liner sock and midweight to heavyweight wool sock. Lace the liner snug, lace the bottom of the boot tight and leave the top 2 loops laced loose to avoid shin bang. Nice fitting boot!
Go up a full size. I did and it worked out great on Mt Rainier where toe bash on the decent was brutal for some folks.
How will these work for my splitboard and...
How will these work for my splitboard and SD bindings? Snowboard boots suck for skinning up a mtn, and my leather ice climbing boots dont seem stiff enough for the snowboard descent? Anyone with experience with these boots and splitboarding?
Ever get a response? I am curious as well.
I've worn these splitting with the voile mtn plates, and wouldn't really recommend them. They tour ok, but once you start to descend you'll notice the major lack of support, especially on the heel side. For riding, they're stiff in all the wrong places and loose in all the wrong places. In perfect powder you'll do ok, but for anything else a set of AT boots would be a much better option. I use BD Primes. Surprisingly, the Primes climb ice and snow just about as well as the Invernos despite the higher cuffs.
Hey there, I am wondering if these boots...
Hey there,

I am wondering if these boots will work with the new Grivel GSB (Grivel Scarpa Binding).

Any help regarding this matter would be greatly appreciated,
Ben
No, they are not compatible with the GSB system, but they'll work with most other systems including automatic and semiautomatic(always try first)
They do what they were built to do
I just wore these boots on a winter Presidential Traverse in the White Mountains. A 20+ mile hike over multiple peaks (including Washington) and these boots worked flawlessly. We were kickstepping, postholing, and toejamming for 13 hours strait and my feet stayed warm and my shins healthy. Like others have said, you have to know how to use your equipment. Unless you're climbing vertical ice, keep em tight on the bottom and a little loose on the top - no shin bang!
need some sizing advise - do these fit...
need some sizing advise - do these fit similar to the asolo afs 8000? if I wear a 12.5 uk in the asolo and a 47.5 in la sportiva napal's would i wear a 12.5 uk in the inverno's?
Best Answer
If you wear a Euro 47.5 LS Nepal, then a UK 12.5 Inverno would do.

Although I would look at the UK 13's as well, because you're going be dealing with feet swelling too.