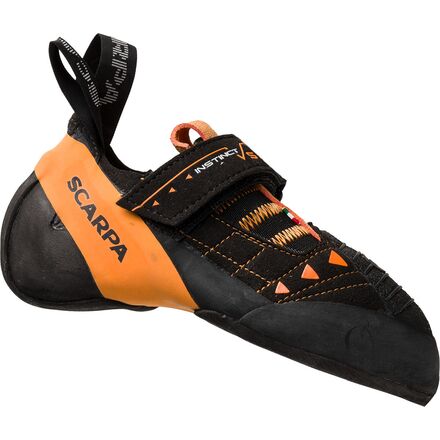 Detail Images

Videos

Community Images
Description
The steeper the better.
When the angle kicks back and the moves get hard, trust the Scarpa Instinct VS Climbing Shoe to see you through to the chains. The aggressive downturn and sensitive midsole allow you to toe-in on edges and solution pockets while the innovative Bi-Tension system provides maximum power in the big toe without excess pain. Plus, the single hook-and-loop strap makes on and off a breeze.
Durable Lorica uppers provide a snug fit that will not stretch out over time
Single floating hook-and-loop strap ensures a secure fit with easy on and off
The Instinct's super-soft midsole enhances sensitivity and precision
Scarpa's Bi-Tension system utilizes a reverse slingshot rand anchored under the toe-box for maximum power in the big toe without crushing your little piggies so you have the power to toe-down hard without the pain
Vibram XS Edge rubber resists distortion and performs consistently on the hardest edge moves in hot and cold weather
The rubber toe-patch improves toe-scums, hooks, and bicycles
Rad Shoes
Familiarity:

I've used it several times

Fit:

True to size
I picked these up to finally replace my excruciatingly tight, wildy smelly Evolv Primes. The Instinct VS were very comfortable right out of the box, even though I could have gotten away with on half size larger. They feel incredible on overhanging terrain and can cling onto just about anything.

I used them on a couple pitches of crimpy slab and they did get painful, but that's expected. The Instincts are definitely going to be my specialty overhanging route and bouldering shoe.
I HATE THESE SHOES!
Gender:

Male

Familiarity:

I've put it through the wringer

Fit:

True to size
yes I said I hate them. that's because these shoes are so superior to any other shoes that I get depressed trying on anything else because I know it wont fit nearly as well and wont perform anything like them. I can stand on micro nubs and have the confidence of brad pitt trying to pick up women. its cliché to say something "fits like a glove" but its true. ive never had shoes hug my feet so well and be so comfortable for what they are designed for. these shoes will ruin you. just get them.
awesome shoe
Familiarity:

I've put it through the wringer

Fit:

True to size
I really like them. before these i had the boostics which i really liked but they were too stiff. These have the same rubber but they have no rubber in the mid sole which makes them more comfortable and softer. They edge really well and perform extremely well on overhanging terrain in the gym . I havent taken them outside yet but i am looking forward to it. A 41.5 fit the same for me in both the boostic and instinct vs and they will fit well for anyone with wide feet.
Pretty Sweet Shoe
Familiarity:

I've used it several times

Fit:

True to size
Normally my shoes are a bit more relaxed in terms of the down turn because I'm more of a trad climber and want a shoe I can be in for hours on end. I demo'd these because I want a pair of more aggressive shoes for the single pitch trad days when sending is a bit harder.



Fit:

I tend to have a hard time finding a shoe that fits my heel nicely. If I size down on most other shoes I can get a better fit in the heel but then I lose length which definitely hurts my feet. These shoes were perfect in the 43.0 and held my heel incredibly well.



Sizing:

My normal euro shoe size is a 43.5 and I tried the 43.0's and they fit pretty perfectly. These shoes were brand new but I was informed that they won't stretch. If anything maybe a 1/4 size.



Soft Midsole:

This definitely makes the shoe far more comfortable and easier to be in for a little longer than I would normally want to have my foot inside a torture chamber!



Down Turn:

A bit more aggressive than I'm used to (I also demo'd the Boostics but preferred the Instincts far more). But I bouldered indoors with these and loved the precision I had with edging and foot placements.



Shoot me an email anytime you have questions about the Scarpa Instincts or any other gear!



Jared D.

Expert Gearhead

801.736.4336

jdowns@backcountry.com
Wondering how these would compare to the pythons in fit and performance ? Also I'm a size 10 some times 9.5 in street shoes, python are a 39.5 (but could probably to a 39), five ten pinks 9.5 and tenaya oasi 9.5 (the 9 was too small but the 9.5 felt to big never really liked the shoe because of this)
Never even seen pythons but from the pics I am going to see this will be a more aggressive fit in the foot over all, especially in the heel.
My #1 Go To
Familiarity:

I've put it through the wringer

Fit:

Runs large
I love this shoe! I have a mid-width forefoot, shorter toes, slightly shorter heel and mid volume foot. I am always a US women's size 8.5 and I went with the 39.0 and it fits my foot great. l never worry about my foot blowing off a hold. The rubber is incredibly sticky. They hold their shape and curvature through their life. I can attest! I definitely recommend this shoe! Awesome Italian-made shoe.. Git 'em!!
Shweeeet!
Familiarity:

I've used it several times
I love my pair of Instincts! Beforehand I had two pairs of Testarossas which I thought where the best shoe on the market, but wanted something with more toe and heel rubber. I looked at Solutions, but they were too heavy and the heel had no sensitivity whatsoever. Then I found these. They're pretty much lighter Solutions with a nicer toe box and better heal. Exactly what I was looking for! The only bad things I have to say about these is that the toe seems to be already wearing down.
Testarossa-37
Instinct VS-37.5
I love this shoe. I've mostly used them in the gym and a few sport routes and they perform great every time. I wear a 10.5 street shoe and went with 42.5 and feel it's the perfect fit. After the break in period I probably could fit a 42 for a real aggressive fit. I can wear them in the gym for about an hour before I have to give my feet a break.
Technically Awesome
Familiarity:

I've used it once or twice and have initial impressions

Fit:

Runs small
I got these for bouldering and vertical edging climbs, but they work great on overhanging rock as well! My first Scarpa shoe and I'm impressed so far.
I was wondering how these size compared to HiAngles or Blackwings or Shamans? I am a 13 in Blackwings and a 12 in the HiAngles and Shamans. I haven't found a place to try them on and see which size fits me best. Any input would be appreciated.
Hey this is a little late, but I wear about a 10 or 10.5 in the Blackwings and I just got a pair of the Instinct VS that seems to be a pretty good fit at size 9! It also seemed pretty consistent with my size in the Scarpa Booster and Vapor V so if you have the opportunity to try either of those shoes on, that'd be a good idea.
Great Shoe!
Familiarity:

I've put it through the wringer

Fit:

True to size
I've been wearing these nearly every day at the climbing gym for about 10 months, and have come to love them. You quickly realize the benefit of the rubber above your toe, allowing for much greater control and stability on overhangs. The shoe holds well for heel hooks too. Even with the edge rubber now work down I prefer this shoe for hard problems, It makes footwork feel solid. Now I have to talk about the comfort, Unbelievable! You can keep this rather aggressive, tight shoe on for hours before they become too uncomfortable. You don't have to sacrifice function for incredible comfort and fit with this shoe, and I am getting another pair.
Hey guys, I have a little question about the fit of the SCARPA Instinct VS. I wear a 11 (44.5) in street shoes and I'm looking forward to order these in size 43.5 (10 1/3). I've been reading multiple reviews and forums about the sizing of this particular shoe, but it seems I just cant make up my mind. I know the best way to go would be to try these in store, but I just cant find them in any stores, down here in montreal. Is one euro size down too small-tight or should it be good? My worry is that if I order only .5 euro size small, there might be roomy space in the shoe. And knowing the shoe is made out of Lorica and it wont stretch much, I have to pick a nearly perfect size cuz it wont be much forgiving. Just let me now what are your thoughts on this, itd be really appreciated and really helpful, thanks!
Best Answer
Most people seem to downsize half to one whole size from their street shoe size, so it sounds like the 43.5 would be good for a nice performance fit.
Excellent all around performance
Familiarity:

I've put it through the wringer

Fit:

True to size
Much like the Instinct slipper, these shoes are suited for all manner of terrain. The Velcro version adds, of course, Velcro for an even more secure and custom fit, and a full heel cup which is a little less sensitive but allows for more weight to be taken before it deforms. Full toe rubber as with most of Scarpa's aggressive models rounds out this shoe nicely. The biggest difference though is the XS Edge rather than the XS Grip 2. The Edge will last longer and provides even more power to the toe box at the cost of a small degree of flexibility and sensitivity. Choose between these two models according to your personal climbing style and preference.
Rock Star Shoe!
Familiarity:

I've put it through the wringer

Fit:

True to size
This is my go to shoe for steep sport routes, bouldering and even moderate trad routes. I have used this shoe extensively for the past year and it's durability, quality and fit are unrivaled. I size up a half size and can wear it all day comfortably. The fit is not compromised and the super sticky Vibram XS Edge rubber is confidence inspiring.
Always in my Pack!
Familiarity:

I've put it through the wringer

Fit:

True to size
The Instinct VS performs amazingly on steep terrain but is also great for all angles of sport climbing or bouldering that I've tested it on. If I only had to put one pair of climbing shoes in my pack, I would choose the VS for its top-notch, reliable performance on any type of terrain as well as for its fit, versatility and durability. I downsize the same amountwith these as I do for most other Scarpa climbing shoes, so they seem true to size for Scarpa.
when are you getting in size 45?
when are you getting in size 45?
Hey Rob,



Looks like we should hopefully be getting these restocked around the first or second week of May so long as they get shipped on time.
Initial impressions
Familiarity:

I've used it once or twice and have initial impressions

Fit:

Runs small
I've used these a bit, just trying to get them broken in. I've noticed that they're quite tight - but in a good way. My toes don't get cramped side to side, the toe box is pretty wide compared to Evolv and LaSportiva shoes that I've worn in the past. The heal is pretty good, but there's a tiny bit of dead space on the sides making it feel only the slightest bit unstable when heal hooking on the side compared to the back. I wear a size 8-8.5 US and went with a 40 Euro (7.5 US according to size charts), and would probably have gone down one half size if I wanted them to be really tight but they seem good how they are (could wear them out of the box for about 2 or 3 boulder problems, max ~ 10 minutes). On a scale of 1 to 10 for downturnedness, they're probably a 8--I don't know why it says Moderate because they're more downturned than my Evolv Predators which are supposedly very downturned. I would also note that out of the box the midsole is not very soft--they're more of a stiff edging shoe now, but we'll see if they soften up and become more sensitive. One thing I noticed about the reverse slingshot rand was the fact that it drives power to your toes. I could feel my calves initiating the push a bit more than other shoes without this construction, and it really felt like I had a stronger push from my toes. Overall impressions is that they're a great shoe, can't wait to get them broken in!
Nailed it on the heel design!
Familiarity:

I've put it through the wringer

Fit:

Runs small
I spent the last month rocking these shoes in climbing areas all across Spain. From the steep limestone in Rodellar to the squeezy heel-hooking sandstone of Albarracin and even on the granite eggs of La Pedriza these shoes performed incredibly well right out of the box. I have a really skinny foot and heel and really appreciate the single velcro strap on these slipperesque shoes. Also, the solid rubber on the heel (as opposed to the usual small patch of fabric that most agressive shoes have on the sides of the heels) makes for precision heel-hooking. I sized them down 1.5 euro sizes smaller than my street shoes and they're super-snug. I can wear them between bouldering burns, but have to take them off after a long route.
Good Shoe, not the stickiest rubber
Familiarity:

I've used it several times
I bought these intending to use them as all-around shoes, which in retrospect was probably a mistake. For edging, these are as good as anything I've used, and the rubber over the toes seems pretty nice for hand-size cracks. The main problem I have with these shoes is that, compared to my other shoes (Anasazi Mocs) the rubber is noticeably less sticky; my feet slide off of smears that would be totally solid with stealth c4 rubber. I suppose these shoes may be really great for hard, overhanging bouldering and sport routes, and maybe the slippery rubber trades off for better edge life, but I don't recommend this shoe for any climb that demands secure smearing. I've talked to other people who have the same experience.



I have a wide forefoot and the fit in these shoes seems pretty perfect. My street shoe is size 10, the 42s fit me with a snug toe curl.