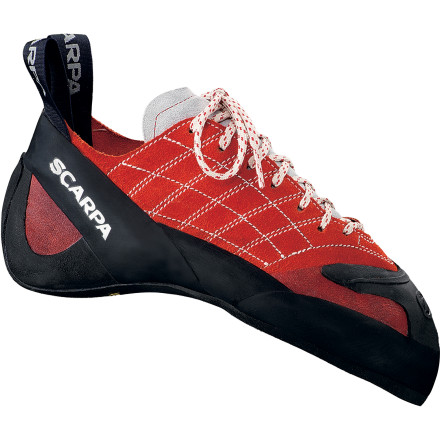 Detail Images

Videos
Description
Trust your Instincts on this one.
If you are the type of climber who requires your feet to act more like another set of hands, evolve into a pair of Scarpa Instinct Climbing Shoes, and let the transformation begin. The Instinct's aggressive shape and sensitive midsole sucks to your foot like a vacuum so you can push, pull, squeeze, hook, and grab your way to the top of the most perplexing problems. Sure it's also a favorite of testers at Rock&Ice and Climbing, but you don't have to take their word for it. Slip in and let the crushing commence.
Suede upper and full-lace closure conform to the shape of your foot
The Instinct's super-soft midsole enhances sensitivity and precision
Scarpa's Bi-Tension system utilizes a reverse slingshot rand anchored under the toe-box for maximum power in the big toe without crushing your little piggies so you have the power to toe-down hard without the pain
Vibram XS Edge rubber resists distortion and performs consistently on the hardest edge moves in hot and cold weather
The rubber toe-patch improves toe-scums, hooks, and bicycles
Performance, and comfort!
Familiarity:

I've used it once or twice and have initial impressions

Fit:

True to size
I recently got a bunch of shoes to try out, and these are pretty awesome.



They are aggressive, downturned and with really good rubber positioning on toes and heel, but, and perhaps it's my foot, they are pretty comfortable.



The laces are a good choice on this shoe because, due to higher comfort than the Boostic shoe for instance, you can leave them on for longer periods of time and really dial in the fit to your foot better than with velcro straps.



Sizing - there run a bit larger than the Boostic (tightest) and also Vapor Vs (in between Boostic and Instinct. I am a european street show 36-36.5; US women size 6-6.5 and i got these in 37. I could have done a 36.5 in hindsight, but it's nice to have a comfortable pair that is also aggressive.



Perfect for vertical, overhung climbs and boulders, really great edging. Not the best smearer, but it's not supposed to be, and this may improve once they break in more.



photo - heel hooking out of the overhang. they stick super well.
I own a pair of Instinct Lace that have XS Grip 2 rubber. Do these have XS Grip 2 or XS Edge? The photo also shows XS Grip 2.
Edge rubber. Grip 2 was phased out in 2013 from what I can tell. If you find anywhere selling them it must be old stock and if so please share where :)
What is the heel cup like in these shoes? Are they shallow? Or deep?
Fairly shallow heel. Not quite as small as the newer Vapor V, Instinct VS, or Boostic. I have a small heel and wide forefoot and this shoe fits really well for a comfortable and performance minded fit. Wish I knew this before buying Vapor V's right before they arrived. The Instinct lace is a little wider in the forefoot and more performance driven it seems but best of all you can really dial the fit and get a more secure feel without downsizing!
My favorite climbing shoe
Familiarity:

I've put it through the wringer

Fit:

True to size
This shoe has become my go to shoe for most climbs. Edge great, toes are great a fitting right into little pockets, and perform really good on toe and heel hooks. They smear OK, not great, but they are not designed to be a slab shoe. They have held up really well too, I have put close to 150 days of climbing on them, maybe 50 of those inside, but the rest on all kinds of rock, from Maple Canyon cobble, to Wild Iris limestone, to sharp granite of BCC and quartzite of the Uintas, and rubber is still thick and sticky. I have noticed no stretch to them, but the red dye in the leather will leave your feet red for quite some time. I would not recommend them for new climbers, but for those experienced climbers looking for a super good technical shoe, this is it.
Great Lace-Up Performer
Familiarity:

I've put it through the wringer

Fit:

True to size
I use these mainly on technical, aggressive face climbs from vertical to slightly overhanging that require precision footwork on small holds, along with shoe sensitivity. They are comfortable, as other reviewers note, but not sloppy. Often it's a toss-up between these and the Boostics on the same terrain, so I'll just alternate which shoe I wear from climb to climb. For a project, I'll test the route in both shoes and then decide which shoes feel best for the route in question. To me, the Instinct Lace seems a touch more sensitive than the Boostic, while the Boostic seems slightly stiffer. Both aspects have advantages.
Powerful, precise shoe
Familiarity:

I've put it through the wringer

Fit:

True to size
I graduated to the Instincts after using the lace up Vapors for about a year. The shoe shines in a variety of settings. It is stiff enough for hard redpoints on overhangs, but still offers enough sensitivity that you can "feel" around with your feet. These are my go-to shoe for redpoints, onsights, and flash attempts.



The fit is surprisingly comfortable for an aggressive shoe. I wear 42 to 42.5 in street shoes and the Instincts feel great at 41. There is a knuckle box (same idea as Evolv's Love Bump) in the toe that provides leverage without pain. I have wider feet and expected to suffer in these shoes, but they have been surprisingly comfortable.



Overall a great shoe for anyone looking to up their game.
Highly Recommended
Familiarity:

I've put it through the wringer

Fit:

Runs large
Fit: I'd go a half or full size down from your street shoe size. I went a half size and there is still a bit of bagginess in the heel but if I go any smaller my toes will likely fall off. The toe box is relatively wide, not recommended for people with narrow feet. The leather will stretch a bit to fit your feet nicely and also dies them bright red.

Performance: Great for overhung and excellent at edging. Makes for an excellent bouldering shoe. The rubber is not as sticky as the discontinued Vibram XS Grip2 version that is still available in some sizes (as of October 2013) but it is still superior than most rubber I have ever seen except may be Five Ten rubber.
Best Shoe I Have Ever Owned
Familiarity:

I've put it through the wringer
The Instinct Lace Up is my go to shoe. It fits a wider foot and is incredibly sensitive while being stiff enough for the toughest edging I have had to do. I use these shoes for anything that is at my limit including extremely long days. One of the best features of these shoes is that they perform really well without having to fit them too tight. They are amazing don't think twice about them! If they seem wide for your foot, try out the Vapor Laceups. They are similar but made for those with less wide feet.
All-TIme Great Shoe
Familiarity:

I've put it through the wringer

Fit:

Runs large
I've been climbing for over 20 years. Bouldering, sport climbing, "trad climbing," crack climbing, big walls, alpine. These shoes are slightly aggressive, but not so aggressive that you feel like your just climbing on the tips of your toes. They do everything well, and are quite comfortable for me, but still I would not reach for these if I were just going crack climbing for the weekend.



I wear a size 8.5 to 9 US in most street shoes (8.5 in Five Ten approach shoes), and I wear a 40.5 in the Instinct. I could easily go a 1/2 size smaller, which would probably make the heel fit a little better, but I prefer to be comfortable. The heel still works great for me, but there is a tiny empty spot that does get a little bigger over time.



I've had three pairs in a row of these, and I'll be getting more. Hopefully the slipper version as well, if they ever go on sale.
Scarpa Instinct Climbing Shoe -XS Edge
SWEET!
Familiarity:

I've used it once or twice and have initial impressions

Fit:

True to size
So far so good, had them for about a week now. First impression is that they are a Miura VS with a Toe Cap :) which is awesome! Super tight, still not even close to being broken in but they edge like champions.

There is an audible "squish" as you get them on....love the fit, no dead space.



I wear a 37.5 in the miura VS and a 38 in these. My street shoe is a 7.5



Adding to the review... been climbing in them for almost a year now? My toes still aren't totally happy with the toe box, they definitely make my toes bleed after super long sessions. All in all, my next pair will be another pair of Miura VS.


Great steep sport/crack shoe
Gender:

Male

Familiarity:

I've put it through the wringer
I have had these shoes for a few months and they have yet to disappoint me. They grip sandstone and granite well and the tongue has just enough padding to make crack climbing pleasant.



I did need to return my first pair of these shoes when the rubber toecap delaminated in the first week while jamming my toe in a roof crack. The next pair dominated the same route without any issue. Also be aware that for the first few days climbing these the dye will run and your feet will be fire engine red.