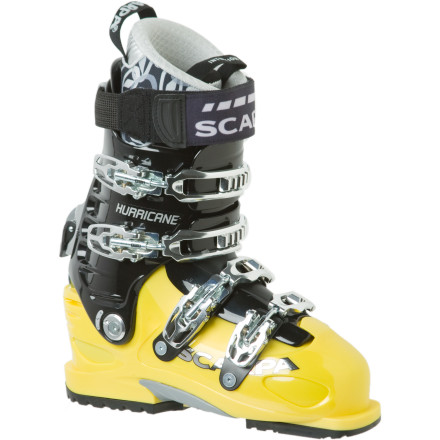 Detail Images

Videos
All hail the Scarpa Men's Hurrican Pro Ski Boot. With a powerful 125 flex Pebax shell, a walk mode for touring, and steel forefoot reinforcements, you'll blow yourself up before you explode this boot on a gnarly line. Scarpa balanced the powerful nature of this boot with a buttery-smooth intuition liner and a wide 104mm forefoot width for superior comfort. Point yourself at something disturbingly steep at the resort, and then bag king lines just outside resort boundaries, and do it all with this one boot.
Pebax Rnew shell material uses renewable plastic that keeps a consistent flex through drastic temperature gradients (cold morning to hot afternoon)
Intuition Speed liner for warmth and an out-of-the-box fit
Powerblock Tour flips from ski to walk to allow more forward flex for touring, and then lock the cuff solid when you hit the down
V-Frame power-ribs on the cuff provides enough stiffness to handle steep descents without adding weight
104mm last for a wide foot or little extra room for the sixth toe
Vibram Rally rubber sole allows you to use your alpine touring bindings in the backcountry and your regular alpine bindings for days in the resort
Unanswered Question
Anyone have an opinion on the Hurricane...
Anyone have an opinion on the Hurricane versus the Tecnica Cochise Pro Light for a flat wide footed skier who likes to ski 75% resort and 25% side/touring?
Excellent boots for the wide footed!
Familiarity:

I've used it several times
If you have paddles for feet look no further!

I returned the BD Factor 130's after they bored holes into my feet on a few mountaineering days, and picked these up to take their place.

These look like fine Italian shoes, they ski like fine Italian shoes, and they are in fact fine Italian shoes.

When compared the the Factor 130's in base stats these really only have the advantage of being lighter. The BD boots were a little stiffer, had a better range of motion in walkmode, and could be made tech compatible.

None of those stats mattered once I got the The Hurricane Pro out for a ride. They ski impressively well, very responsive and really really comfortable.

I generally only use one boot for both resort and mountaineering so I am locked into the DIN compatible a/t setups. If you're a 6 foot 140 lb post-hipster yuppie weight geek, then this probably isn't your setup. If you're a 5' 10" 185 lb person with caveman feet, buy these boots.
Don't buy ski boots online!
Familiarity:

I returned this product before using it
The sizes on this website are misleading. A 26.0 is actually a 25.5-26.0. Return is made worse when ordering from OS, return shipping from Australia is over $100, so if you get the size wrong what looks like a cheap boot turns out to be very expensive.
Scarpa Hurricane Pro Ski Boot - Men's
Unanswered Question
I currently ski in a TX Pro size 26.5....
I currently ski in a TX Pro size 26.5. Post ACL reconstruction I am looking for an AT boot to add to my kit as a work option for next season...what size would you recommend in the Hurricane Pro? Previously T1 in 26.5 but noticed they are both narrower than the Hurricane Pro.
Is this a good replacement for the spirit...
Is this a good replacement for the spirit 4? I wear an 8.5 shoe and have a 26.5 Spirit 4. I think I might need to go down a half size
If I were youy I would go down to a 25.5
The Hurricane Pro is significantly stiffer than the Spirit 4. It also will not work in a Dynafit binding like your Spirits. If you want a more direct replacement of the Spirit take a look at the Skookum. Also I would suggest going down a shell size to a 25.5 or 26.
Great 104mm Last Width is perfect for a wider foot, especially once the thermo-moldable intuition liner has seen some heat.
looking for a do it all ski boot. Looking...
looking for a do it all ski boot. Looking for ski mountaineering, and touring ability as well as rock solid downhill performance. Can't decide between these, the mobes, or dynafit titans. Any suggestions?
Can't compare to the Titan but the Hurricane Pro and the Mobe will ski and fit very similar. The main difference between the two is binding compatibility. The Hurricane will work in Alpine bindings and all AT bindings except Tech style. The Mobe will work in all Tech style bindings but not in Alpine bindings.
Unbelievable boot. Light, pretty stiff and enough capacity to finetune. I'm 6'2, 230lbs and an aggressive expert skier running a pair of Volkl AC50 177's and Atomic Bent Chetler 192cm. I've got a long skinny foot with little arch and slim archilles/calves, and these fit like a glove straight out of the box. Thought I would need custom footbeds but haven't felt the need so far. Only minor gripe is that the second buckle up is not easy to close with the metal flap under the buckle getting caught on the bail side of the buckle as they come together (probably doesn't describe it that well sorry). Intuition liner looks like it wouldn't be very comfortable, until you put your foot in - as I said, like a glove. Whether it be carving, cruising or steeps, I can't fault this boot at all. Also, the walk mode is particularly useful for kid wrangling on the learners slopes and car park. My previous boots were Technica TNT Carbons and these Scarpas leave them for dead in terms of the comfort v performance balance, for me at least.
After a complete season of 60plus days in these boots, i have to say they were excellent...BUT - the toe and heel lugs and the pebax compound whilst soft and incredibly light, is much softer than other boots. If the lugs were replaceable with soles, this wouldn't be a problem, but by the seasons end, this part of boot was so battered, chipped and dented the bindings needed constant attention to ensure retention tot he point were the boots are now likely to be thrown out.... If I were scarpa, i'd offer these boots with interchangeable lugs and soles, as the remainder of the boots are in great shape...take one star off...but overall terrific boot.

__________(Earlier review) __________

Just skied these for 19 days straight in Japan (on armada jj's with jester pro bindings), from groomers to side country to skinning thru the alps ...this boot fit like a glove. Custom footbeds but no other mods needed... I have a wide last foot, these didn't pinch or squash any digits! I would say if u have a high arch and top of the foot, these may cause pressure points. over the 19 days, these have stretched and formed to my foot and calf area brilliantly . The are great for touring (used on k2 coombacks with marker dukes) , so light and warm. You can't beat intuition liners..hands down the best by a mile...highly recommend. Flex is probably not as high as suggested, compared to nordica speed machines 130's , but way more pliable boot for all skiing needs.
I wear a 27.5 Scarpa TX Pro tele boot. Can...
I wear a 27.5 Scarpa TX Pro tele boot. Can I wear the same size Hurrcane?
Yes, I think that would be your size in the Hurricane as well, but It does run a bit wider than the TX Pro.
Unanswered Question
I am a ski patroller and presently...
I am a ski patroller and presently patrolling in the Scarpa Skookum. I like the Skookum except for one of the buckles getting in the way of another buckle when I try to buckle the boot. Also, I constantly tightened the buckles as the day progressed to keep the boot snug. Other than that, I felt that they were comfortable and good for all conditions. I am looking to a boot that fits more closely Atomic regular alpine bindings (the Skookum has a rocker foot board) mounted with a mfd plate on mid fats, Mantras. Has anyone had the same buckle and the need for constant buckling the boot to keep it snug problems? I would appreciate a frank recommendation since I work in these 9 to 10 hours a day....thanks