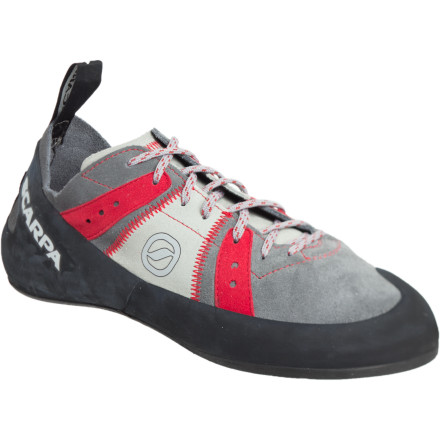 Detail Images

Videos
Description
The shoe to get your future climber on the vertical.
If you've taken a beginner climber under your wing, help him out with a pair of Scarpa Helix Climbing Shoes. Great for all-around climbing and training in the gym, the Helix design features a comfy suede upper and sticky TAC 100 rubber sole. A standard lace helps the Helix fit snug and secure to help boost confidence as your future partner scales routes and ratings alike.
Unlined uppers will stretch about a half size
Full-length laces for a precise fit
Low asymmetrical curvature for all-day comfort
Comfortable and affordable
Familiarity:

I've put it through the wringer

Fit:

True to size
I purchased these shoes two months ago and I have a wide foot. I normally buy D width shoes and these are one of the few climbing shoes that fit my foot comfortably. I do get a little gap between my heel and the back of the shoe, but it doesn't effect my climbing. I climb indoors a lot and when I climb outdoors its sport climbing. Haven't done much crack climbing with these shoes. They are not a very aggressive shoes so If you like an aggressive shoes, these are not for you. Overall pretty happy with my selection.
Great Beginner Shoe
Familiarity:

I've put it through the wringer

Fit:

True to size
I bought a pair of these shoes based off a recommendation from a friend of mine who also has them. Like others are saying, these shoes fit like a glove and are extremely comfortable. I can leave them on for hours at the gym without any discomfort. Mine stretched maybe a 1/4 size larger but had no impact on the actual fit. If anything now they fit better because of how tight they were before. The durability is amazing. I have gotten about 10 months of solid climbing out of them before finally wearing through them. The rubber is a little stiff but i think people are being dramatic. They smear great and grip holds fine if you use good form and aren't lazy. The gear is only half the equation if blowing off of a hold. If you are on the edge about getting them take my advice and get them. They will serve you well and be a nice shoe to get you into the sport.
Review in status. As of now... 4
Gender:

Male

Familiarity:

I've used it once or twice and have initial impressions
So far, comfortable... as good as climbing shoes get. I have NOT had the slick rubber problems like other have had so far. I will continue to eval them as I go!



NOTE: I have only been indoors with them.



Size? they are climbing shoes... you have to feel it out.

I wear 10.5 to 11s in most shoes... these I Am running 9.5 and cramming.
Comfortable!
Familiarity:

I've used it several times
These shoes are incredibly comfortable. I really like them so far, but haven't had them long enough to comment on durability. I haven't noticed a huge stretch in them, so I would say that it's safe to get a near-true size off the bat. Hope to get many more pitches out of this!
Pretty good shoes
Familiarity:

I've put it through the wringer

Fit:

True to size
Very well made, don't stretch much (esp. for an unlined leather shoe), and good for cracks if sized for them. Stock rubber isn't the stickiest in the gym, but is fine outside. I've resoled mine twice and they're definitely better than new. Decent break from the more expensive sportiva's I normally buy.
Not great.
Familiarity:

I've put it through the wringer

Fit:

True to size
The rubber isn't sticky, the edging is bad and they blowout fast. They are however quite comfortable, there is many better options for comfortable shoes though.
Scarpa Helix Climbing Shoe - Men's
Some hate obviously but I love them
These shores are insanely comfortable. I started with evolv non aggressive shoes and eventually went to shamans. I climb 4 days a week at a gym then out doors for sport / bouldering every weekend.



Now for the shoes. The rubber is not that sticky in the gym (i guess what the others are using to test their shoes on). They preform great outdoors on sandstone / granite...thats all I have access to right now. They are amazingly comfortable. After climbing for a year in aggressive shoes these are a freaking dream. I don't wear them in the gym for the reason listed below. That doesn't mean I cant send a v5 indoors in them...they just dont stick to thoes baby chips like more aggressive / sticker shoes.



If your looking for a amazingly comfortable shoe (at least for my feet) with ZERO dead space give these guys a try.



**all feet are different and each shoe will fit each foot differently.
rubber..meh
Familiarity:

I've used it several times
Super comfy. I've got funky feet and these are the only shoes I've found that really fit well. The rubber on the other hand...well let's just say there might have been a mixup between the rubber shipped to the climbing shoe factory and the rubber shipped to the prophylactic factory. Some rubber is supposed to be slippery, some is supposed to be sticky.
Agree with Zach- these are useless.

You will never trust your feet when climbing in these shoes. Super comfortable but super slick rubber and now shopping for something else.
I got these and wore them about 5 times in the local climbing gym. They are pretty comfortable, but that's about it. The suede on top went to crap in the few times I wore them. The rubber on the bottom is not sticky at all, and your toes will slip off any hold. The rubber on the sole must be super soft because in the few times I wore them you could already see way to much wear. If your going to be climbing not much, and want a fairly cheap shoe, and you are climbing super easy routes this might be for you. I cannot recommend these shoes though. They just aren't for me