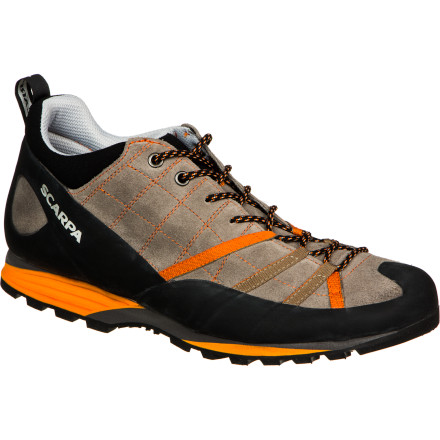 Detail Images
Pull on the Scarpa Gecko Guide Shoe for particularly slippery approaches. The Vibram Vertical Approach rubber sole will keep you upright and moving forward until it's time to put on the slippers.
This is a great shoe for approaches. The only downside for my foot is the narrow front of the shoe requires me to really loosen the lacing up at the toes so I don't blister up in strange spots (small toe outer, big toe outer). But that's a minor point - love the lacing that extends basically to the toe for a great fit.
I bought these after trying the Boulder X and was REALLY impressed. Comfortable on the trail and I felt confident on class 5 scrambling and some 5.6 5.7 climbing.



I bought a size 10 which was spot on for me. I wear a size 41 Mythos and size 10 Mocsasym.
Just right
Gender:

Male

Familiarity:

I've used it several times
This is a great shoe for those times you need something a little stickier than a pair of Chacos or hiking boots. Thinner sole than the la sportiva boulder allows for a better feel and more rock shoe like feel. I like how adjustable the laces are; I can loosen it up a little for the trail and tighten it up for a more glove like fit for the approach. Feet do get a little sweaty in them, but not too surprising based on the materials. Probably fine climbing 5.7/5.8 in them depending on your comfort level.
Best Answer
I would contact your local shoe cobbler and get their advice. I think something could be done but don't know if it would be cost effective.
Most likely. The Rubber Room will do it for 48 bucks plus shipping and handeling. http://www.rubberroomresoles.com/repair.htm


How rigid is this shoe? Anyone taken these...
How rigid is this shoe?

Anyone taken these on El Cap, if so how do they stand up?
What do you plan to do on el cap? as a belay shoe or as a shoe to hike in? These will excell as a belay shoe and be slighly sticky as a hiker...They are semi ridid shoes
great shoe with good grip and some cool edging ability if you need that on your approach