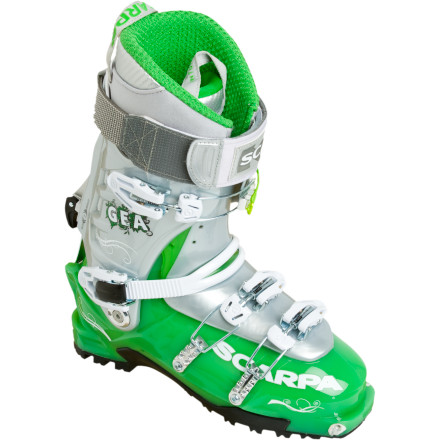 Detail Images

Videos

Community Images
Scarpa Gea Alpine Touring Boot
Outdoor Retailers on-snow demo day
Could anyone tell me if these boots will...
Could anyone tell me if these boots will work with any normal alpine bindings? Or if there is a way to get them to? I ski with Dynafit bindings, but am wondering if I can bring my own boots and rent non-touring skis for a day in the resort on a trip that's coming up.
Best Answer
They will not work with alpine bindings safely. They will "work" only in the sense that you can step in and they will engage but due to the sticky rockered sole they will not release consistently at the DIN settings of whatever alpine binding you are using. They may not release at all. You would need to ski them in a frame AT binding like a Fritschi or a Marker Duke since those have moveable sliding AFD plates which allow for consistent release with sticky rubbered soles. A lot of shops have those for rental or depending on where you are skiing some local places may rent AT gear. Examples would be The Backcountry in Truckee, or Wasatch Touring here in Salt Lake City. To sum up. They are physically able to be used but are definitely not recommended for safety reasons as they may not release in the event of a fall. I wouldn't do it.
Meh.
Gender:

Female

Familiarity:

I've put it through the wringer
Updated 3/10/13



I generally ride a 21/21.5 boot whenever I can find them (which isn't often) but this was one of the few boots that felt anywhere near right in a 22.5. I slipped in the custom footbeds from my tele boots to take up a bit of space and it seems to be doing the trick thus far. I am considering investing in a even higher-volume insole now that the liners have broken in completely.



Pros: lightweight, runs narrow (101mm last versus 102 in my T2s), stiffens up considerably when cold - though not as stiff as I would have hoped, warm-ish.



Cool: Came with some spoilers to add some height to the back of the boot and make the calf fit tighter. The "easy off" axial whatever design is kind of a pain to get on and off if the layers get messed up (like when hastily taking out liners) but have proven to be nice on cold days when I need to put my boots back on.



Cons: the wickets/buckles are a bit fiddly to adjust with gloves. The liners broke in more than I was expecting.



Not the best resort boot, but excellent in the back country. Its hard to argue with such lightweight boots as these. At the end of the day, they're a fairly powerful boot, but not the one boot to rule them all. I should have gone with the RS, but I'll stick with these for the time being, until the Fall 13 Scarpa Freeride boots hit the market. If I had a dedicated touring rig, these would be my go to's, but I am attempting to use them for everything, which I would not advise.
Comfy but Durable?
Gender:

Female

Familiarity:

I've used it several times
I am in love with the fit of these boots and their lightweightness. For me, their fit is a marriage, but time will tell how well they hold up to the beatings. I have now worn them for about 15 trips. After the first 6 or so the walk/ski switch seemed to fail and they would not lock in ski mode. After sending them back to warranty, that mechanism feels much more solid and comfortable. However, I'm skeptical that that switch will last.



I have skied one semi-demanding line in these boots down a 45 degree couloir, about 3 meters wide at the top, on corn snow. I was happy with their performance here; they seemed stiff enough to me.



I also put them through their paces on a 15 hour trip that consisted primarily of hiking over frozen ground, many hours of boulder-hopping, and then a little mixed climbing, with maybe an hour on skis total. They're quite a bit more scratched now, but my feet weren't even complaining at the end and neither were my knees!
Tours great, durability an issue
I have 2 season's on my Geas now and have found features that I love, and features that have me looking for their replacement...

The Good: The Geas tour beautifully with lots of backwards cuff articulation and low weight. The Intuition liners are warm, and super comfy. These boots are a great fit for narrow feet; the instep ratchet keeps even my small heels in place and blister-free. The side-opening tongue is very convenient for removing and drying liners (see below).

The Bad: I prefer a stiffer and more upright boot. For me, the aggressive ski-mode geometry (18 or 22 degrees when locked) makes for serious quad burn without more support. Also the shells become noticeably softer in warmer weather, and tend to leak at the toe and cuff joints resulting in wet liners.

The Ugly: The ski-walk mechanism routinely gets dirty/bent and will not lock into ski mode (dealbreaker). My temporarily fix is to clean the ski-walk tab/bar/pin mechanism (WD40) which works for about 7 days before the lock mechanism fails and needs to be cleaned/bent again. Plus two of the metal buckle fittings "backed out" and fell out of my shells after 3 weeks.

Summary: As much as I love them on the uptrack, these boots make compromises in durability/reliability, and I wish that they were stiffer. If you go this route, be prepared maintain (clean and tighten) the hardware on a regular basis.
Just wondering what size Gea boot I would...
Just wondering what size Gea boot I would need for a sole size of 295mm? Many thanks!
That would be a mondo 26 or US womens 8 .. please keep in mind that Alpine touring sole lengths differ from regular Alpine ski boots.
Perfect for spring skiing/ski mountaineering
Yet again this season, I am amazed at how well the Gea's do for ski mountaineering season - when the days are long, the approaches and tours get long, and it's so nice to have a boot that tours efficiently and then can get down to business and ski a steep scary couloir - I'm a huge fan!
Hello I own some Scarpa T2 Tele boots in...
Hello
I own some Scarpa T2 Tele boots in a 24.5, and I'm curious if that means the same size would be right for me in the GEA? I love the T2s. Can you tell me if the GEA favors a narrow foot vs a wider one? I have a narrow heel. I'd go try it on but ain't no place selling a GEA near my house 
Should be the same size for you in the Gea, but the Gea is 1mm narrower in the forefoot than the T2. Heel should fit about the same, maybe a little tighter.
How awesome to have a boot that tours so well, has a great liner, and is actually stiff enough to ski hard in. The Scarpa Gea has a wider toebox than some previous models and a great liner which molds easily. It is definitely a wonderful touring boot and I would recommend it to anyone looking for a high performance backcountry boot. It is not a resort boot, but performs great there too!!
I'm interested in purchasing the Gea, and...
I'm interested in purchasing the Gea, and have heard wonderful things about it's performance. and, it actually fits my foot despite other comments. what i want to know, however, is... i am new to AT and will definitely be using this boot on the mountain (groomers, wind blown, etc.). Can this boot handle the pressure or is there a different boot you might recommend? Thank you!
This boot should work fine for occasional use at the resort, but it is a fairly light AT boot, and as such there is a compromise with overall stiffness/skiing performance. If Scarpa's fit you well, but you think you might want to preference the down a bit more, you should consider the Scarpa Shaka. About a half pound more per boot, and it doesn't tour as nicely, but is a considerably stiffer boot.

Also be aware that AT boots with vibram soles will not work in most regular alpine bindings (if that's even a consideration).
I am a true 22.5 not that 23 shell with a bogus 22.5 liner and spacer in it, it makes me mad when boot companies do this...

but I had no choice at boot options because it was down to scarpa and dynafit in my size. This boot seems killer from the outside but at second glance its not what I expected. First it won me over with being one of the lightest high cuff boots that fit me. And seemed great when it says its a 100 index. After trying it on there is no way it is over 90, I could tell this boot would be cosy hiking but couldn't handle the turns. The fit was narrow in the toe box and was also tight in the heel (which I tend to have lots of slipping no matter what boot I get). Lots of props the the scarpa guys that made a great fitting boot! I had Scarpa tele boots in the past and am always impressed with the stock liner because it is above average than most on the market.

In conclusion I give this a 3 star, because it can get the job done but is not the best boot out there. I would suggest the Scarpa Shaka boot instead.
I'd also like to know the boot sole length...
I'd also like to know the boot sole length of a 22.5 Gea.
what is the sole length on the 22.5 scarpa...
what is the sole length on the 22.5 scarpa boot? So.. this is the same shell as the 23 boot?
271mm and same shell on the 23
As a related question: what is the sole...
As a related question: what is the sole length of the 24.5/25 boot then?
288mm for a 24.5/25 shell
What is the sole length of a size 25.5 Gea...
What is the sole length of a size 25.5 Gea Scarpa boot? I I just received 25.5 Gea boots and they are way too big! The sole length is 297 mm. Can you please measure the sole length on another 25.5 Gea to see if I have a mis-labeled pair. Thanks.
297mm is correct for a 25.5
I'm pretty sure Scarpa is one of the few companies that start shell sizing at the half size instead of full size. So, the 25.5 and 26.0 have the same size shell and so do the 24.5 and 25.0. This would explain your boots being way too big if you usually wear a 25.5.
Unanswered Question
I think the metric weight of these boots...
I think the metric weight of these boots is converted wrong from lbs. Should be 2.7 kg per pair.