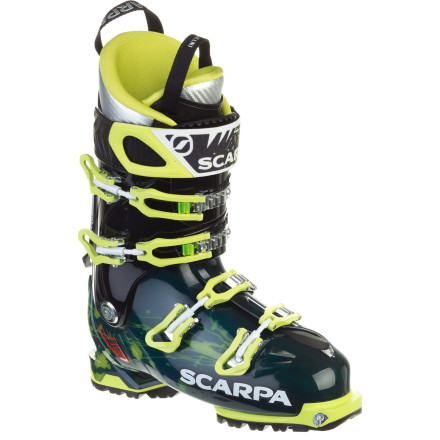 Videos

Community Images
Description
True liberation, mountain-style.
The Scarpa Freedom SL Alpine Touring Boot is King of the Mountain in the Scarpa freeride line. It's the burliest, with a 120 flex index, but almost a pound lighter than the standard Freedom. The SL also uses a lighter Intuition liner and more aggressive sole. Compared to Scarpa's touring boots, the Freedom SL is more versatile (added alpine capability) and it's stiffer and more powerful, but it does weigh more than the cream-of-the-crop AT. It has a Ride Power Block that delivers frictionless motion for efficient climbing and locks in back support for superpower transmission on the downhill. For skiers who need a boot that can charge off the lift in alpine bindings or slip efficiently into the backcountry with Tech (TLT) bindings, the Freedom SL has few equals. And then there's the fit.

The Pbax Rnew shell overlaps for gap-less fit. Its Carbon Core technology wraps it around a bomber carbon frame for lightweight and allover stiffness for precision control. The Intuition FR Speed liner boot is molded with the shell for a seamless fit and optimally powerful performance, key in making the distinction between a competent alpine/AT boot and one that kills it. The 101-millimeter anatomic last features Axial Power Control for lateral stiffness and sensitivity.

The interchangeable Vibram sole gives you lugged tenacity when hiking over scree or down-climbing into a rocky chute. You'll feel the advantage in an instant and respond with a peaceful mind. After all, you don't want to charge down a finger chute with already-frayed nerves. This is called Freedom.

Injection-molded Pebax Rnew shell
Overlap closure
Patented Carbon Core technology
Low-profile Advanced Injection Technology
Stiff 120 flex
Pre-molded Intuition FR Speed liner boot
Anatomic 101-millimeter last
Axial Power Control technology
Patented Ride Power Block walk/ski mode
Power strap and four micro-adjustable buckles
Interchangeable Vibram Mountain Plus Tech sole blocks
Hello,

Is this boot compatible with the Marker Barons?


Hey Mark,

These boots are for sure compatible with the Barons.

Ben
I was just wondering if there was a size difference in the shell of the 26,5 vs the 27
Scarpa usually changes on the half shell, so they would be the same. Not sure why these boots would be any different.
I'm looking at picking these guys up as a first pair of boots to break out of the rental thing. I'm about to graduate from a college in the south, but I'm an intermediate skier (A-Basin blacks) with a respectable amount of class 3+ mountaineering experience from spending the last few summers in central Colorado who plans on getting Avy1 certified in the next year and getting into backcountry skiing. When I move up for good I'll be skiing a lot so I'll (hopefully) improve, but my question is: is 130 too stiff of a flex for someone in my situation? I'm 5'8" and 145-160 labs. I love everything I've seen and read about this boot but I don't understand flex ratings enough to confidently determine that I'm not going to make a mistake and buy boots that are too stiff and ruin my skiing or impair my ability to improve. I asked the same thing on the page for the BD Factors but these are priced similarly and seem to be higher rated.
Hey Fisher,



I think a 130 flex boot might not be the best choice for your needs. 130 is the stiffest and most aggressive flex out there and meant for super aggressive skiers. Something in the 100-120 range would be better and more forgiving as you delve into the world of backcountry skiing. Check out the Scarpa Maestrale line-up (RS, 1.0, and GT) and the Freedom Alpine. Feel free to shoot me any additional questions on AT boots directly and I would be glad to help you break down the differences.
I will be using these with my marker dukes using the touring sole. If I ski the resort more than the backcountry, are there any advantages/disadvantages as far as power transfer or anything else? Should I get the piste soles for resort skiing for any reason with regards to performance?
Hey Martha,

As far as skiing performance goes, there will be no difference.



In terms of binding performance, the release will be more consistent with the alpine soles.



Ben
Will they work out of the box with Rossi FKS 180 bindings or do I have to swap the sole?
Hey Liam,

The FKS 180's will not work with these boots out of the box, you will need the Mountain Piste sole blocks from Scarpa to pair the Freedom SL's with the FKS 180's.
Liam, the new Rossignol/Look FKS 140/Pivot 14 has a Dual option this year, meaning that it will accept WTR boots!
Do these boots work with the Marker F12 binding or do you also need to purchase additional toe pieces.
Hi Nicholas,



These boots will work with the Marker F12 right out of the box. The F12's have an adjustable toe piece to accommodate most touring soles.



Contact me to order or if you have any other questions.



Ben

brabinowitz@backcountry.com

801-746-7564
What size do you recommend if I wear a 10.5 with most shoes? I'm 175lbs, 6ft.
Should I also get liner molded from a boot fitter?
Best Answer
Hey dmb,



I'd get a 28.5 for a comfortable fit and a 28 for a tighter performance fit. I'd recommend taking the boots to a shop to get them molded.



Let me know if you have any other questions or if there's anything else I can help you with!



Ben

brabinowitz@backcountry.com

801-746-7564
Is there any difference between the 2015/2016 freedom sl and the 2014 version?
Just emailed our rep, Ill have an answer for you soon. In the mean time, what size are you and I can get a pair on hold to lock down the sale price!



Feel free to hit me up at bporreca@backcountry.com or 801-736-6398.
Best Answer
So the Freedom SL is staying pretty much the same, small change with liner but, still full on Intuition. Thankfully Scarpa realizes that Intuition is the way to go, ups the value of the boot by $200 retail, yet you dont see a huge price difference among the competitors.



They have a new Freedom coming out next year, the RS. Stiffer and only loses 2 degrees of ROM versus the SL.
The RS is slightly more alpine orientated as I understand.
Great boot
Familiarity:

I've used it several times
I have been using them for the last two seasons. Very good fit and stiffness. The liners are very good too. I used in Alaska last season , pure powder, and the boots were not the hermetic they have
to be. After a day of Heli-sking my feet were wet.
Great Boots!
Familiarity:

I've used it several times
Took these boots on a 7000 vertical foot Alpine Tour. Skinning and Downhill were great. The entire trip was 7 hours long and my feet were happy the whole time. Very comfortable and great performance. From very steep to long flats.. performed perfectly.
Fit vs. Scarpa Maestrale
Familiarity:

I've used it once or twice and have initial impressions
I picked up a new pair of AT boots this spring and had my choice narrowed down to these vs. the Scarpa Maestrale RS. I ended up going with the Maestrale since they were a much better fit for my feet. In general, I would say that the width across the toe box felt pretty similar between the two styles, but the Maestrales have a lower volume fit across the instep and back to the ankle than these boots do. I also had much better heel hold in the Maestrales than I did in these boots. It seems like the Freedom would be a good option if you've got high arches or otherwise need a little more volume across the middle of your foot.

Additionally, I was looking more for an AT boot than a crossover boot, so the Maestrale has a couple wins over the Freedom on this front (Maestrale has greater range of motion and is a bit lighter than the Freedom). Additionally, the sole on the Maestrale has more rocker so makes for a little easier walking than the Freedoms. If you're looking to have more of an AT/alpine crossover type of boot, the Freedom is a great choice since you can swap between AT and alpine (DIN compatible) sole blocks. Additionally, the Freedoms have a higher cuff so they will give you a little more lateral control than the Maestrales.

Just from trying them on, the Freedoms seem to be built very well and would be a great AT/alpine crossover boot, but at the end of the day I needed a lower volume fit and wanted a more of a dedicated AT boot, so the Maestrales won this round.
Unanswered Question
Hi!



Can anyone give me information if bellow model year was improved compare to 2013/2014 model?



Any improvements on 2014/2015 and coming 2016 model?



I know that Freedom Rs is coming but i am not interested in it.





Thanks
Perfect for Wasatch Tours
Gender:

Male

Familiarity:

I've put it through the wringer
For reference, other boots I have toured in include the Garmont Endorphin, Black Diamond Quadrant, Salomon Quest 12, Salomon MTN LAB, Salomon Quest Max BC 120, and the Atomic Backland Carbon. From those, the Black Diamond Quadrant have been my favorite - true workhorses that lasted me for years. But I have spent the entire winter in the Scarpa Freedom SL, taking them everywhere from British Columbia, Idaho and right here in Utah. After a full season, I would say the Freedom SL are my new favorite.

ON THE UP: Paired with Dynafit Radical FT bindings, I was pleased at how smooth the boots felt on the up, which I assume is thanks to the Power Block which allows for frictionless movement between the upper and lower shells. The smaller ROM range is somewhat noticeable when the skintrack gets really steep, but mostly I found I never wanted for more as long as the upper cuff was totally unbuckled. Overall, these boots tour admirably, though the low ROM and heavier weight makes them less than ideal for very long tours. But here in the Wasatch where we have short approaches, they are perfect.

ON THE DOWN: These boots perform as well as any alpine-style boot I have worn. Lateral responsiveness? Check. Ample forward flex? Check. Stability? Check. But most importantly for me, is the cuff height. Many touring boots have a low cuff, which makes driving powder skis very difficult, if not downright exhausting. But the Freedom SL has a cuff height like an alpine boot, plus the liner tongue is nice and beefy, giving the whole setup a true downhill feel. I love these boots so much, that they've also been my go-to for skiing at Alta.

FIT: I found the 101mm last to be a bit wide so my foot has a bit of lateral movement when turning (98mm lasts are the ticket for my feet.) But I also have a very high instep, and these boots are among the few that do not feel like they are crushing down on the top of my foot. Out of the box, my toes felt cramped, but a liner-cooking session at Wasatch Touring made them fit perfect and I have had no problems with fit ever since.

FEATURES: The buckles, big power strap, and lugged soles are top notch and it is clear that the design team at Scarpa thought long and hard about the small details. I especially like the rubber barrier that goes under the overlap of the lower part of the boot. It keeps snow away from your toes when the boot is unbuckled while touring. Also, the Power Block walk/ski mode is a stout system of two metal pieces locking together on the outside of the boot. It is easy to switch with gloved hands and I never had an accidental mode switch while skiing. As for the liner, well, you cannot go wrong with Intuition. The tongue has a plastic panel for added stiffness, tongue and calf both have handles for easy in/out, and they are heat moldable for ultimate fit. Plus they are really warm.

DURABILITY: Questionable. The overlap flap on the lower boot cracked in half for no apparent reason. One day I was skiing at Alta, and after about 3 runs, bent over to unbuckle the boot. To my horror I noticed this massive crack that goes from the edge of the flap to underneath the buckle catch. This. Should. Not. Happen. As a result, the forefoot of the boot is much less responsive when skiing, and the rubber dam that keeps snow out from getting between the flaps is less effective. Hopefully Scarpa will warranty this when ski season is over.

Overall, I think the Scarpa Freedom SL is absolutely the happy medium of AT boots. With an adequate touring mode and totally bomber downhill performance both in-bounds and out, these boots are basically a quiver killer that can do it all... as long as their construction lasts.


Are these compatible with the TYROLIA ATTACK 13 bindings? or do I need the vibram piste mountain sole? And if it were a size 27 boot would I need a large or small sole? Thanks.
That binding is only compatible with alpine soles so you would need the Mountain Piste soles! Size large will work for boot sizes 26.5-31.
Can Scarpa AT boots be canted for internal rotation?
Scarpa says - "Axial Power Control" helps to improve the inclination of the ankle-knee joints, for more precise edge grip. The inclination of 2? medial axis allows for more sensitive and responsive skiing, especially on the steep slopes.



Bottom line, looks like they are not adjustable from that 2degree standard. But the soles are removable so you could possibly have these canted with beveled shims by a boot fitter.
Are they compatible with alpine bindings or just AT? Also, will the rossignol FKS 140 2014 ski bindings be compatible with these?
Hey Drake W.,



In order to fit into regular alpine bindings (such as the FKS 140), you would need to purchase the Vibram Mountain Piste soles and swap them out. Once you have the Vibram Mountain Piste soles on, they will work in alpine bindings without any issue.



Ben



1-800-409-4502 ext. 4767

brabinowitz@backcountry.com
Will these boots work with the Marker Duke EPF small ski bindings?
AT Tranny
Familiarity:

I've used it several times
Been using Scarpa T2's for free heeling for years. Time for new gear, and thought I'd take a walk on the wild side. All pluses except, perhaps for the amount of dinero. That said, what's the cost of comfort. Only four stars because there most be something better, but I wouldn't know what it is.
Unanswered Question
After a bad experience with soft AT boots in the past, I switched to the Salomon Quest 120, an alpine boot with a minimal walk mode. I am 5ft 11in, 170 lbs and tour primarily for fitness now. I tend to ski all conditions like I'm banging gates, so appreciate a stiff boot and have been very happy with Quest 120 for resort, backcountry and general touring uses (despite its weight). That said, I am intrigued by the improvements in alpine inspired AT boots, including the Scarpa Freedom, and would love to have a light weight, warm, easy walking AT boot as my AT and alpine go to. Can anyone comment on the stiffness of the Freedom compared to a 120 rated Salomon (in my experience Salomon boots are stiffer than others that carry the same rating)? I would consider upgrading to an Intuition Power Wrap in a Freedom if that would result in a stiffness comparable to my Salomons.