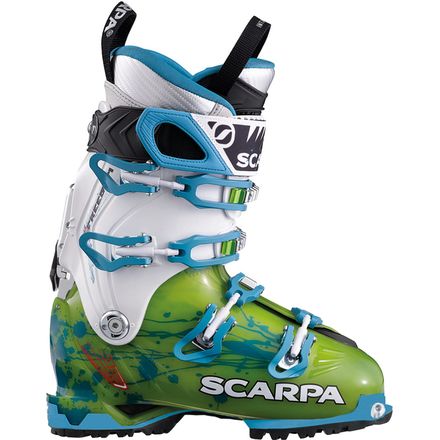 Description
Mountain-style liberation.
The Scarpa Women's Freedom SL Alpine Touring Boot is Queen of the Mountain in the Scarpa freeride line. It's the burliest, with a 120 flex index, but almost a pound lighter than the standard Freedom. The SL also uses a lighter Intuition liner and more aggressive sole. Compared to Scarpa's touring boots, the Freedom SL is more versatile (added alpine capability) and it's stiffer and more powerful, but it does weigh more than the cream-of-the-crop AT. It has a Ride Power Block that delivers frictionless motion for efficient climbing and locks in back support for superpower transmission on the downhill. For the woman who need a boot that can charge off the lift in alpine bindings or slip efficiently into the backcountry with Tech (TLT) bindings, the Freedom SL has few equals. And then there's the fit.

Rather than rebadge the men's version with a little pink and a soft flex, Scarpa's engineers made the last a little smaller and the cuff a little lower to match the shape and size of a woman's foot and calf. The Pbax Rnew shell overlaps for gap-less fit. Its Carbon Core technology wraps it around a bomber carbon frame for lightweight and allover stiffness for precision control. The Intuition FR Speed liner boot is molded with the shell for a seamless fit and optimally powerful performance, key in making the distinction between a competent alpine/AT boot and one that kills it. The 101-millimeter anatomic last features Axial Power Control for lateral stiffness and sensitivity.

The interchangeable Vibram sole gives you lugged tenacity when hiking over scree or down-climbing into a rocky chute. You'll feel the advantage in an instant and respond with a peaceful mind. After all, you don't want to charge down a finger chute with already-frayed nerves. This is called Freedom.
Injection-molded Pebax Rnew shell
Overlap closure
Patented Carbon Core technology
Low-profile Advanced Injection Technology
Stiff 120 flex
Pre-molded Intuition FR Speed liner boot
Anatomic 101-millimeter last
Axial Power Control technology
Patented Ride Power Block walk/ski mode
Power strap and four micro-adjustable buckles
Interchangeable Vibram Mountain Plus Tech sole blocks
Share your thoughts
What do you think of the
Scarpa
Freedom SL Alpine Touring Boot - Women's
? Share a...
My choice of touring boot
Familiarity:

I've put it through the wringer
I've been on the hunt for a touring boot that is also a great boot for the decent as that is what I am more focused on. While I stayed clear of touring boots for a while, you just can't beat that walk mode and lighter weight. After doing extensive research I finally caved and went for these. I've been really impressed with the boots performance. Like I said before, I'm all about the down, but it's great to have a boot that performs really well on the way up too. The walk mode is great and the stiffness of this boot makes for a fun run down. I've been really stoked on these and have spent many days in them. I'd almost go as far as to say that these boots are the best if your looking for a great touring boot that skis amazingly as well, but I haven't tried them all. With that said, I am really happy with this choice! Hard to find a women's boot that is stiff enough, but these are doing the trick.
Does everything well - Best one quiver
Familiarity:

I've used it several times
These boots are perfect for me. I split my time between ski areas and touring, and I couldn't justify a separate boot and set up for each activity. These boots are much lighter than my alpine boots, but I don't feel like I lost anything on the descent. I would consider myself a high advanced skier, so perhaps an expert level might notice more nuance. I have a very narrow foot and often had issues with heel slips. With a custom footbed and expert fitting, this boot is the best I've had. Even if you were using this primarily at a resort, I think its an excellent boot.
Hey all,
I just got a pair of scarpa freedoms! I am wondering if there is away to adjust the stiffness of the boot? Thanks!
wondering the same thing here!
I am looking for this boot in the 24.5/25 shell size, and I'm wondering- since Intuition only makes liners in whole sizes, is the liner that comes with each boot a 25? And if so, the only would the only difference between the 24.5 and 25 be the stock insole size? Local availability for this boot is pretty scarce so I might have to just buy it online. Thank you!!
Hey Caitlin -
I emailed our rep about this the other day and just heard back from him. These liners are specifically molded to fit Scarpa boots - if you check on Scarpa's website you will find that the liners are available on the half size, although you're right, Intuition does only manufacture full sizes.
Basically a 24.5 and a 25.0 would have the same shell size AND the same liner size, but they are pre-molded to that specific half size.
If by "stock insole" you mean that piece of felt, then yes that probably would be slightly smaller in the 24.5.
Hit me up if you have any more questions! LFeasler@backcountry.com
I'm 5-1 and just under 100 lbs and am looking for a stiff AT boot, but would this boot too stiff for a person my size? (boot size is 22-22.5). My set up is heavy, and my current boots are too weak to control everything.
This boot is quite stiff for someone your weight and height. However the flex rating you need will be determined on your ability and how aggressive a skier you are. A very aggressive skier at your weight and height could control this boot just fine.

Knowing how stiff a boot you are coming from and what kind of ski and binding set up you are currently on would help us to determine if this boot would be too aggressive or not. Give us a call or chat online with one of our gearheads so they can find out a little more about your current set up and how you like to ski. We could then make a more accurate recommendation as to what boot would be best for you.
Do the Freedom SL (both men's and women's)...
Do the Freedom SL (both men's and women's) have an ISO 9523 sole? I want to know if they will work with the Salomon WTR 13 binding, or for that matter the WTR 16 binding.
The Freedom SL comes standard with the Vibram Mountain PLUS Sole which is built to the ISO 9523 standard. You also have the option to purchase the Vibram Mountain PISTE Sole which is built to the ISO 5355 standard.
Best Women's Boot
Familiarity:

I've put it through the wringer
Finally I have found the perfect boot. This boot is amazing. Although the flex is 120?which I was a little nervous about?there are so many ways to increase/decrease the stiffness of this boot. It can be comfortable and powerful. Lightweight and hearty. This boot i've beat up bombing inbounds and felt like walking on clouds when climbing. My feet are always warm. The intuition liners are clutch! If you are a serious skier don't waste your time with any other boot. This is your inbounds, park, rails, jumps, and backcountry boot all in one.
The Perfect 50/50 Tour Boot
"Is freedom anything else than the right to live as we wish? Nothing else."

I am new to touring and knew I needed something that would be technical and light for my walk up, but not compromise my run down. These are the perfect boot! In walk mode, these things paired with Dynafit TST's and ARW's are a dream. I had these heat molded, and in walk mode they are darn-right comfy. I ripped around Snowbird on these and the flex pattern was great! Just stiff enough to let you charge but forgiving enough when you are in crud or hopping around trees and shrubs. Highly recommend these boots!
The SL only comes with the AT/Tech soles. The soles you linked to are what you will need to use these with Alpine bindings.
Scarpa Freedom SL Alpine Touring Boot
The one boot to rule them all
Gender:

Female

Familiarity:

I've put it through the wringer
I have had about a week of ski time in these babies - was trying to get enough time in them to actually write a god review - and I've been getting happier and happier with them!:

Fit: true to typical Scarpa ski boot fit. High instep room (doesn't flatten my arches), narrow heel, fairly generous toe box. Calf opening is ample - these boots come with spoilers you can add to take up any extra room you might have, there are also three different holes for the buckles for more adjustment options.

Flex: Stiff. Like woah Nelly stiff. Fortunately this is what I was looking for, even though they kicked my ass a few times before i warmedup to them. They still have a good range of motion forward and back in tour mode, but lock down really firm in ski mode.

I bought 21.5 (finally, a company who recognizes that some people have tiny feet and like to shred!), which has the teensiest BSL ever of 257mm. Fits like a true 21.5: post liner baking and break in, they fit like a dream.

Unlike other smaller sized boots, the buckles don't overwhelm the rest of the boot. There's a little bit of velcro strap overlap with the top buckle, but it's not a big problem when everything's adjusted and tightened down.

These are a pleasure to ski, and tour, in. I don't find myself sacrificing for uphill performance. I've been able to rip some big lines and trek up some steep hills all without the usual noodly feeling of a soft boot. They're warm for what they are, all things considered.

Being a gal with smaller feet is extremely limiting, and these boots aren't the cheapest option, but really can serve as a great all around boot. I used mine with both tech and alpine sole blocks in dynafits and griffons. All in all, these boots were well worth the wait and I am beyond stoked to have FINALLY found a pair of boots that actually fits my feet and lifestyle.